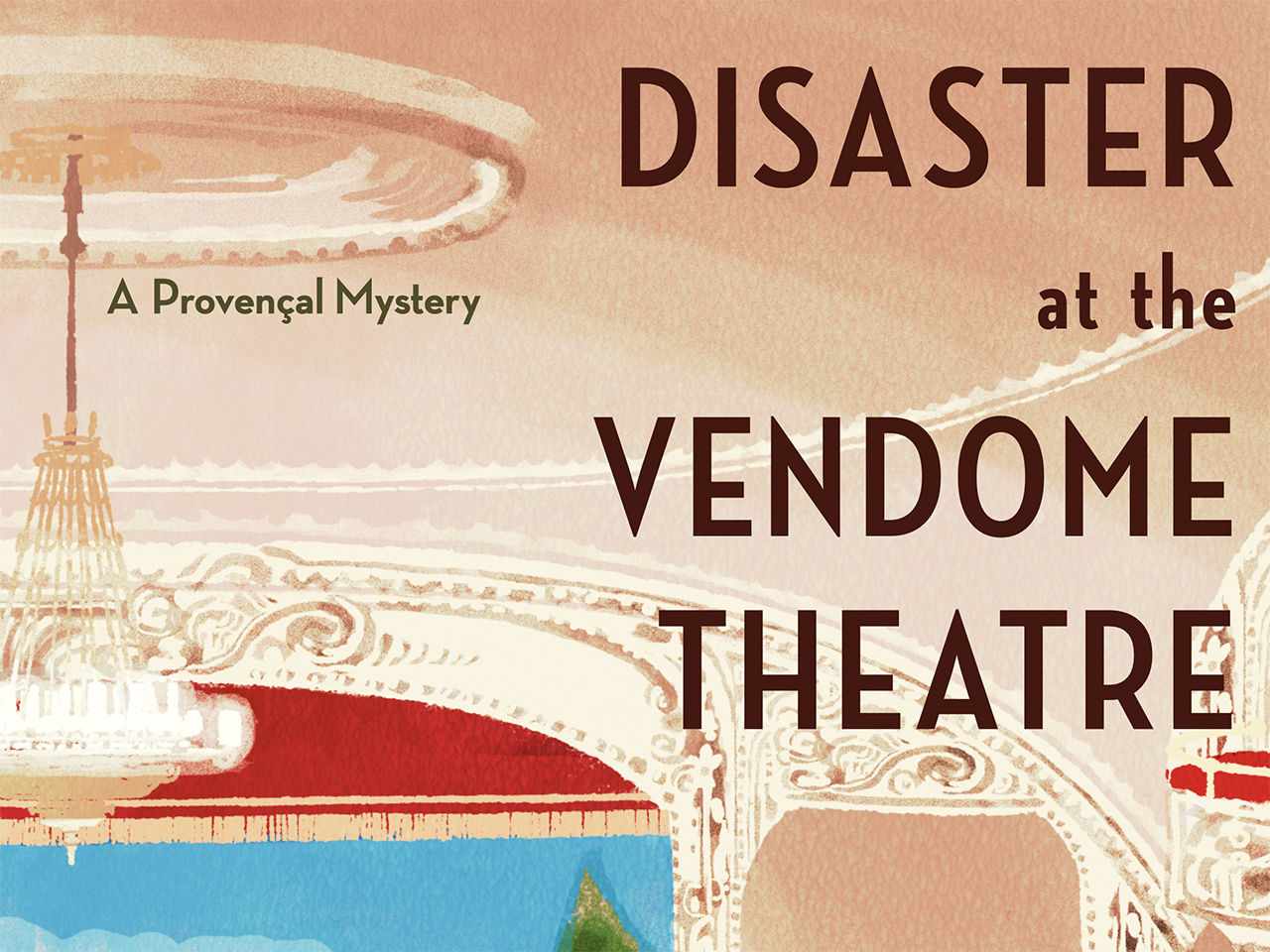 Next Book: Disaster at the Vendôme Theater
Calamity befalls the little Vendôme Theater in the tenth instalment of the sun- and wine-soaked Provençal Mystery Series.
When Jean-Marc Sauvet, successful lawyer and the best friend of Aix-en-Provence's examining magistrate Antoine Verlaque, accepted a small role in a local theater's summer production of Marcel Pagnol's Cigalon, he had no idea that the lead actress would be played by the great Liliane Poncet.
But Jean-Marc's excitement about rubbing elbows with one of France's legendary film stars is quickly extinguished. The lead actor, Gauthier Lesage, is rude and unenthusiastic, and nobody understands how he got the part. Chaos reigns backstage thanks to the absentminded theater director. And everyone seems to be harboring a secret.
When one of the actors goes missing for good, it's up to the soon-to-be-a-father Verlaque and his police commissioner, Bruno Paulik, to untangle the threads of a mystery that seems to get more complicated every day…
Available October 4th, 2022.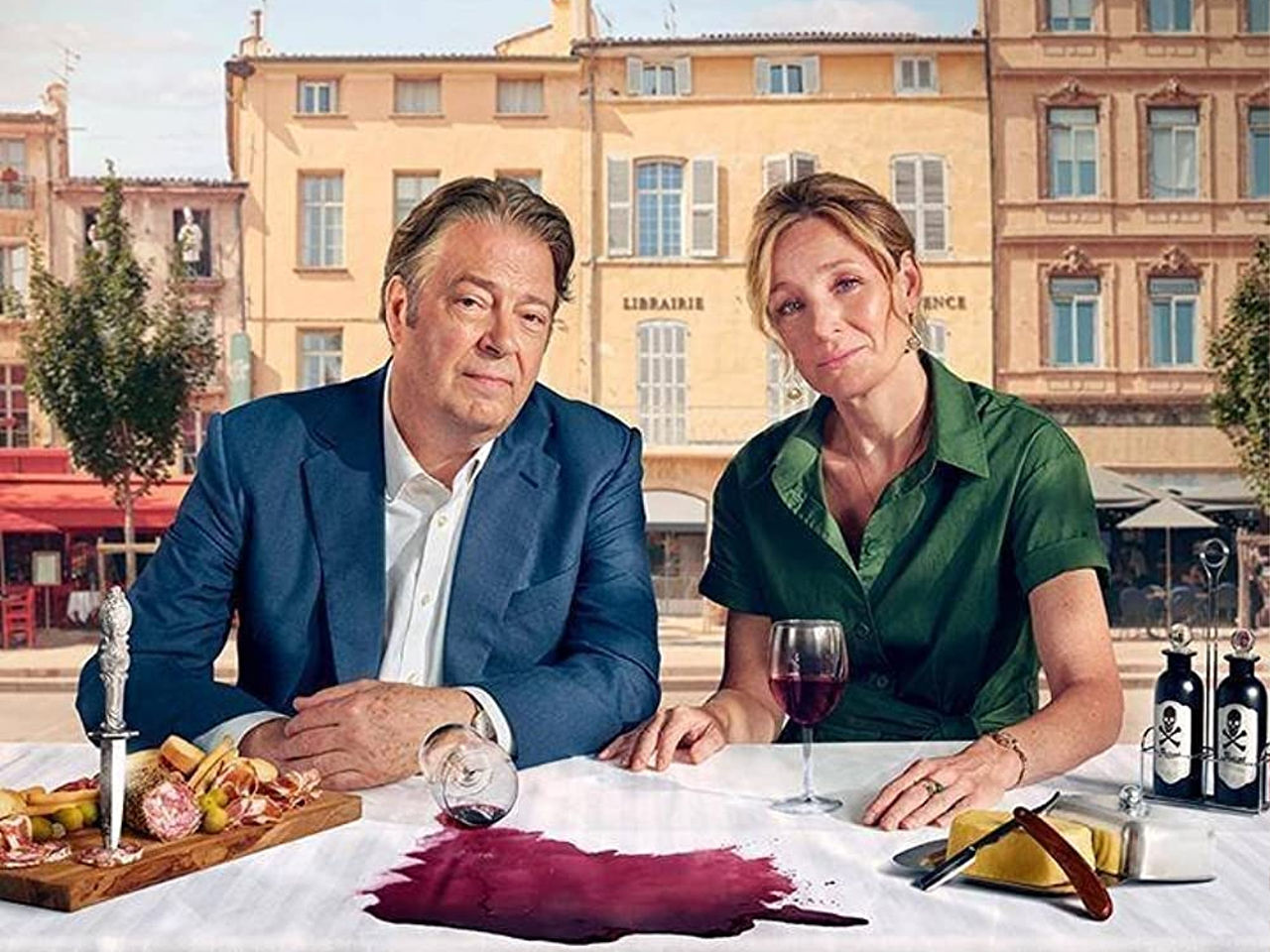 Television Series: Murder in Provence
Roger Allam shines in this stunningly set BritBox Original mystery drama. Investigative judge Antoine Verlaque and his partner Marine Bonnet (played by Nancy Carroll) unpick the murders, mysteries, and dark underbelly of their idyllic home in the south of France.
Available now in North America and the UK on BritBox, on ITV in the UK in 2023.
Previously in the blog...
September 6, 2020
Searching for Sea Lavender in the Camargue
It's important now and again to take a day off, camera in hand, and explore Provence. I forget to do that sometimes. Thanks to a good friend named Agnès we headed off last Tuesday to explore the Camargue, a vast unspoiled region south of Arles, an hour south-west of Aix. Agnès had two clear goals: to eat lunch at her favorite restaurant, a simple terraced spot popular with the cowboys and cattle farmers of the Camargue. For the other, I was to bring running shoes, secateurs, and a basket, as we were going to forage for Saladelle: sea lavender in English, in France also referred to as lilacs of the sea, its Latin name Limonium Vulgare.
We passed downtown Arles–its church steeples and red roofs gleaming against the blue sky–as we turned off the highway and headed south into the wide flat delta of the Camargue. After about ten minutes driving, it felt like we were in another world. Why don't we come here more often? we asked aloud. Trees disappeared and rice fields began. Herds of white horses ran in the fields that flanked the narrow road as we strained our necks looking for patches of the pale pink flower, Saladelle, that Agnès seemed obsessed with. "It grows in clumps," she said, "always near animals." She was determined to drive all the way to Sainte-Marie-de-la-Mer if we had to, a further 35 kilometers down the road, when we saw it, an entire field full of low-lying pink bushes. It did look like lavender, but much paler in colour. But the field was surrounded by barbed wire fencing, and in it were grazing black bulls. We drove on, disappointed, the clock ticking as we approached noon and our lunch reservation.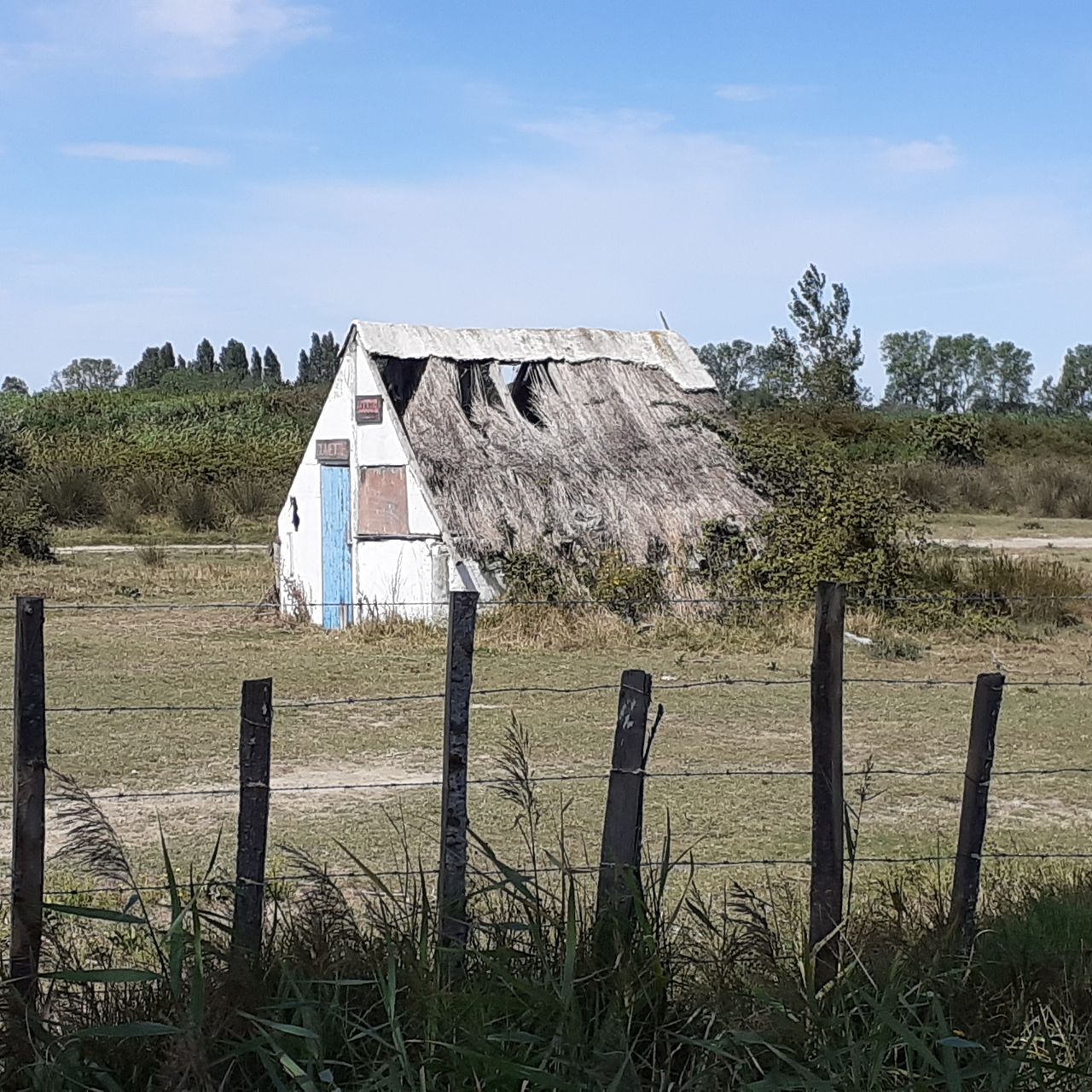 An abandoned guardien's (cowboy) cabin, the roof thatched with local grasses.
After another ten minutes we turned around and headed east toward the village–crossroads, really–of Le Sambuc where we were to have lunch. And then we saw a smaller field with saladelle, on the right, and Agnès pulled the car over. Miraculously we didn't have to hop over the barbed-wire fence as the saladelle was growing close to the road, and we picked enough to fill the three large shopping bags and one basket we had in the trunk. "Of course the perfect way to display this flower would be in a vegetable crate, those crates you only find here that are stamped with the symbol of the Camargue," Agnès said. I nodded, just happy to have some saladelle as it keeps its pink color until Christmas.
We were on time for our lunch and spent the first ten minutes chatting with the owner and his elderly father, who started the restaurant in the 1970s. The terrace was covered with vines, shading us from the sun, and on the wall was the Croix Camargue, protecting us. In three parts, the cross represents faith, the anchor hope for the Camargue's fishermen, and the heart the charity of the Virgin Mary and Mary Magdalen.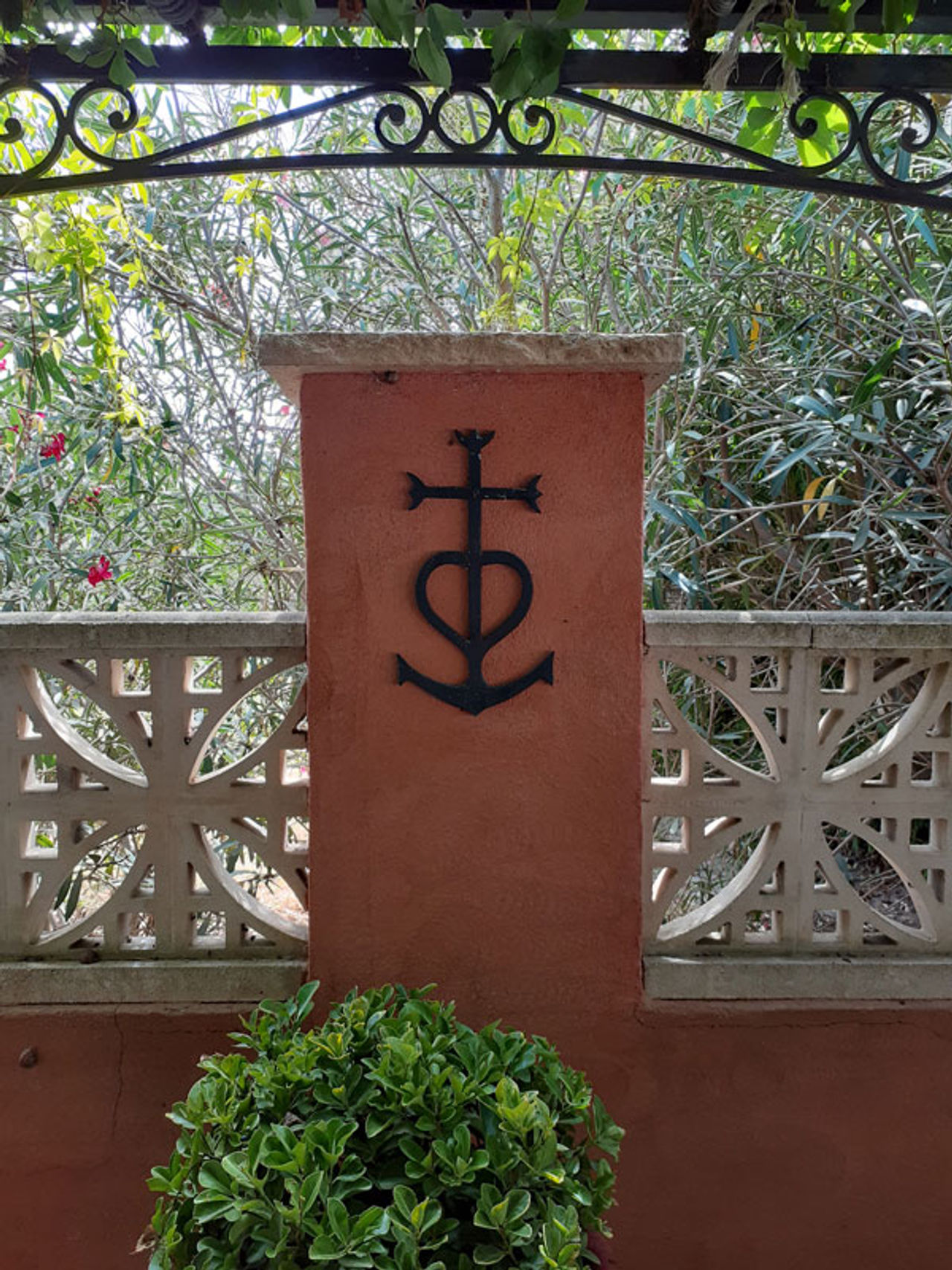 The three-course menu was 18,50 euros: a fresh tomato salad with tuna, local bull stew served with Camargue rice (short and rounded not unlike arborio) and roasted potatoes, then a lavender crème brûlée. We were introduced to two fellow diners, the farmers who grew the organic tomatoes we were eating. We split a bottle of red wine from a winery also in Le Sambuc and ate every single bite.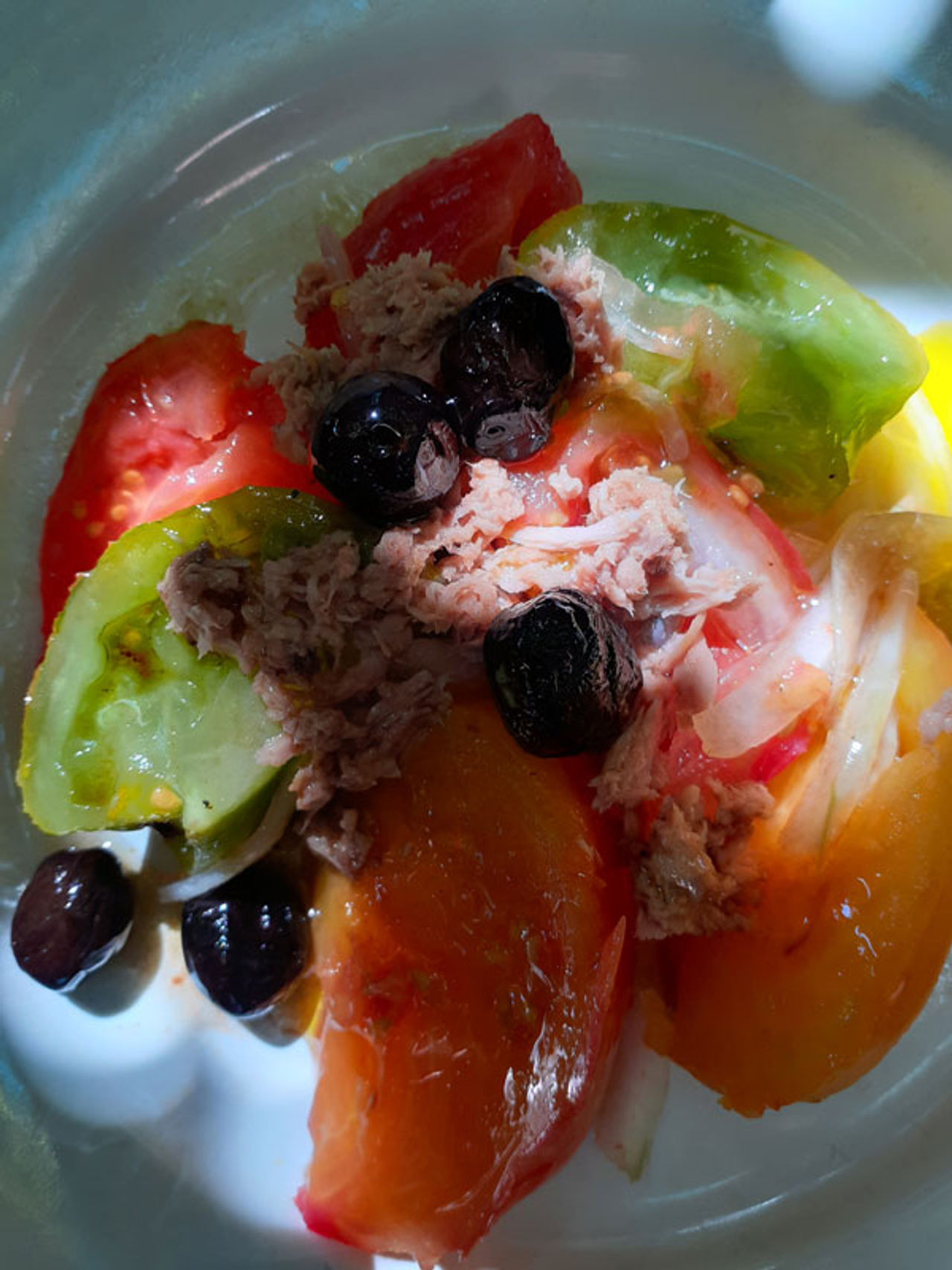 Tomato salad with tuna, below the crème brûlée.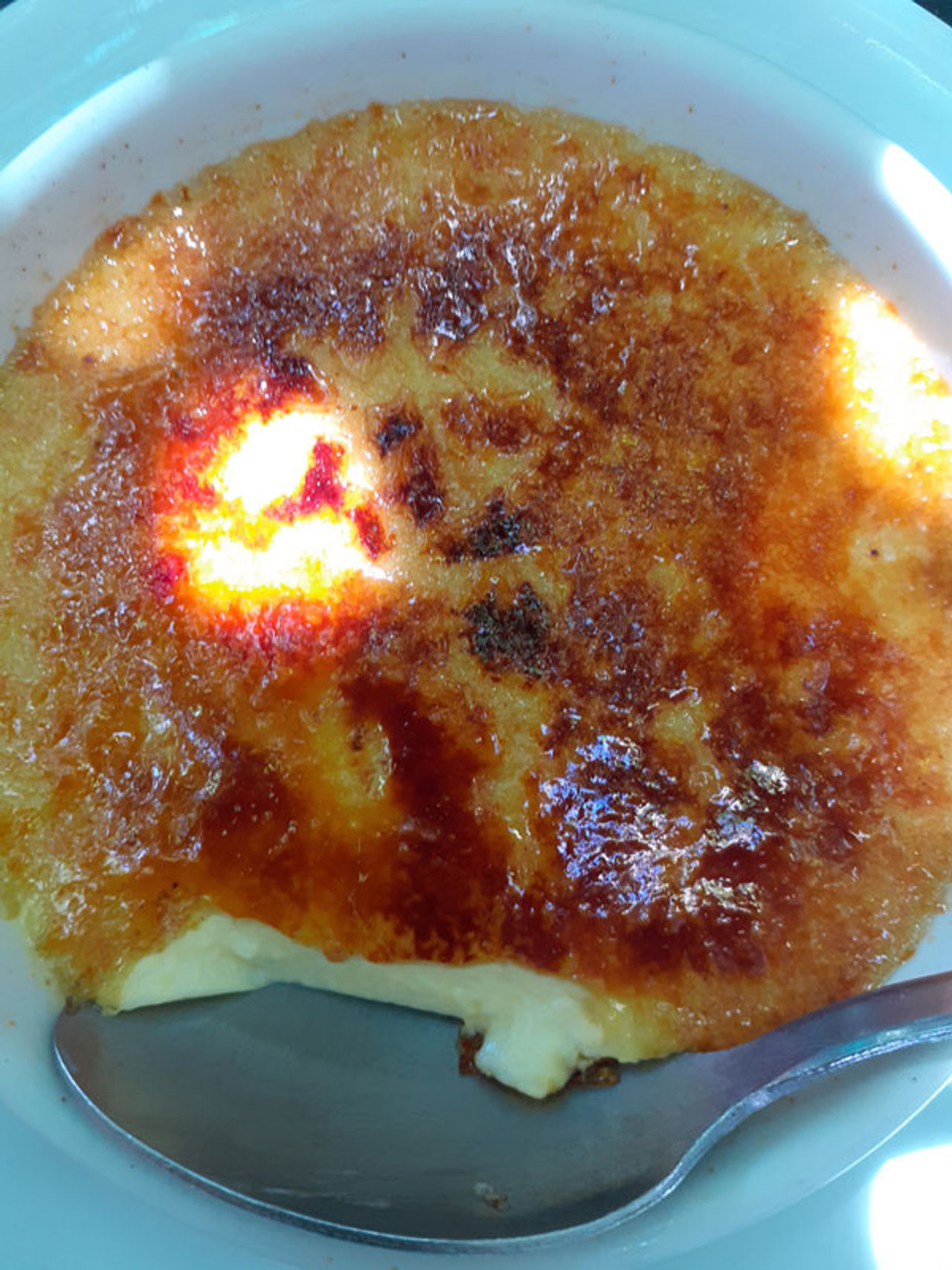 After a relaxing two-hour lunch we drove south along the Grand Rhône to Salin-de-Giraud, a town designed and built in the nineteenth century to house the salt workers who worked in the delta's salt flats and in the town's salt refinery. The streets were lined with red-brick row houses, not unlike factory towns in northern England. I'd never seen anything in the south of France like it. From a look-out point on the Golfe de Fos we were able to see the salt flats and the sea's vivid pink color, due to an algae. (that's not Agnès or myself in the photo, just a young girl whose top I quite liked).
Agnès, who loves contemporary architecture like I do, then told me that one of France's most renowned architects, Rudy Ricciotti, grew up in Salin-de-Giraud and was influenced by the cracked earth of the delta when designing the façade of Marseille's MUCEM (museum of Mediterranean culture).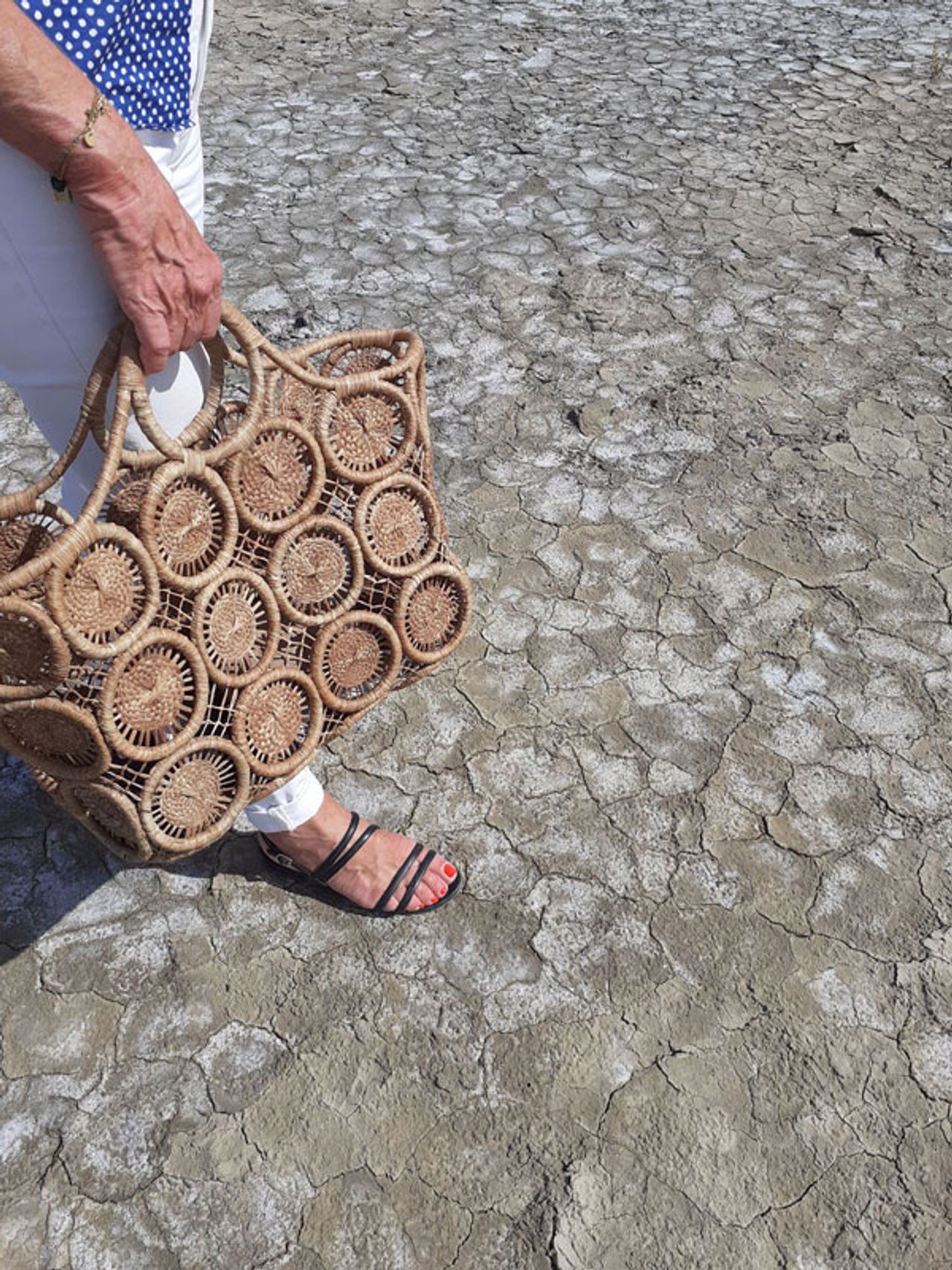 Agnès's foot and lovely purse against the cracked earth. Below, the MUCEM.
And believe it or not, I went home with not only saladelle, but a Camargue crate to display it in, a gift of the tomato farmers who ate next to us. They had just delivered the tomatoes to the restaurant that morning.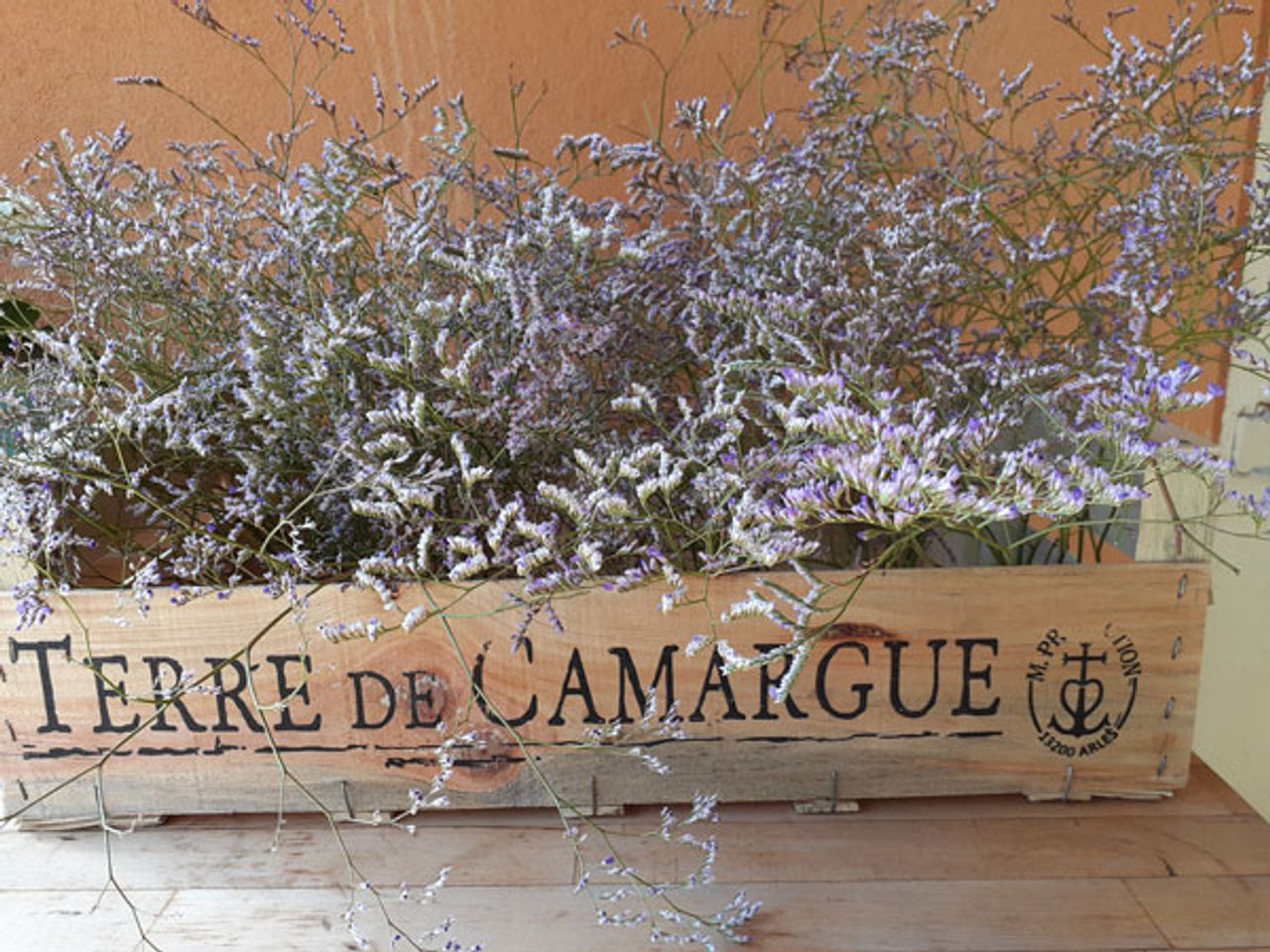 November 18, 2019
Small is Better: Mysteries set in Small Towns (like my own Aix-en-Provence)
Dear readers, below is an essay I wrote for Criminal Elements magazine:
Small is Better: Mysteries set in Small Towns
The painter Paul Cézanne was never comfortable with the Paris art scene, despite claiming he would change it "with an apple" (and he did). He was mal à l'aise with people, especially the fashionable, the wealthy. He once said, "The world doesn't understand me and I don't understand the world, that's why I've withdrawn from it." Where did he go? Back home, to sleepy Aix-en-Provence, which at the time of his death in 1906 (he had been out walking, to paint, and caught flu) the train didn't even stop here.
My adopted hometown has grown; now 143,000 people live in greater Aix. But the downtown, la vieille ville, is still as compact as it was in 1900, enclosed—protected, in a way—by what was once thick stone walls and is now a ring road. One can walk across it in twenty minutes or so. You can't be in a hurry, or have enemies, because you'll run into them. You'll be forced to stop and exchange the bises. Its small size means that everyone knows everyone—very helpful to a detective solving a mystery (or, reversely, he or she could get led astray by a well-wishing neighbor who thinks they've seen something).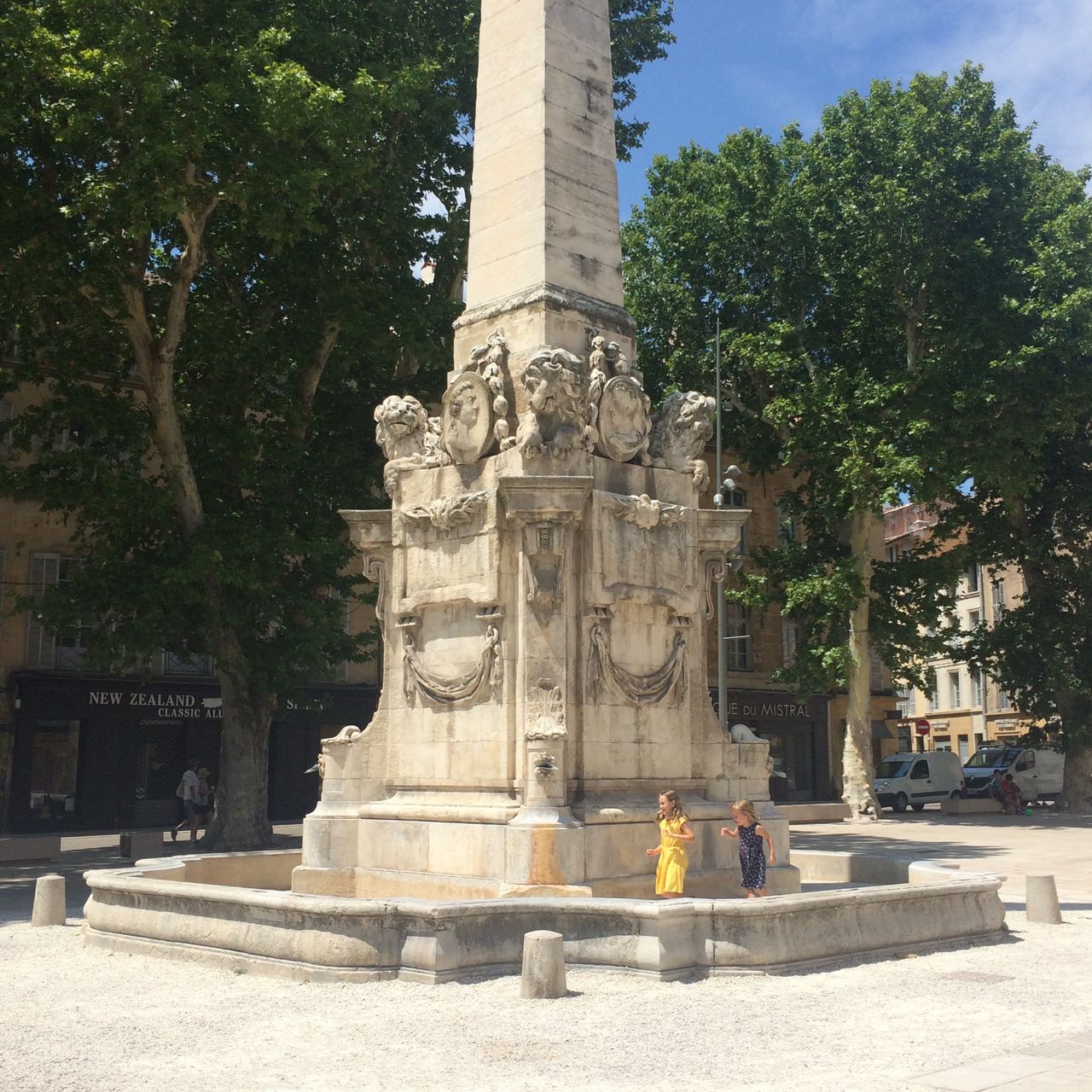 I love these little girls playing in the empty fountain, Place des Prêcheurs, Aix.
When I began writing a mystery novel I thought of Inspector Morse's Oxford and quickly saw the similarities: historic university towns, small and compact and yet cultured and busy. How very familiar Oxford's High Street, college greens and wood-paneled dining rooms are to us if we've read the books or watched the series. Even Oxford's Randolph Hotel bears similarities to Aix's elegant café Les Deux Garçons, where a teenage Cézanne would argue with his best friend, Emile Zola (I prefer its neighbor down the street, the lesser-known and even quainter Le Grillon, where my characters meet regularly for coffee).
While Oxford and Aix-en-Provence are very real towns, even smaller St. Mary Mead, Agatha's Christie's fictional setting for Miss Marple, is entirely invented. Even its county changes from book to book all fictional, from Downshire to Downside to Radfordshire. There is real attraction in setting a mystery series in a village, town or small city, especially a quaint one: the small size means that everyone in everyone else's business. And the writer can indulge themselves with descriptions of streets and buildings that they know well, either because they live there, like Dexter did in Oxford, or because they've imagined the whole thing up. Agatha Christie enjoyed sketching floor plans and maps of her settings, all wonderfully preserved in her notebooks, now archived in the library at the University of Exeter.
The small town setting permits characters to reappear in later books, giving the writer a chance to develop characters, and overlap story lines. It's being frugal, yes, but not cheap if the characters develop over many books; it adds richness and it's comforting for the reader, like meeting up with old friends. When we read, or even reread a series, we have our favorite people: The handsome Welsh doctor in St. Mary Mead, who gives medical tips to Miss Marple; Donna Leon's Guido Brunetti's wealthy Venetian father-in-law, a Count, and a continuous source of information useful to the commissario. Or, they can be not at all employed in a useful profession to a detective, but just eccentric, like my own Philomène Joubert, an elderly gossip who sings in the same choir as the principle character's mother-in-law. When chatting with Philomène, who's always downtown pulling behind her a weathered shopping caddy, examining magistrate Antoine Verlaque knows he might get some insight or other, even if it's just when to expect the next mistral wind.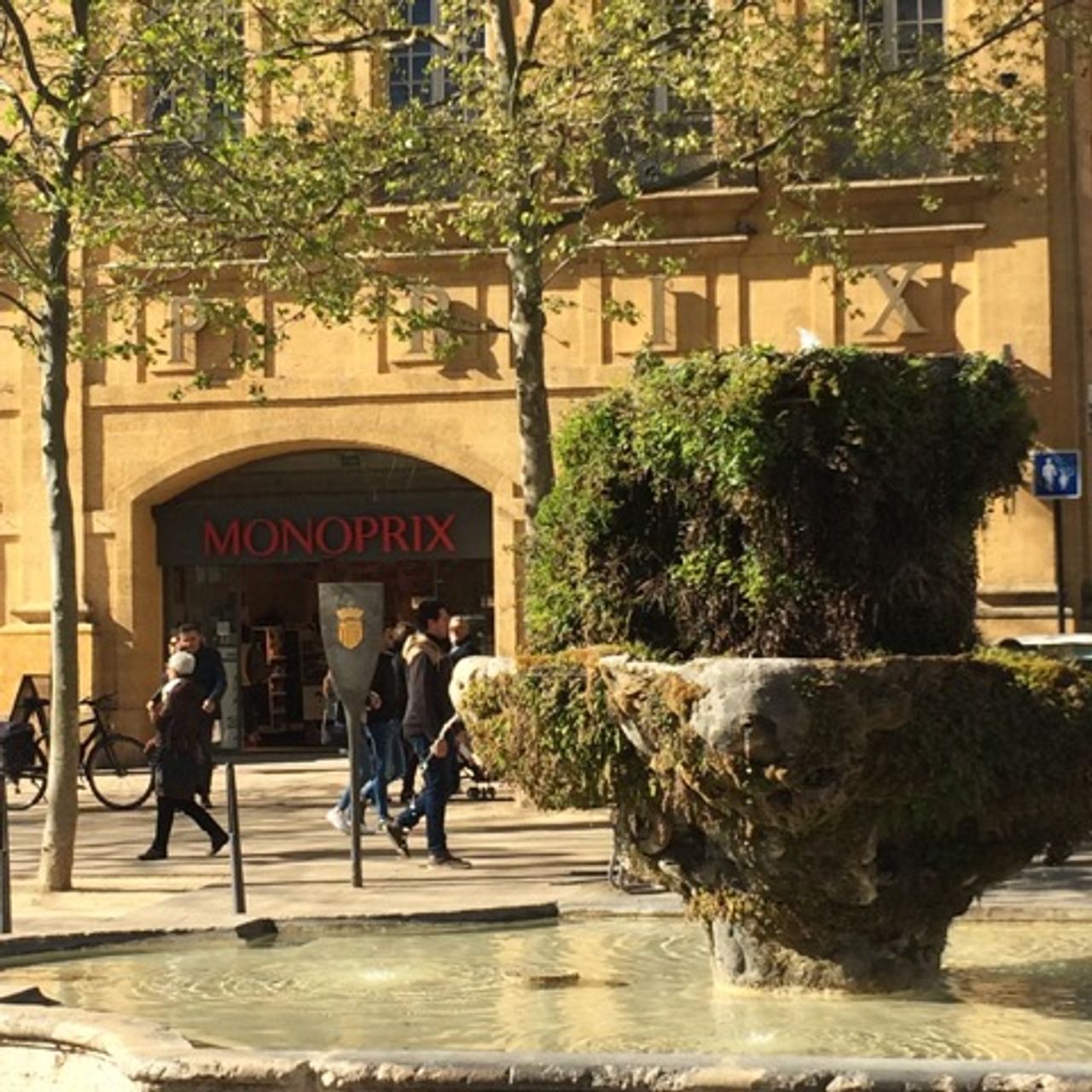 A likely spot to run into an acquaintance, or Philomène Joubert, Aix's Monoprix department store.
The shops and services in the town, too, will serve multi-fold: in scene settings; with character development, proprietors either eccentric or mild-mannered but who can help the detective. In small towns you know the person selling you the cake, often even by name. The shop can even do their sensory work, especially if it sells food (think of Brunetti in Venice's small bars and back street restaurants, or at the Rialto market). As a writer you describe not only appearances but how things smell, and taste, and feel. If the setting is abroad, the reader learns about various local epicurean delicacies, and after a particularly successful passage hopefully is encouraged to run to the nearest fine food shop and buy the North American equivalent, or at least sit back with a glass of wine and some cheese. And there can even be a subliminal message for the reader, as there are in my books when Antoine or his wife, Marine, buy cheese from a small shop, or wine from another equally small shop up the street: buy from your local independent merchants! Save our towns from the shopping malls and supermarkets! (In France, hypermarchés, and they've popping up like mushrooms, with many downtown smaller shops closing to reopen as a clothing chain).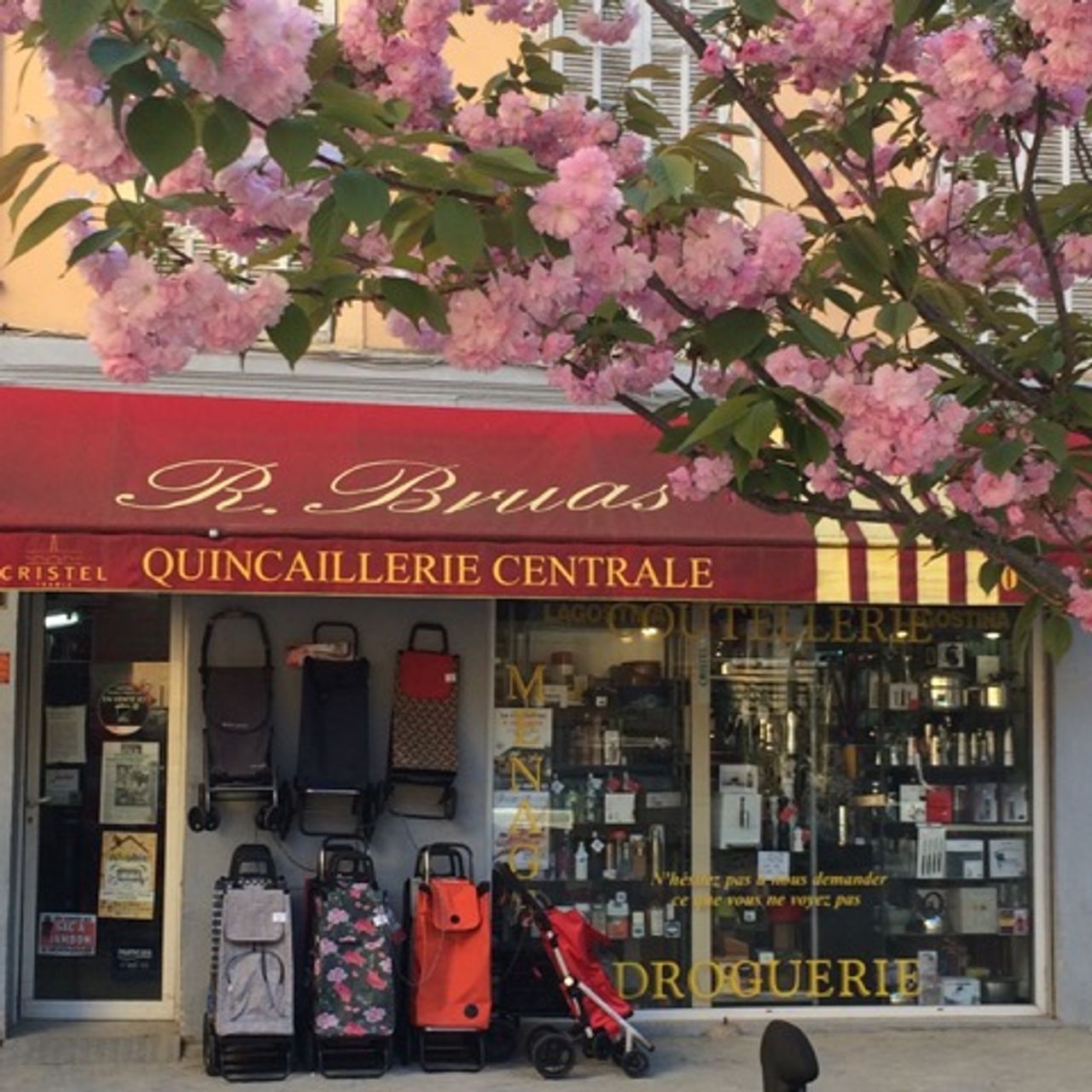 An independently-owned hardware store in downtown Aix, Place des Chapeliers.
Having the detective walk across a small city, to and from appointments, gives the writer a chance to describe what they see, and the reader some moments of vivid armchair travel. Colin Dexter, Morse's beloved creator, said, "The huge value for me as a writer is that, even if people haven't been to Oxford, they would love to be in the city." (BBC 23 March 2017) This is possible in compact cities like Venice and Oxford, and I knew it would the same in Aix, where I've lived for over twenty years. When we walk we see details in streets and buildings that can be missed even on a bicycle. And if the town is historic, and stunning, as Cézanne knew his hometown was (probably the real reason he returned for good) the writer's job is all the easier. I enjoy the contrast, too: a crime that occurs in a beautiful setting is surprising, sometimes shocking, and entirely believable.
ML Longworth
November, 2019
March 7, 2019
Aix-en-Provence: where to stay and eat
Hello Readers,
I've been receiving a lot of requests recently on where to eat and stay in Aix, so I decided it was about time I posted a blog about it. Long overdue! My blog post of August 28, 2018, listed ten attractions to see while in Aix, but it wasn't a detailed list of hotels and restaurants. I'm wary of such lists, as we all have such varying needs and desires when it comes to hotels (I tend to go for cheap two-star hotels that are clean, downtown, and hopefully without televisions) but I know that many people like their luxuries, so I've tried to provide a balanced list for you to choose from. Restaurants are even trickier, as they change hands so frequently, so I've only included those that have been around for years, plus two that offer non-French cuisine.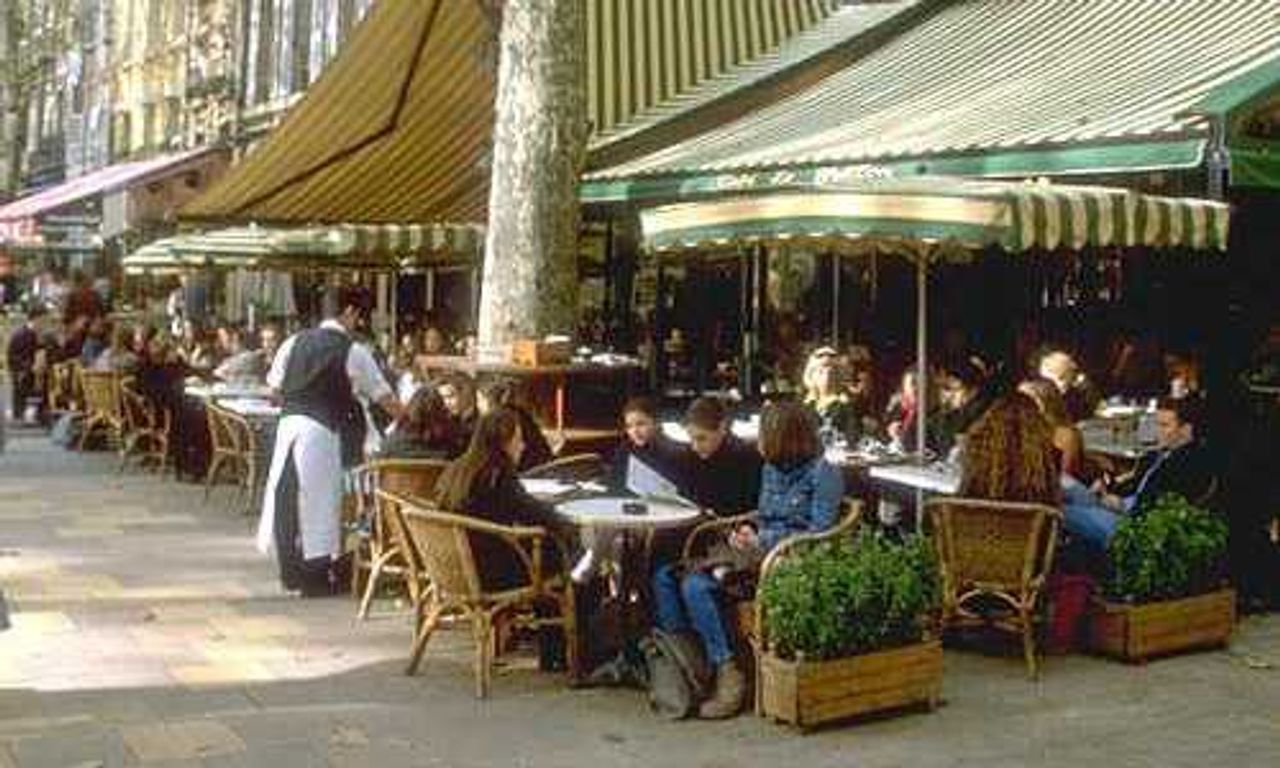 HOTELS
Aquabella Hotel & Spa, 4*
2, rue des Etuves
parking, swimming pool, on the edge of the old town
Hôtel Le Pigonnet, 5*
5, avenue du Pigonnet
parking, swimming pool, fabulous garden and terrace, very good restaurant and bar. Ten minute walk to the old town. Fabulous.
Hôtel Cardinal
24, rue Cardinale, 2*
no parking but excellent location in the old town's Quartier Mazarin. Simple clean rooms furnished with antiques.
Les Quartre Dauphins, 2*
54, Roux Alpheran
no parking but around the corner from the Hôtel Cardinal in the Mazarin.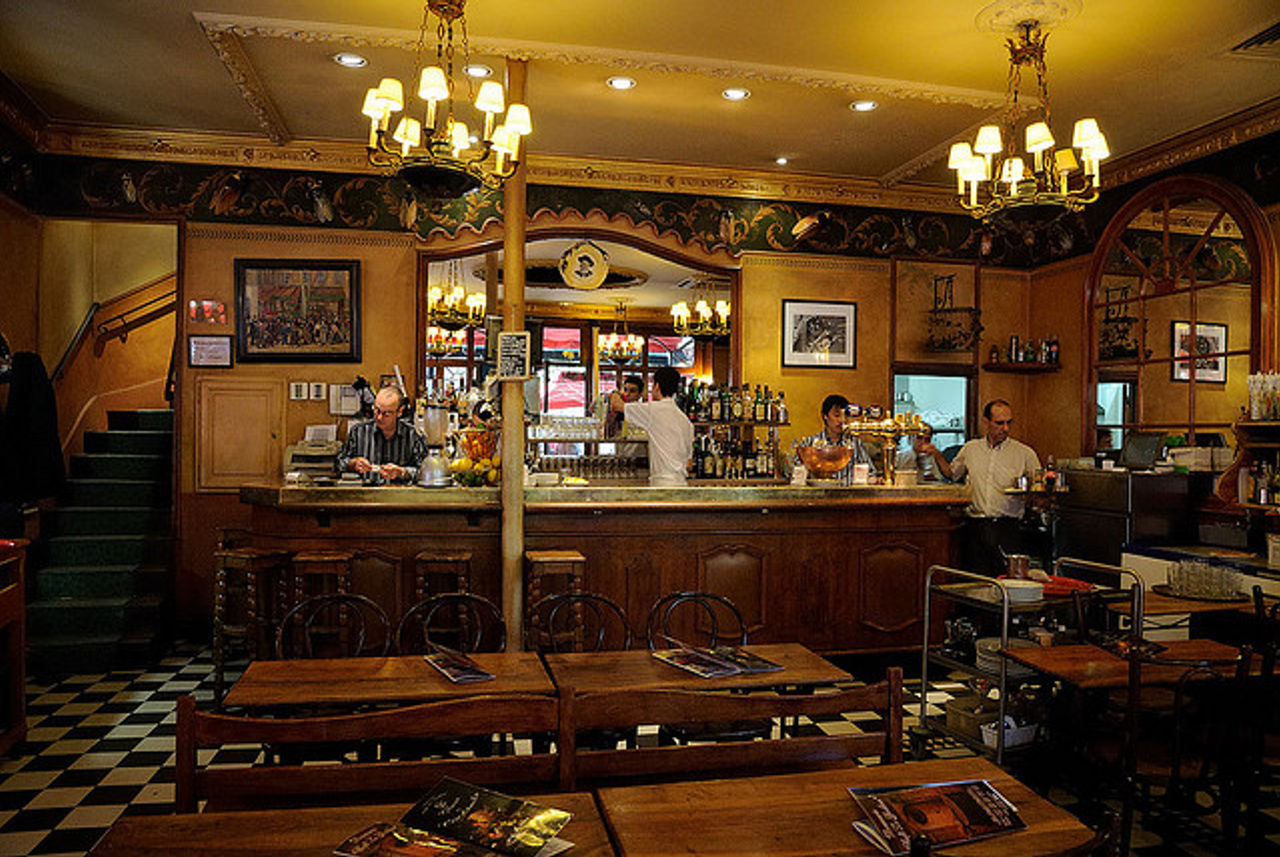 RESTAURANTS
Le Formal
32, rue Espariat
Yamato
21, ave des Belges
Chez Feraud
8, rue du Puits Juifs
La Marocaine
3, rue Van Loo
Mitch
26, rue des Tanneurs
Dan B, La Table de Ventabren
7 rue Fréderic Mistral, Ventabren (a hilltop village ten minutes west of Aix), 1* Michelin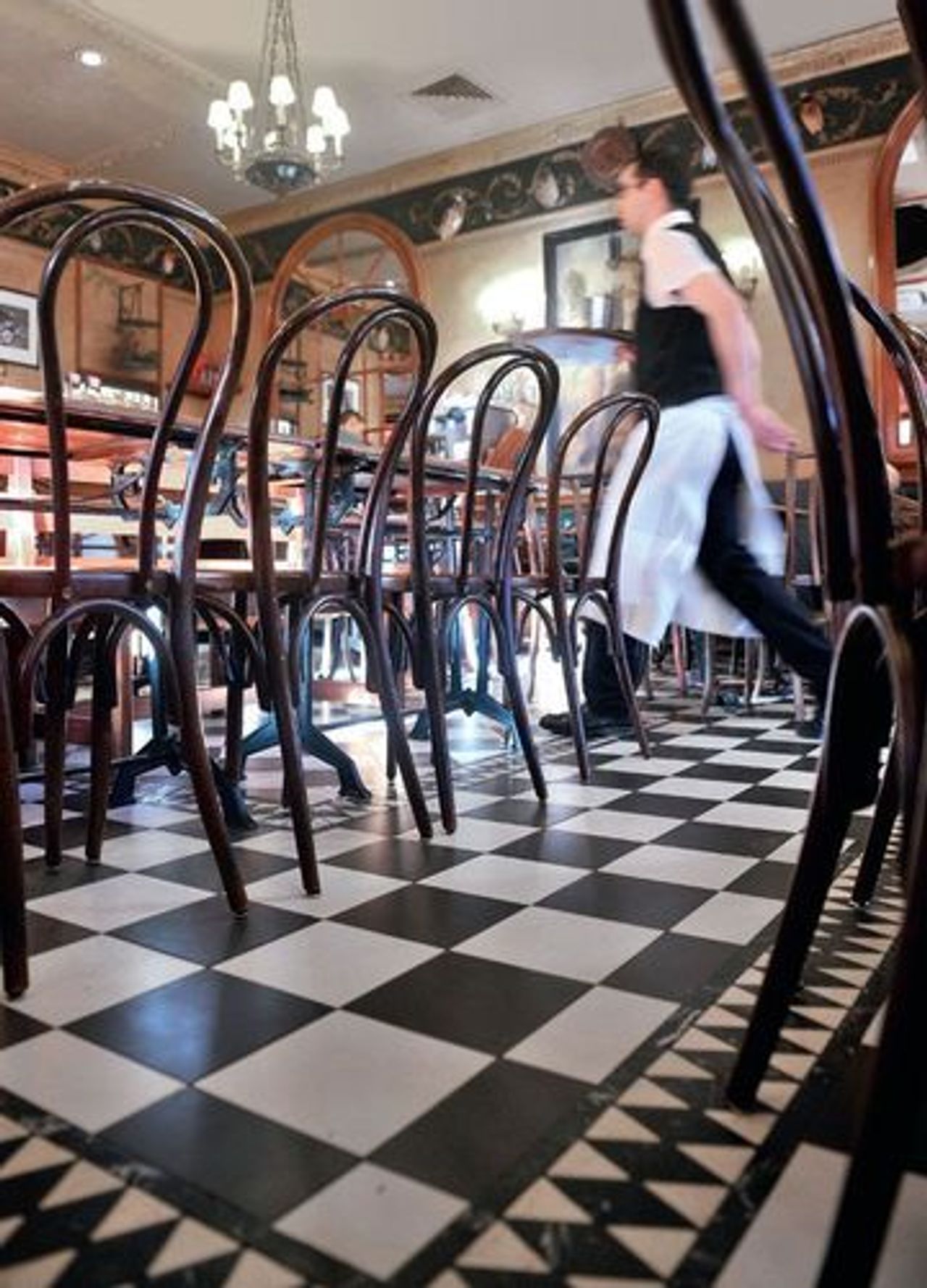 CAFES
Le Grillon (pictured above) and Les Deux Garçons, both on the Cours Mirabeau.
CHEESE/WINE
Fromagerie Lemarié
55, rue d'Italie
Fromagerie Savelli
9, rue Marseillais
Cave du Félibrige (wine, and just a few doors down there's a craft beer shop)
8, rue des Cordeliers
There's a new "cave" (wine shop) on the Cours Mirabeau, but I don't know the name nor have I been in. It's near Monoprix (also a good place for wine and food, in the basement)
La Bouffarde (for cigars)
1, rue Clemenceau
MUSEUMS
Hôtel de Caumont
3, rue Joseph Cabassol
In a beautifully restored mansion, and it also has a perfectly fine restaurant with stunning gardens and a large terrace.
Across the street is the Anglo bookshop, Book in Bar. A large selection of books and a great place to stop for a pot of tea and a scone.
Goulard, on the Cours Mirabeau, for books in French.
Musée Granet
Place Saint-Jean de Malte
Saint-Jean de Malte (Romanesque/Gothic church on the same square; lovely interior)
Cathedral Saint-Sauveur
rue J de la Roque
Make sure you visit the cloister (guided tours only, for a small donation)
Atelier Cézanne
9, ave Paul Cézanne
Paul Cézanne's studio, which remains much as he left it in 1906.
And in 2021, Aix will be home to a new Picasso Museum, on the Place Prêcheurs!
Happy travels!
February 20, 2019
Toulon: Discovering Something New in Provence
We've been living in the countryside south of Aix, close to the Mediterranean, for five years. We miss Aix and our friends, and the almost-twenty years of memories we had there, but have no regrets. Aix isn't far, and we go frequently. We love living in the country and exploring the villages, vineyards, and bigger towns around here, and one of our most pleasant surprises has been discovering the city of Toulon. Toulon? you ask. I did, too. I thought it was a no-go zone, as my NYU students used to say, a "fly-over-city," a community that once thrived solely because of its naval industry (now greatly diminished) and that today was, from all accounts, dying. Not so!
Toulon is one of those cities that each time you visit you discover something new, some hidden gem: an art gallery, a vintage clothing store with some seriously great old handbags, an old-fashioned restaurant where everything is still made by the chef including the bread, craft beers and, our most recent find, craft gin. It's trying very hard to re-create itself, and I like that. That said, it took us a long time to visit. My 1997 France Rough Guide, published in London, bluntly tells travellers to "give it a miss," and the Fodor's entry is four short paragraphs.
Toulon, like Marseille, is an ancient port city dating back to the Phoenicians, when, in the 7th century BC they established trading depots along the coast. In the 2nd century BC the Romans took over and founded a settlement in Toulon, named after Telo, the goddess of springs. Toulon's naturally deep protected harbour became a shelter for trading ships, and later, of course, war ships. In those days, its main export was a purple dye used in Roman imperial robes, made from a local sea snail.
Christianity arrived in the 5th century, but the town was frequently attacked by barbarians, pirates, and the Saracens. When, in 1486, Provence was integrated into France, Toulon became a major sea power on the Mediterranean and today it's still the biggest military port in Europe. Below, a detail of a large painting of the harbour as it was in the eighteenth century: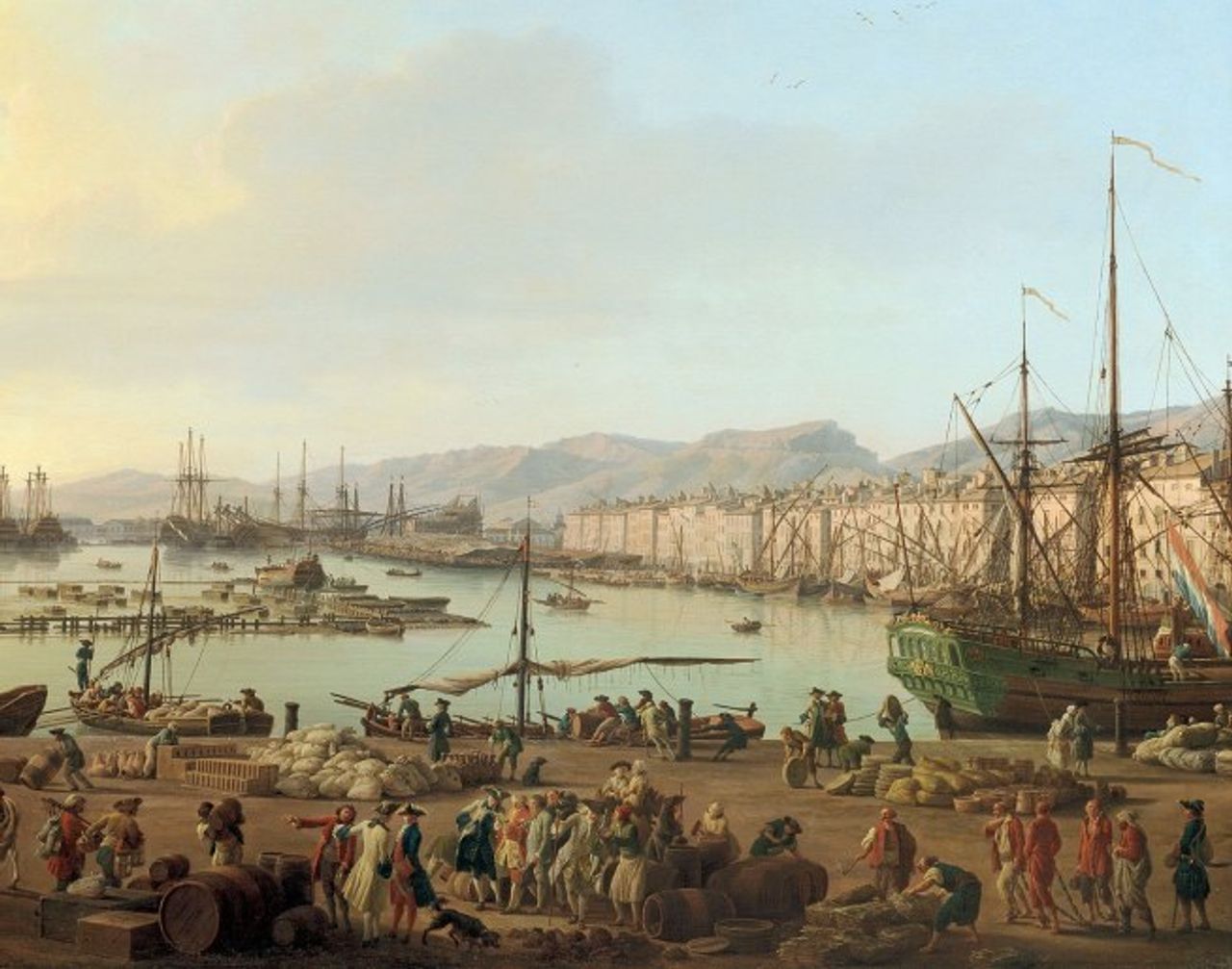 But its saddest moment, and one that is still difficult for many Toulonnais to talk about, occurred on the 27 of November in 1942 when Toulon's naval officiers collectively decided to scuttle the entire fleet, in the harbour, rather than risk the ships being used by the Germans.
The port today is still home to France's navy, and ferries that leave every evening for Corsica or Sardinia, and some mediocre restaurants but a fine place to get a beer or coffee and look at the sea: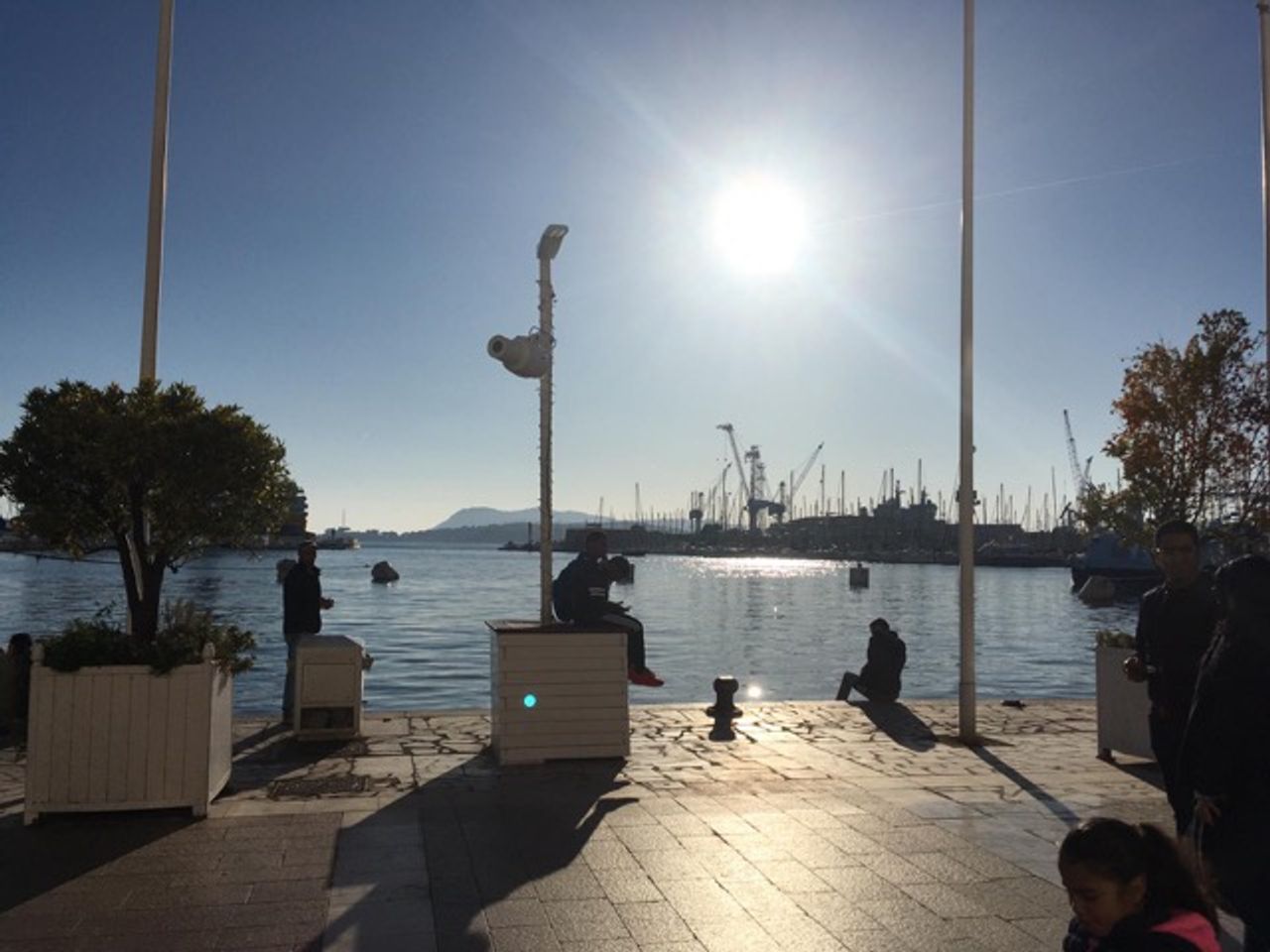 For lunch we have a few favorite places such as Santa Rosalia (36 rue Charles), a taco restaurant opened by two young bearded locals in love with Mexico. All of the food is made with local organic ingredients and on tap is a Toulon craft beer, Bière de la Rade.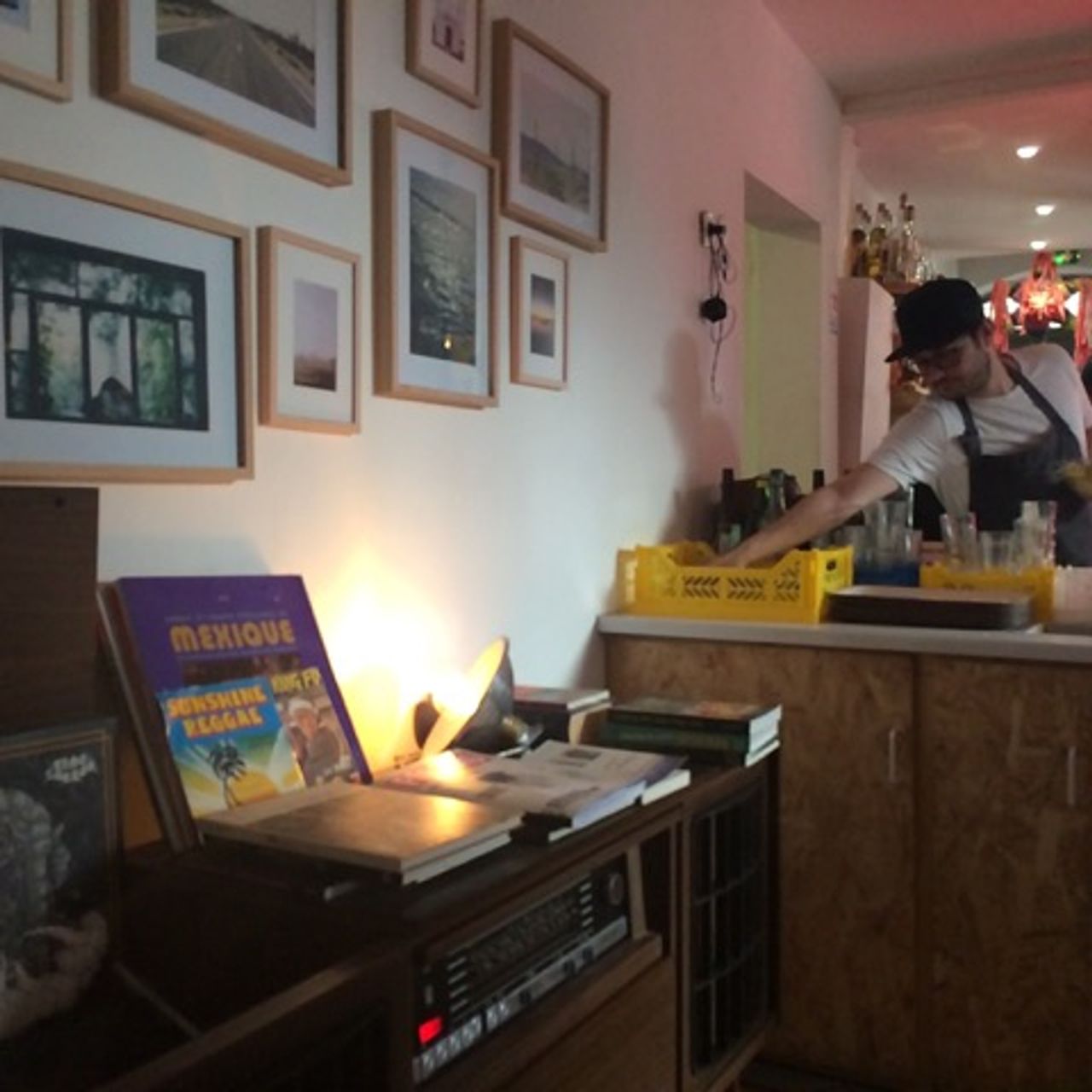 The interior, very vintage including the stereo. There's a nice outdoor terrace in warm weather.
Another lunch spot we like is the elegant café Le Chantilly, in the middle of the old town on the Place Pierre Puget. Reservations a must as it's where the locals hang out, especially actors from the Theatre Liberté (directed by acclaimed French actor Charles Berling, a real coup for Toulon), artists, and the mayor Hubert Falco and his entourage.
The old town's streets, mostly pedestrianized, are fun to walk around as the shops are a mixture of up-and-coming galleries, thrift shops or clothing ateliers run by young local designers, and those social clubs and bars (that are slowly disappearing) where old men gather to chat and play cards. The best streets are those south of the opera house (designed by the same architect who designed the Paris Opera Garnier, Charles Garnier in 1862):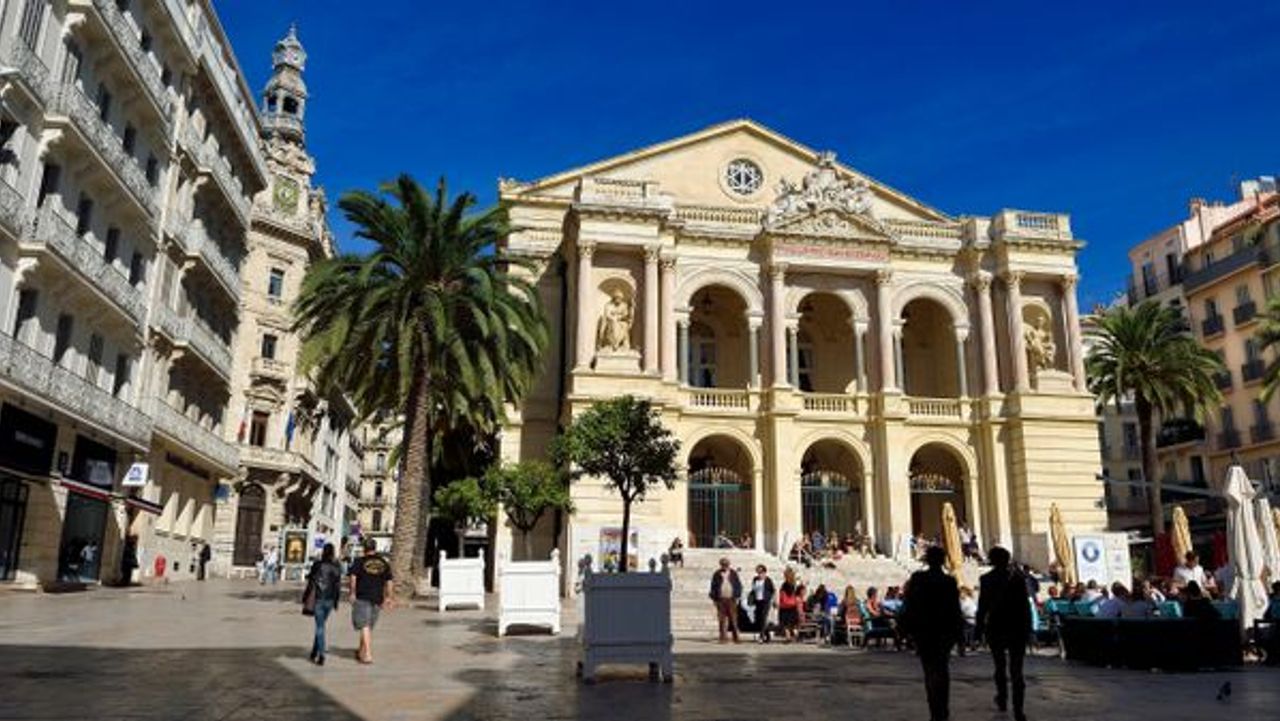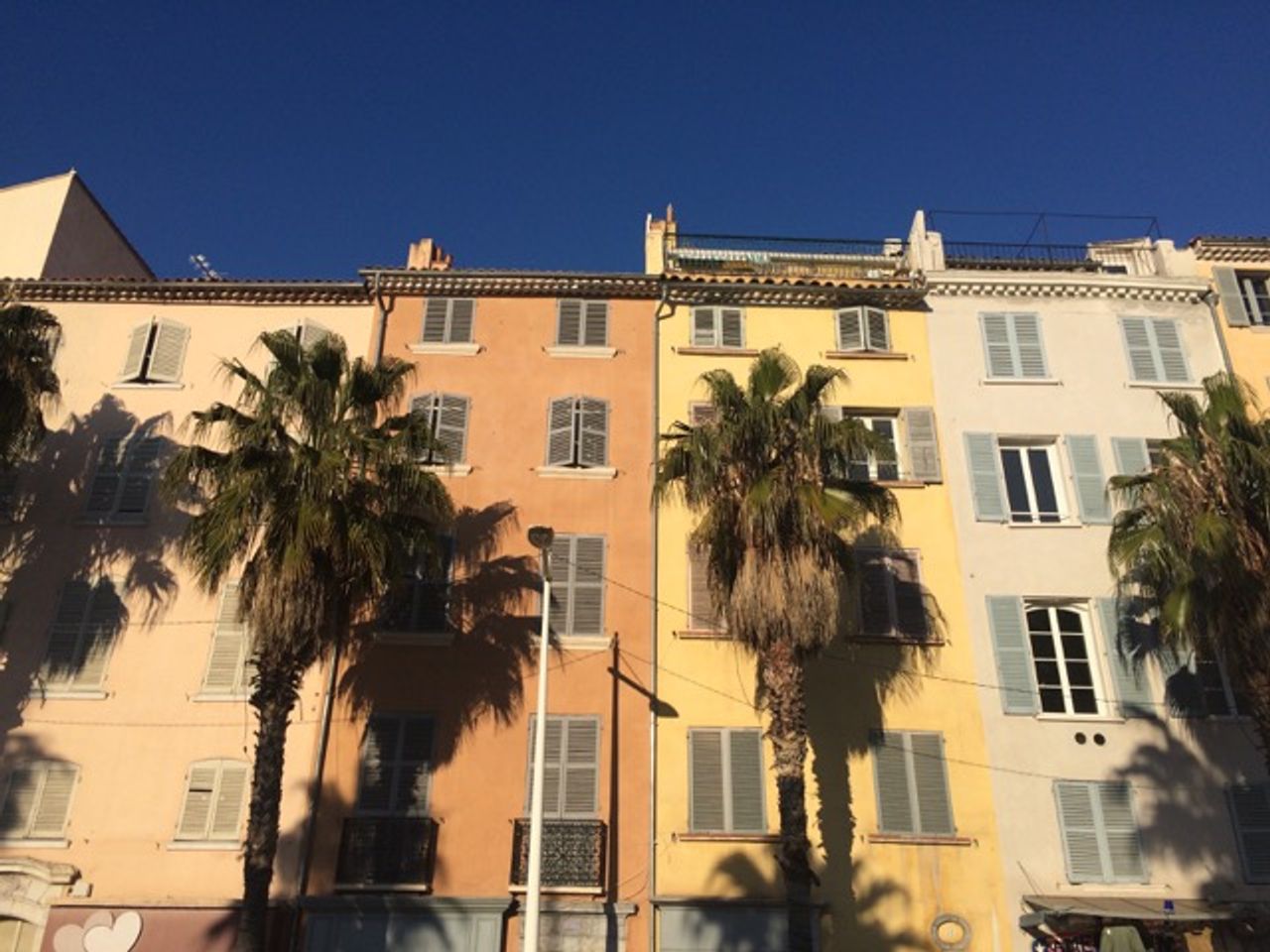 The colors of Toulon.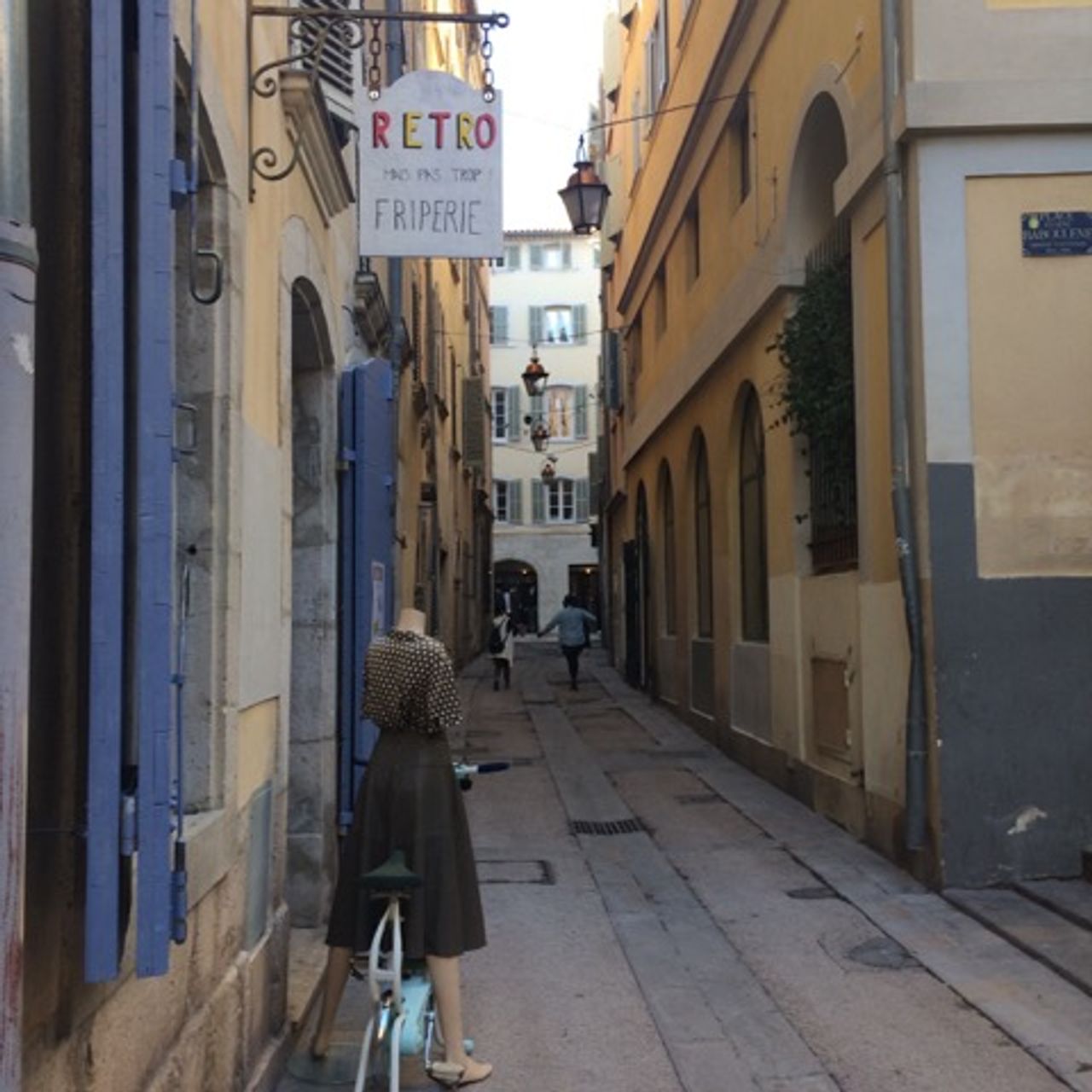 One of the old town's tiny streets, and a great thrift shop.
On our most recent visit to Toulon we went to the Naval Museum which was a lot more interesting than the dusty provincial museum we were expecting. The displays are bright and clean, accompanied by interesting information. The intricately-made ship models captivated me; whole teams of sculptors were hired to build models before the ships were constructed, as a guide. Young naval cadets also studied the models in detail to familiarize themselves with, and memorize, the architecture of a ship. These two models were each about five feet long: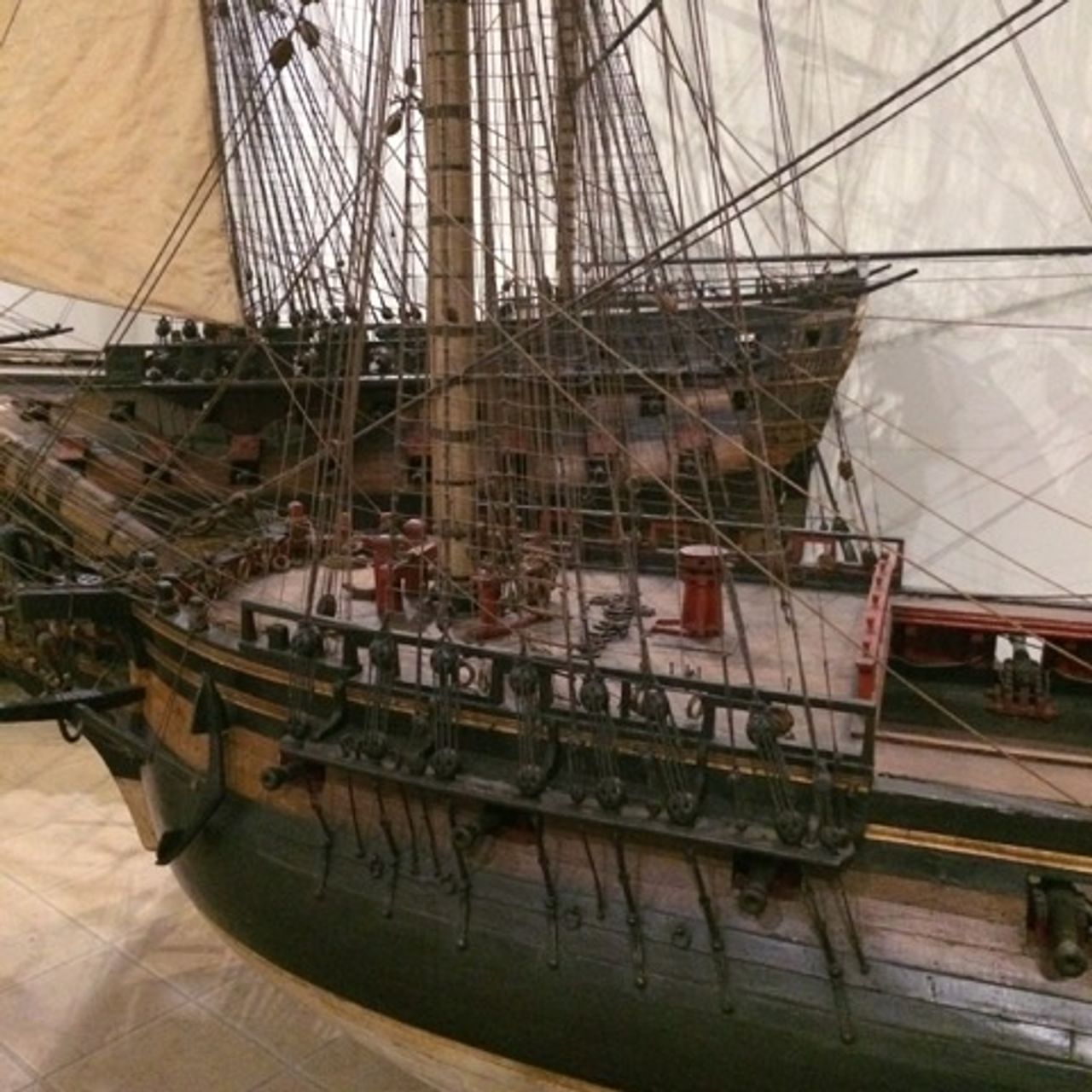 The model team in a photo taken in the mid-twentieth century: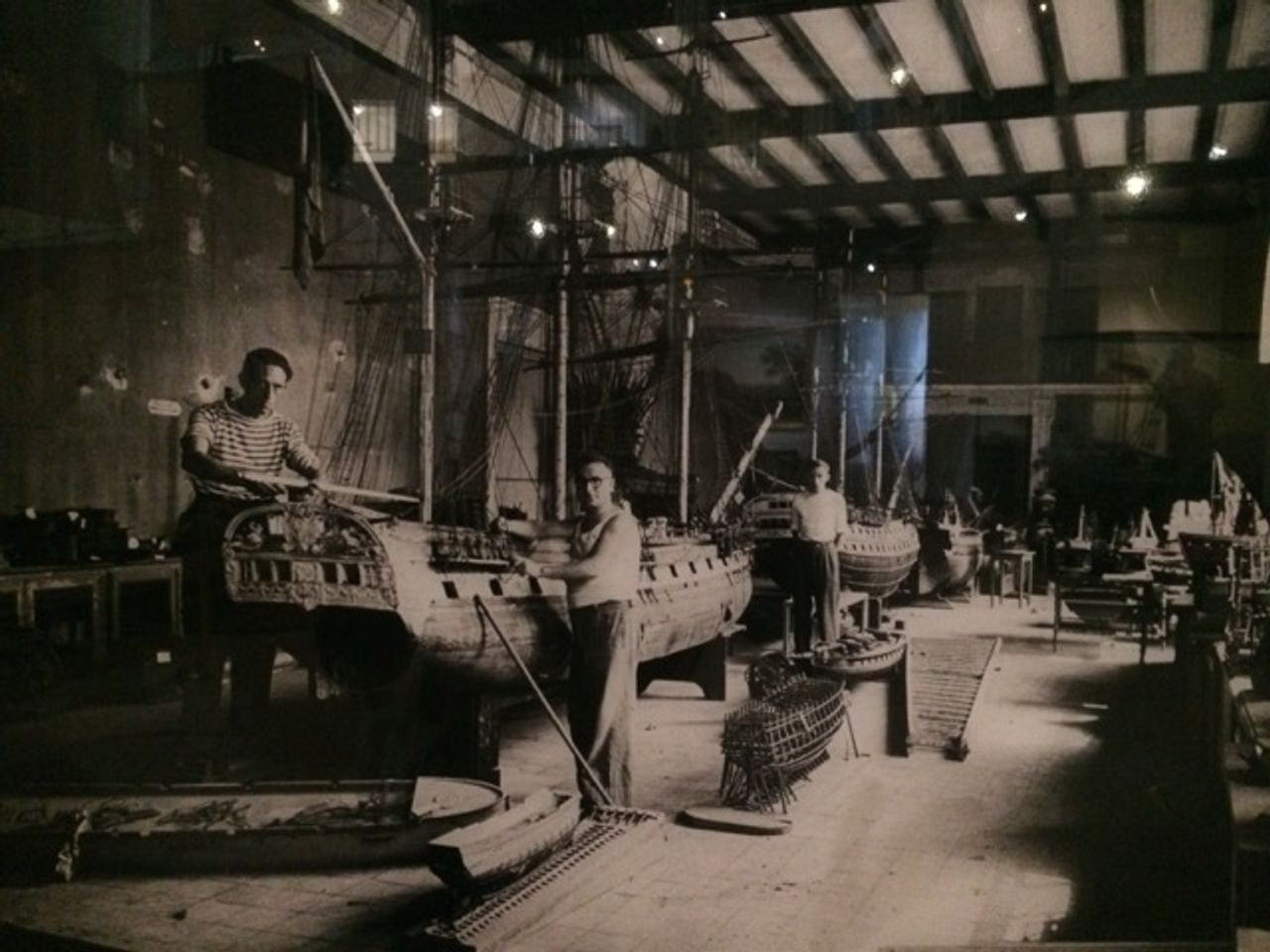 The museum has very large paintings both depicting the harbor throughout the centuries and some details of life on board ship. This one I thought was particularly well done: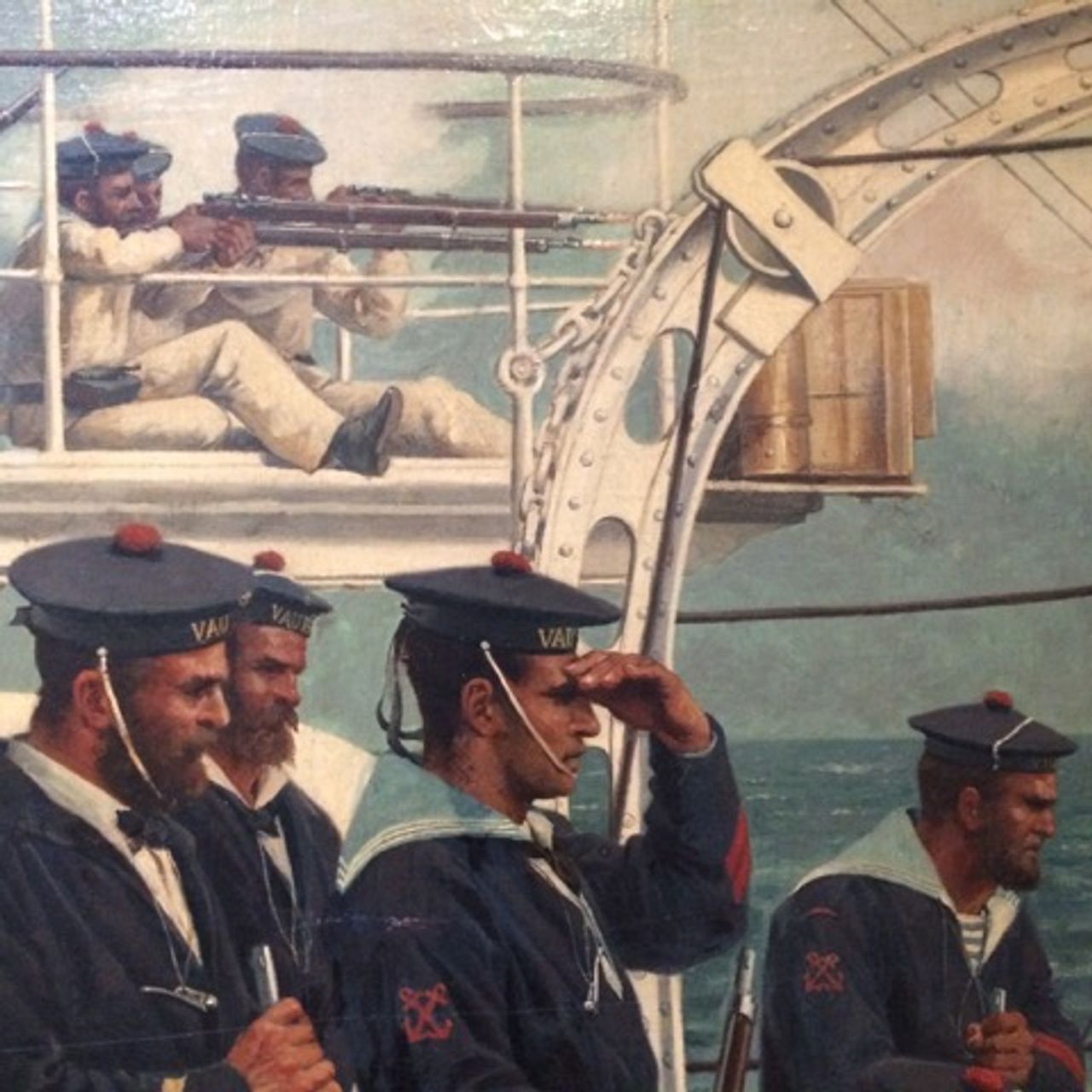 A detail of life on board a French war ship, a painting from the mid-twentieth century.
Now and then glimpses of Toulon's heroic past can be seen in its seventeenth and eighteenth century buildings, including this one on the harbour beside the naval museum: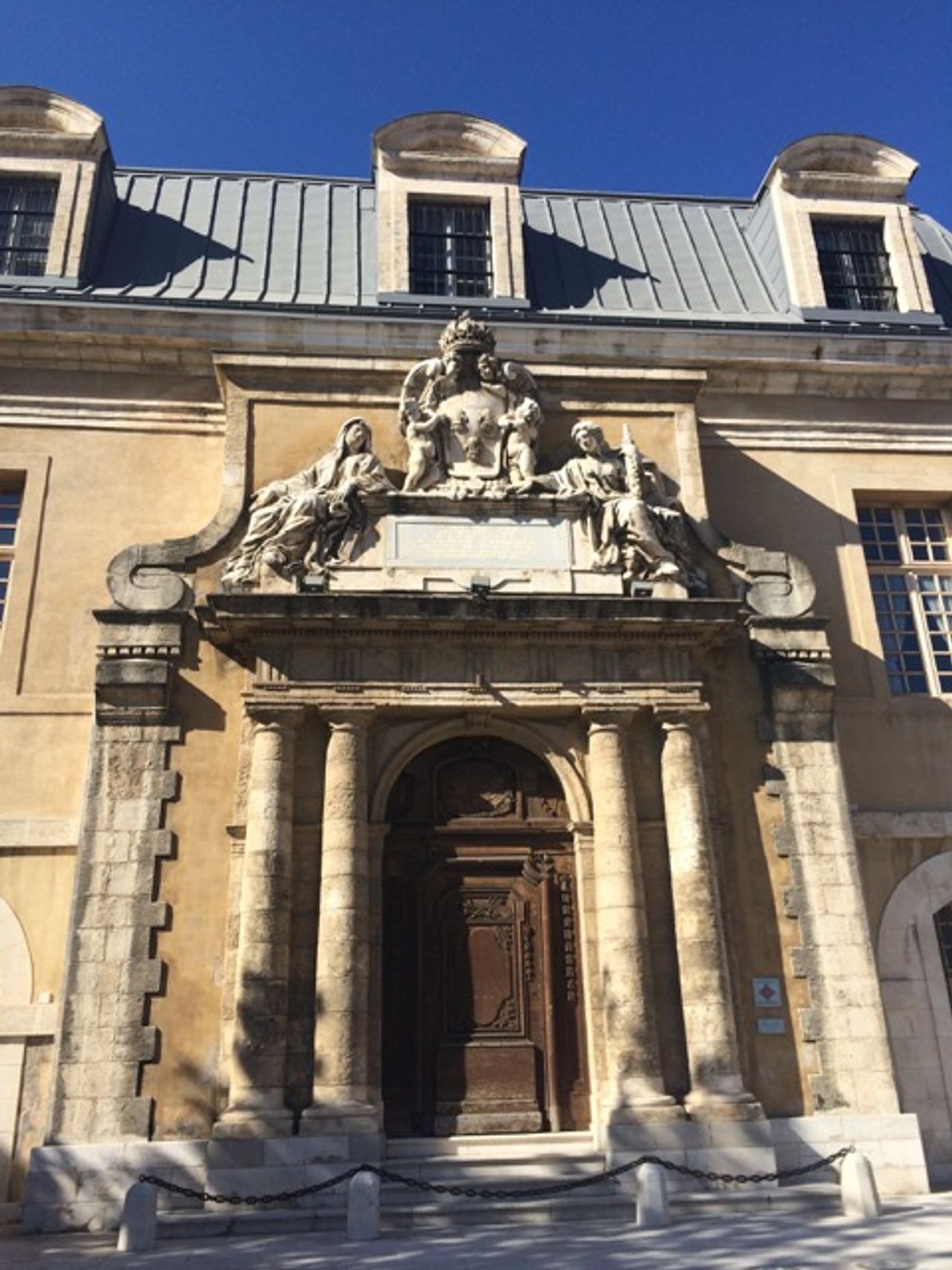 A sunny square, whose façades have been refurbished with financial assistance from the city:
Besides the delights of the naval museum, we also discovered a new distillery, Cicada, that makes a local gin using Mediterranean plants. It's delicious so we bought a bottle and are saving it until this summer to share with friends. Here's the interior (they are on the Place Gambetta if you're planning a trip and their website is www.cicadagin.com):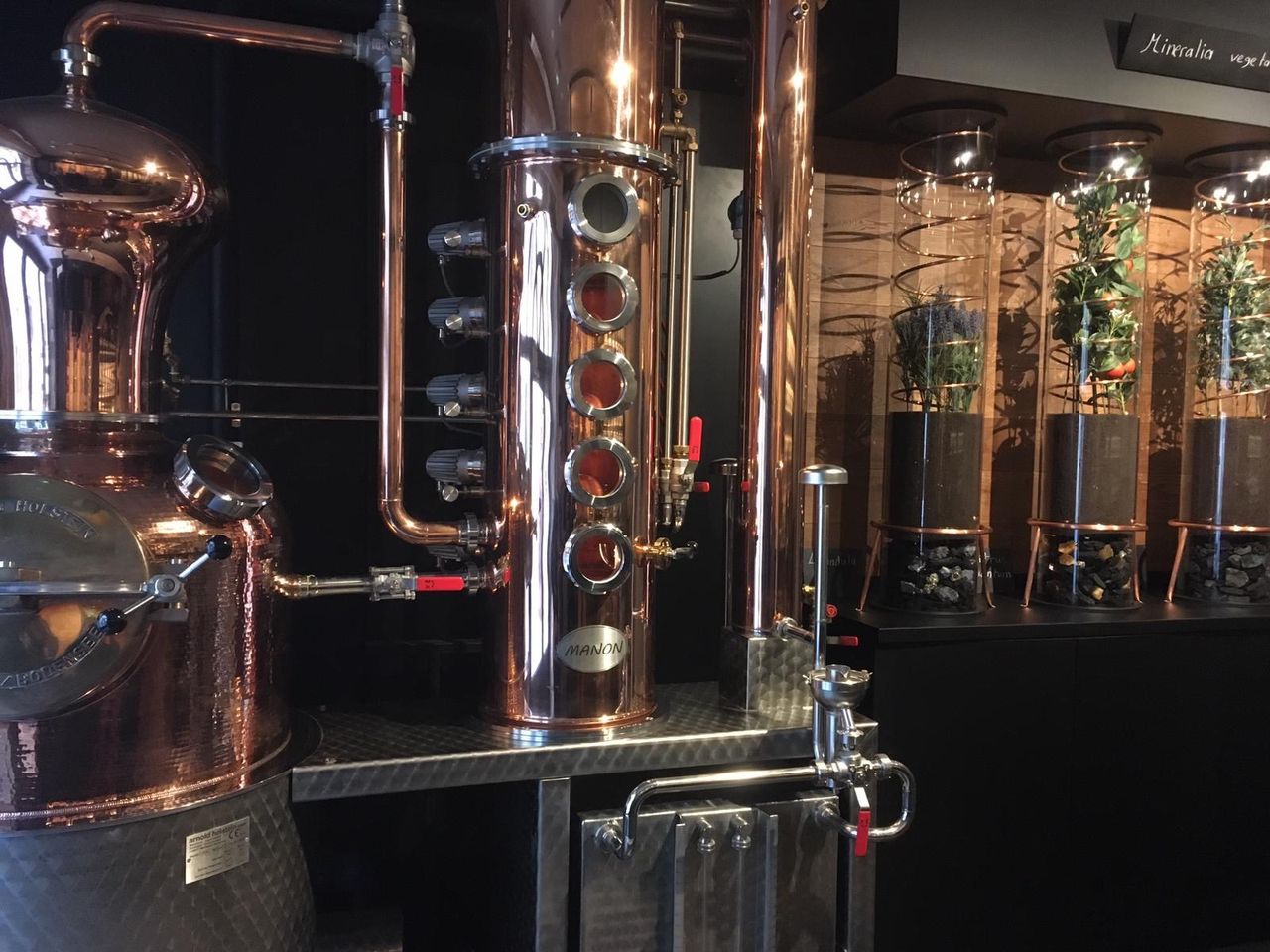 If you're visiting in July, there's a jazz festival, and also the Design Parade, organized in part by the Beaux Arts school of Toulon who are loaned a local historic building whose rooms are then redesigned by young interior designers chosen by an elite jury.
But the best part of visiting Toulon is the welcome; in shops, restaurants, and galleries you are greeted with smiles and enthusiasm, for everyone is trying to make a go of it here, and I wish them the best of luck. Here's hoping that Toulon is the next hot destination in Provence!
October 30, 2018
Autumn in Piedmont
It was an unplanned mini-break; one of those last minute trips that turn out fantastic—not life changing, but almost. Inspiring, relaxing, good for the soul and body.
I had just turned in the manuscript for my eighth book and our daughter, Eva, who works in diplomacy in Paris, called to say she had a week off at the end of October. Should we do a quick trip somewhere? I was waiting for the copy edits to arrive from New York, so the timing was perfect. It was also a chance to spend a week with Eva, who, as a busy Parisian, has friends with whom she normally travels. Yes! I answered. We decided on Piedmont.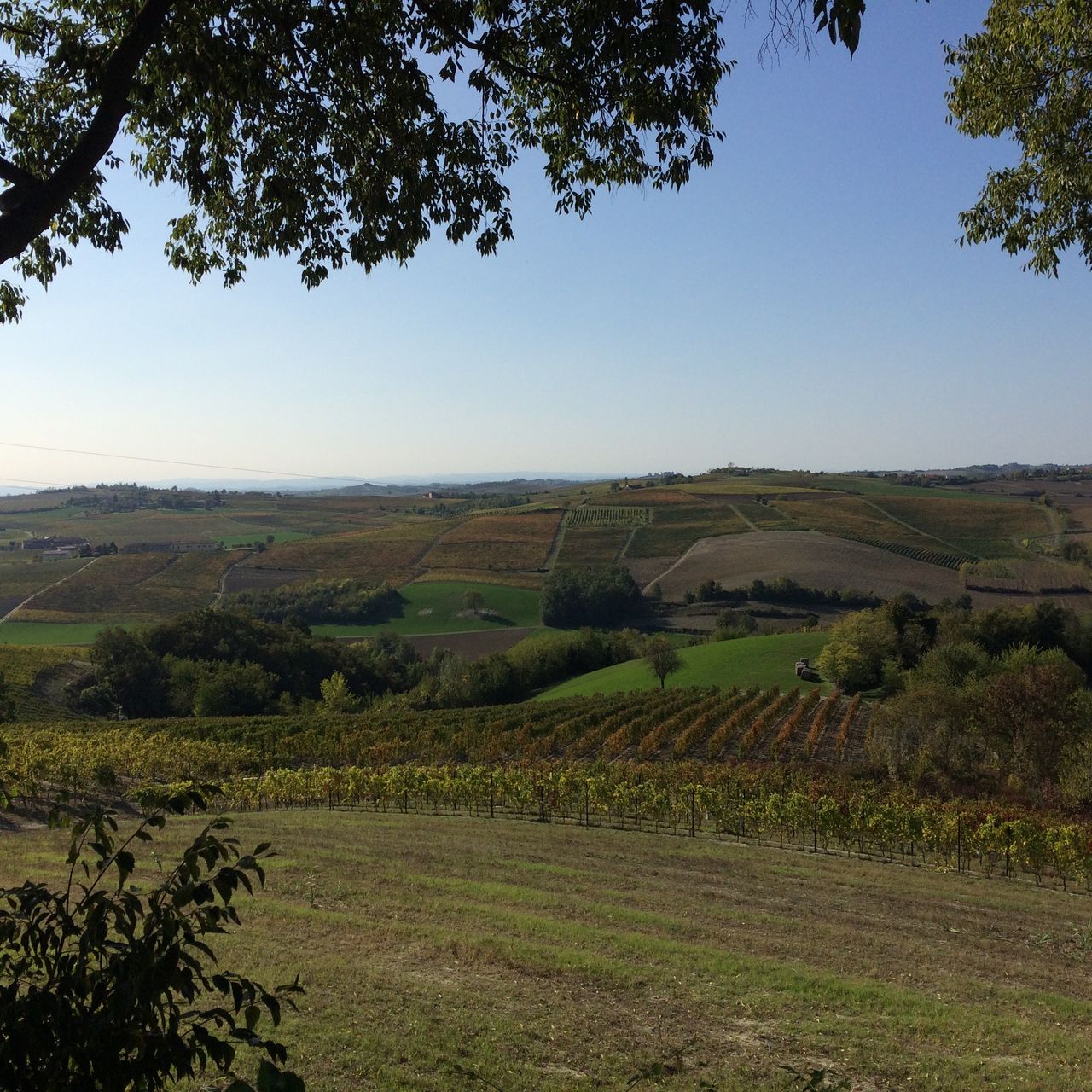 We love Italy, and can drive to Piedmont from our house in Provence (the end of October is the Toussaint holiday in France—All Saints' Day). But here it's a two week school vacation which makes it really hard to go away last minute. The French are VERY organized at vacation planning and they line things up months in advance, a lesson we found out the hard way years ago when we booked a last-minute apartment in Rome that smelled like cat pee (now we only reserve in Rome with an outfit called Romeloft.com. Highly recommended).
But our bible for travelling in Northern Italy is Faith Willinger's 1998 book "Where to Eat in Italy." I got it out and tried to reserve a few places near Alba, but guess what, it's the white truffle season on top of being the Toussaint, and everything was booked. I re-read her chapter on Piedmont, and saw that she loves a place further north, in the Monferrato hills, a bed and breakfast, Azienda Agricola Il Mongetto, in the village of Vignale Monferrato. I contacted them and they had one room left. Hurrah! We drove most of the day, as we made a stop in the hills near Barolo, south of Alba; but those famed villages, although beautiful, were swarming with tourists (including Italian tourists), so we arrived in Vignale only around 7:00pm. Here's the dining room, just before dinner: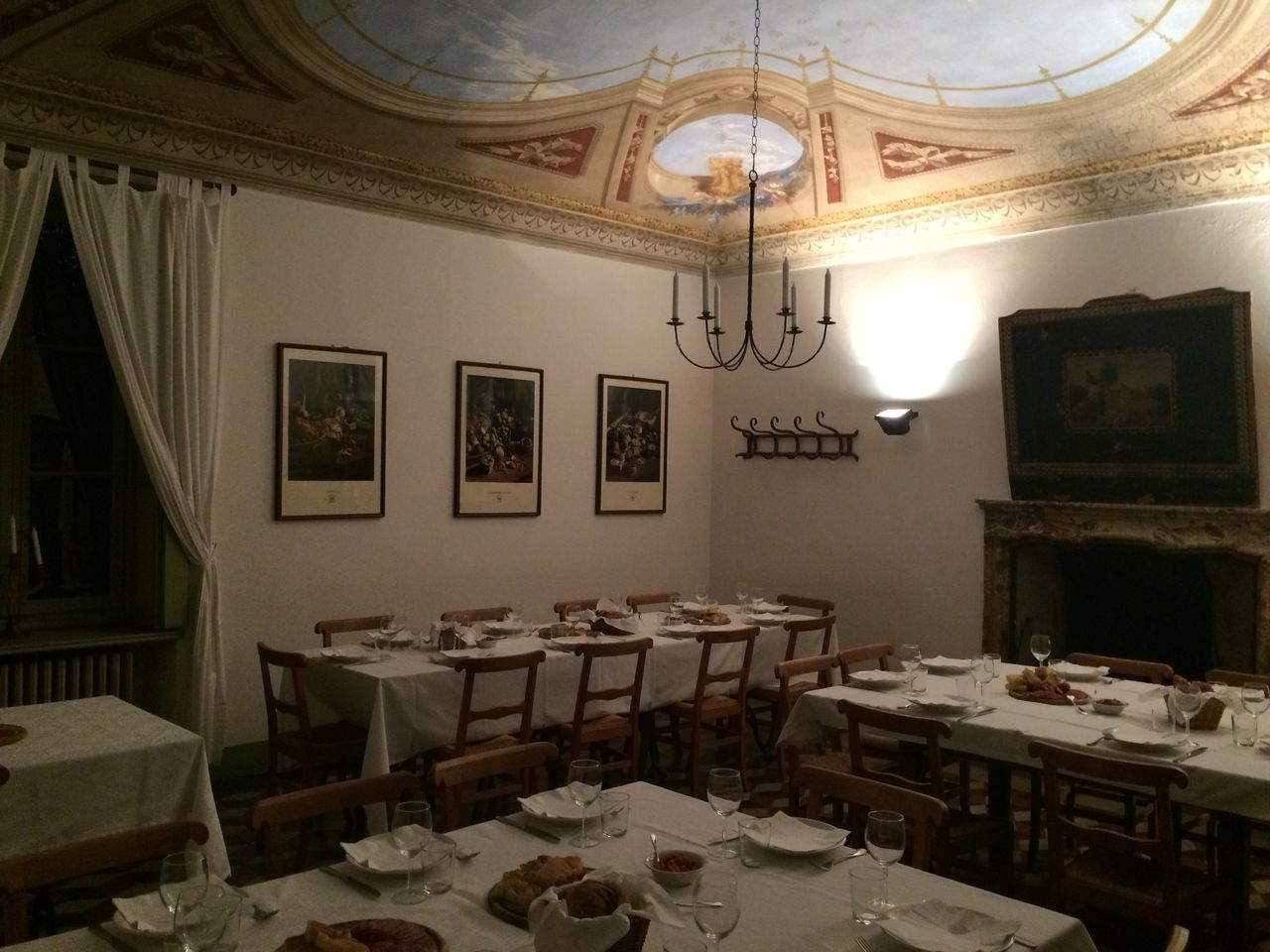 For dinner it was candle-lit.
Our dinner, in typical Piedmontese style, was about eight courses (at the ravioli we realized that we were only half way through the meal, as it was only the pasta course!). Carlo, who runs the place (it's his ancestral home) also makes very good Barbera wine. Sylvia, a woman from the village, works in the kitchen. The place was packed, with Italians (multi-generational at the big tables), the two of us, and a group of British wine enthusiasts. One of the desserts (there was also Sylvia's chocolate cake) were these mini rum babas soaked in limoncello: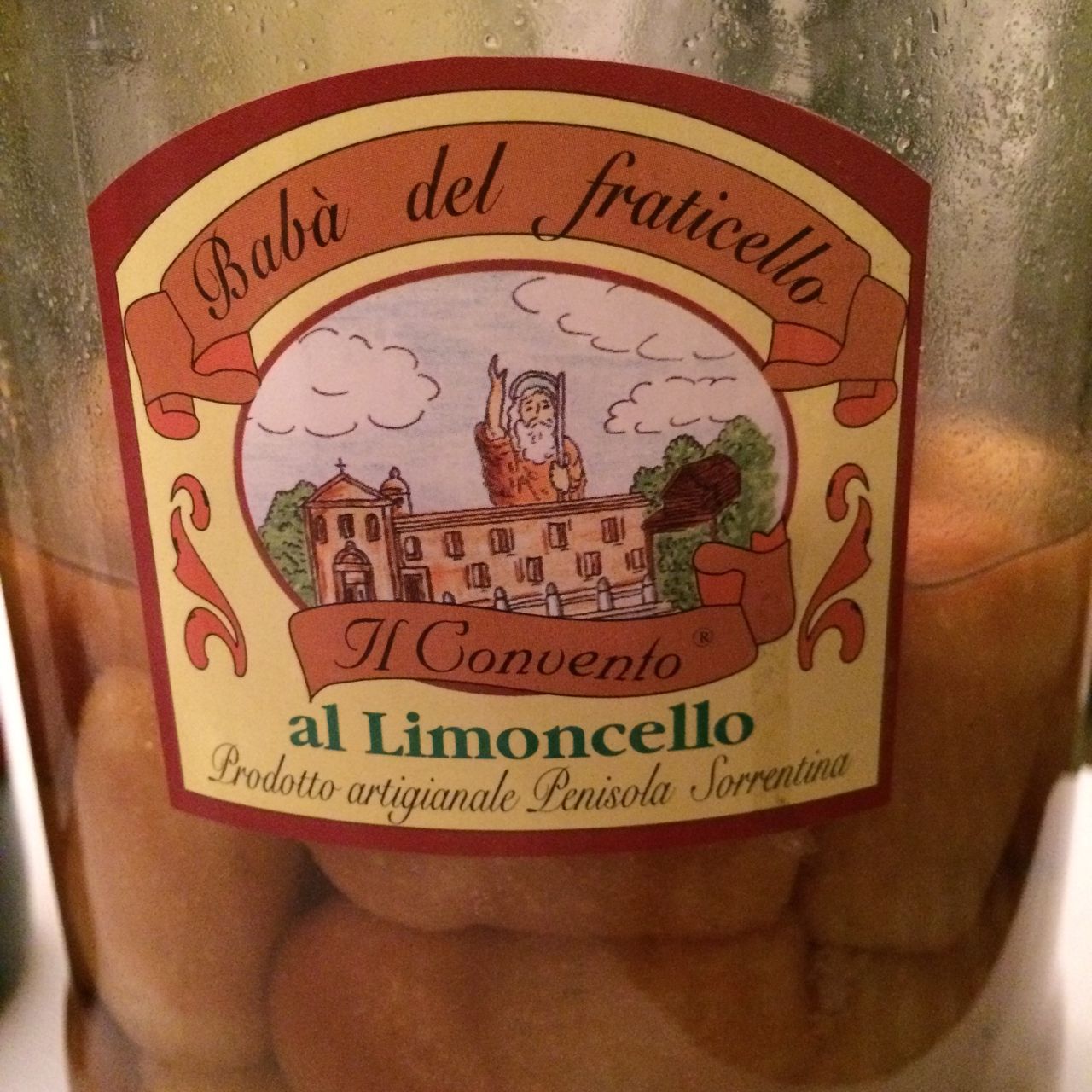 Our bedroom: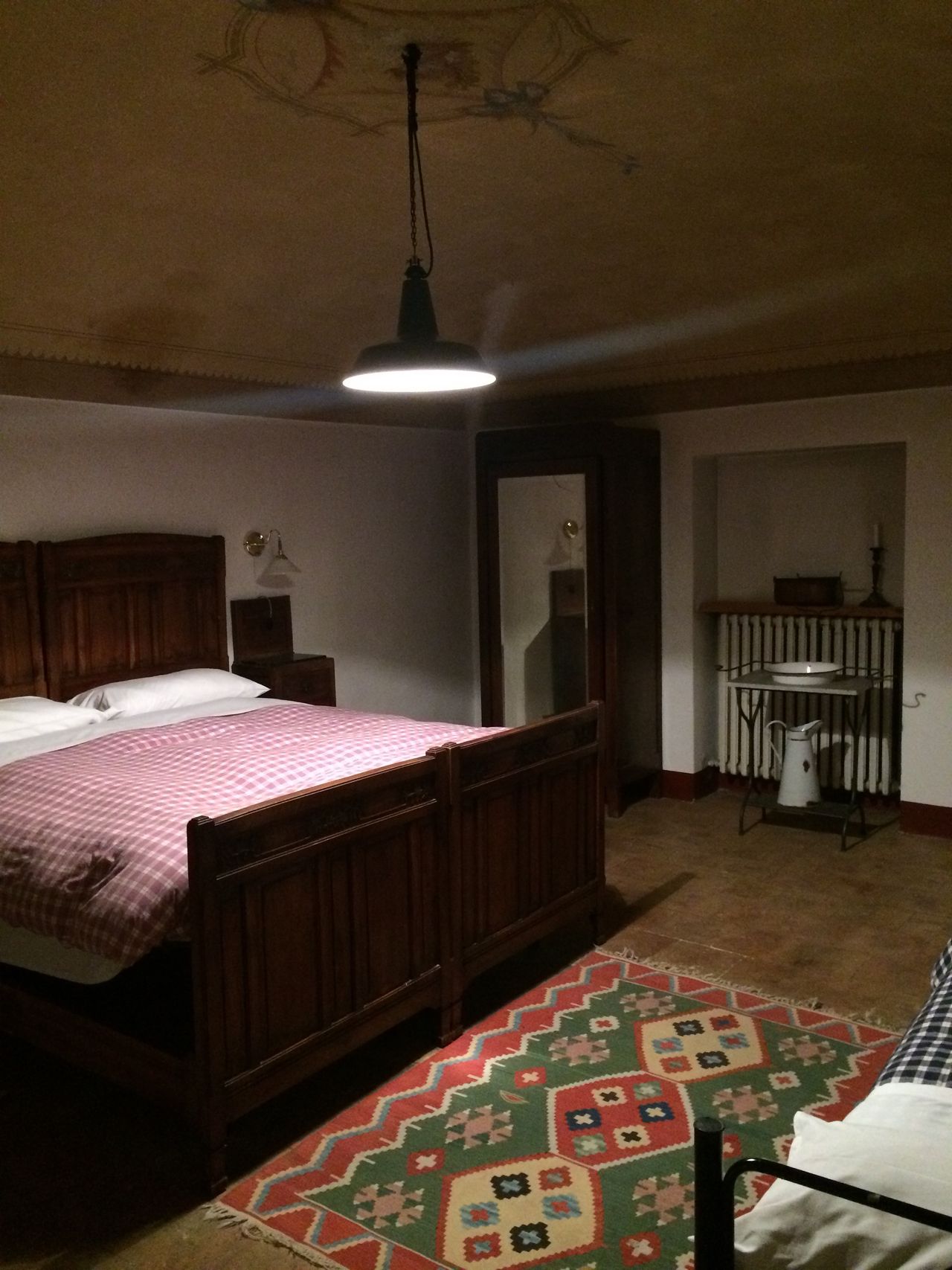 And our kitchen the next morning (we were given an apartment on the top floor) :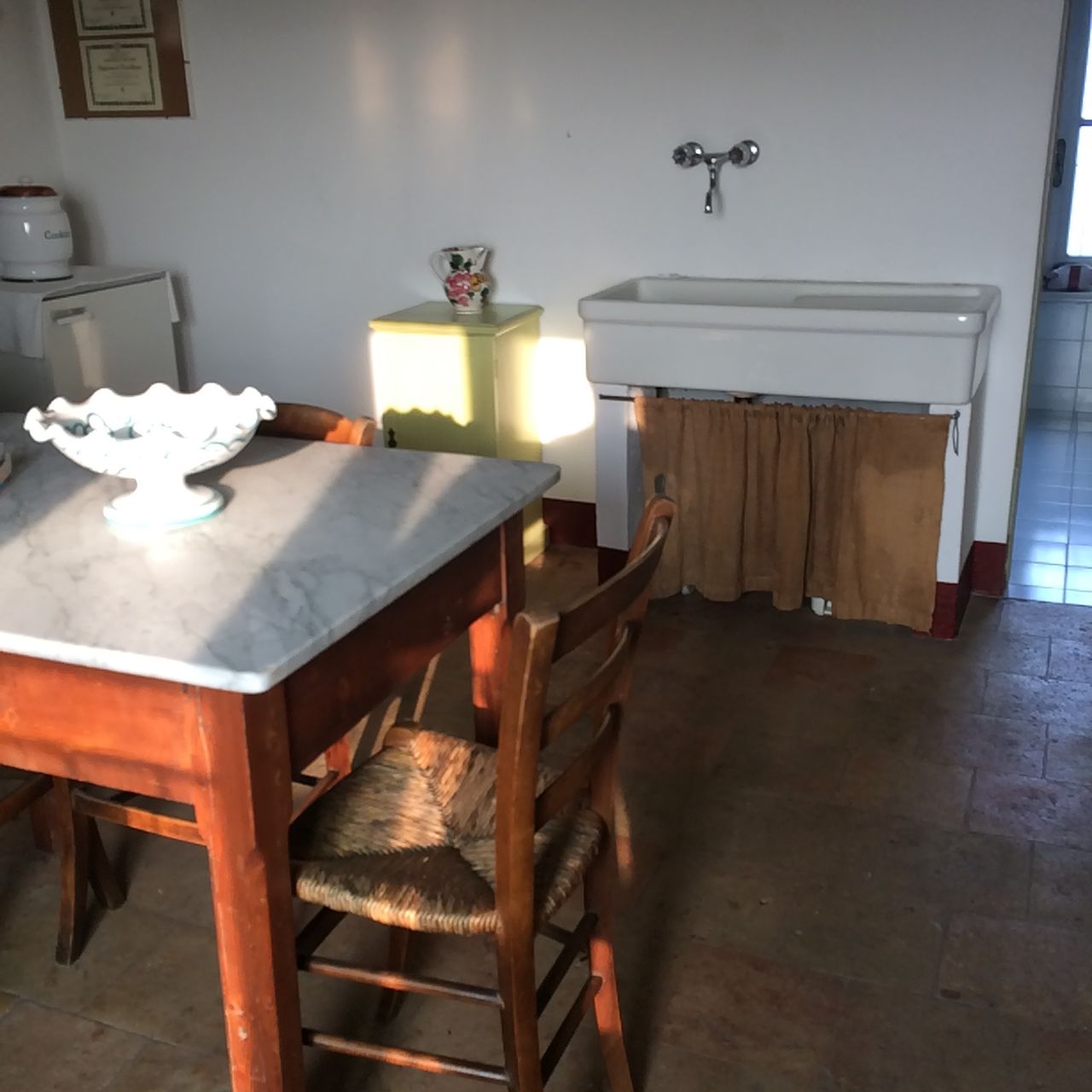 Talk about rustic charm! We were in love. Carlo made us an excellent breakfast (his bright-yellow scrambled eggs are the best I've ever had; he makes them using mostly the yolk—as Sylvia had used the egg whites the previous evening in her artichoke flans, covered in local melted cheese. That was course three…or four?)
We decided to walk that day, skipping lunch. Neither of us are very sporty, but the day was so warm and sunny, the fall colours so beautiful, that we decided to walk from Vignale to the next town, Camagna (a distance of about eight kilometers; it took an hour one way). The views:
Camagna in the distance, with its monumental church spire.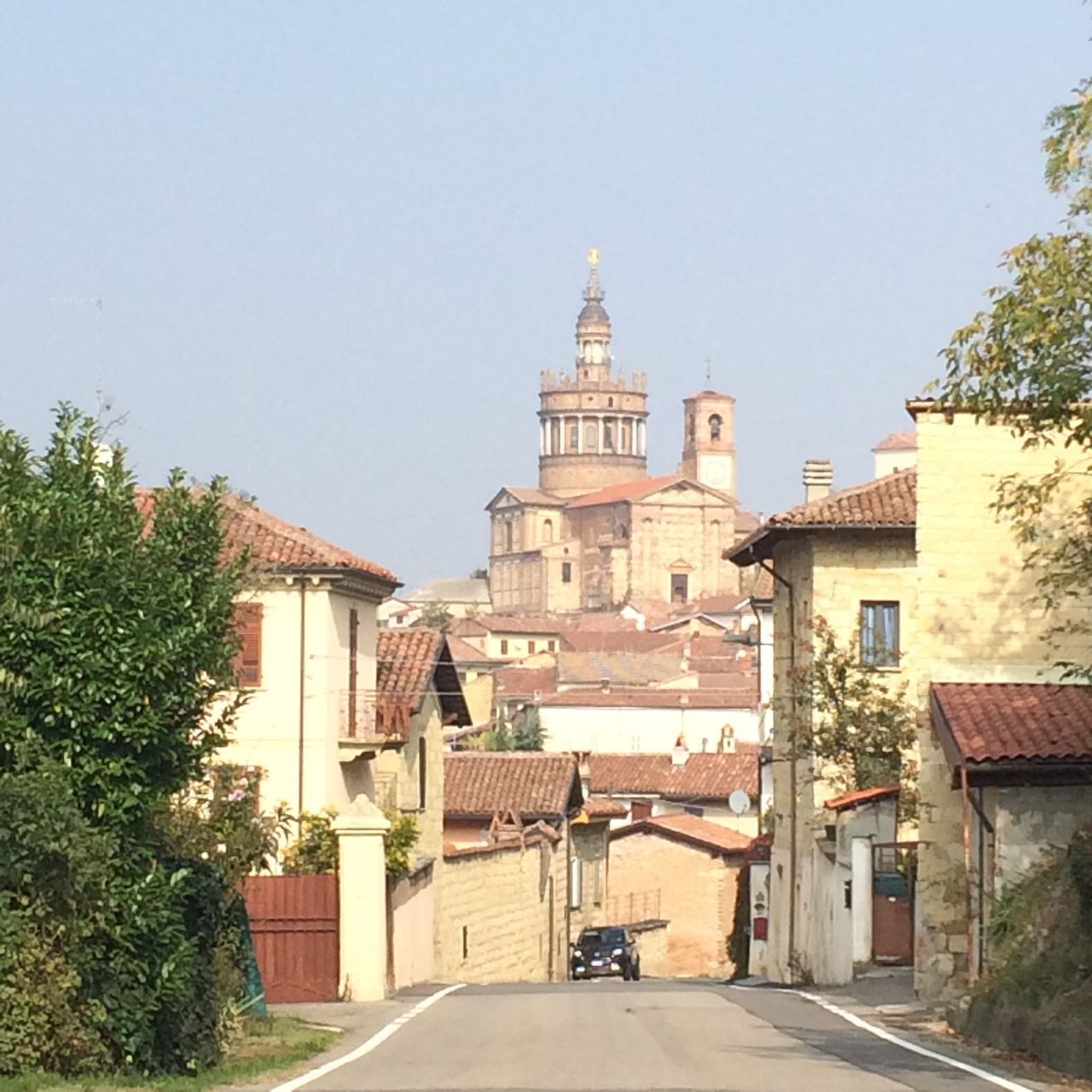 Walking into the village.
By the time we got to Camagna we were thirsty (still not hungry). Luckily, the village's only bar was open and we each had a glass of Prosecco for three euros, with some peanuts. We sat outside and watched the villagers go about their business, and yearned after this lovely house across the street: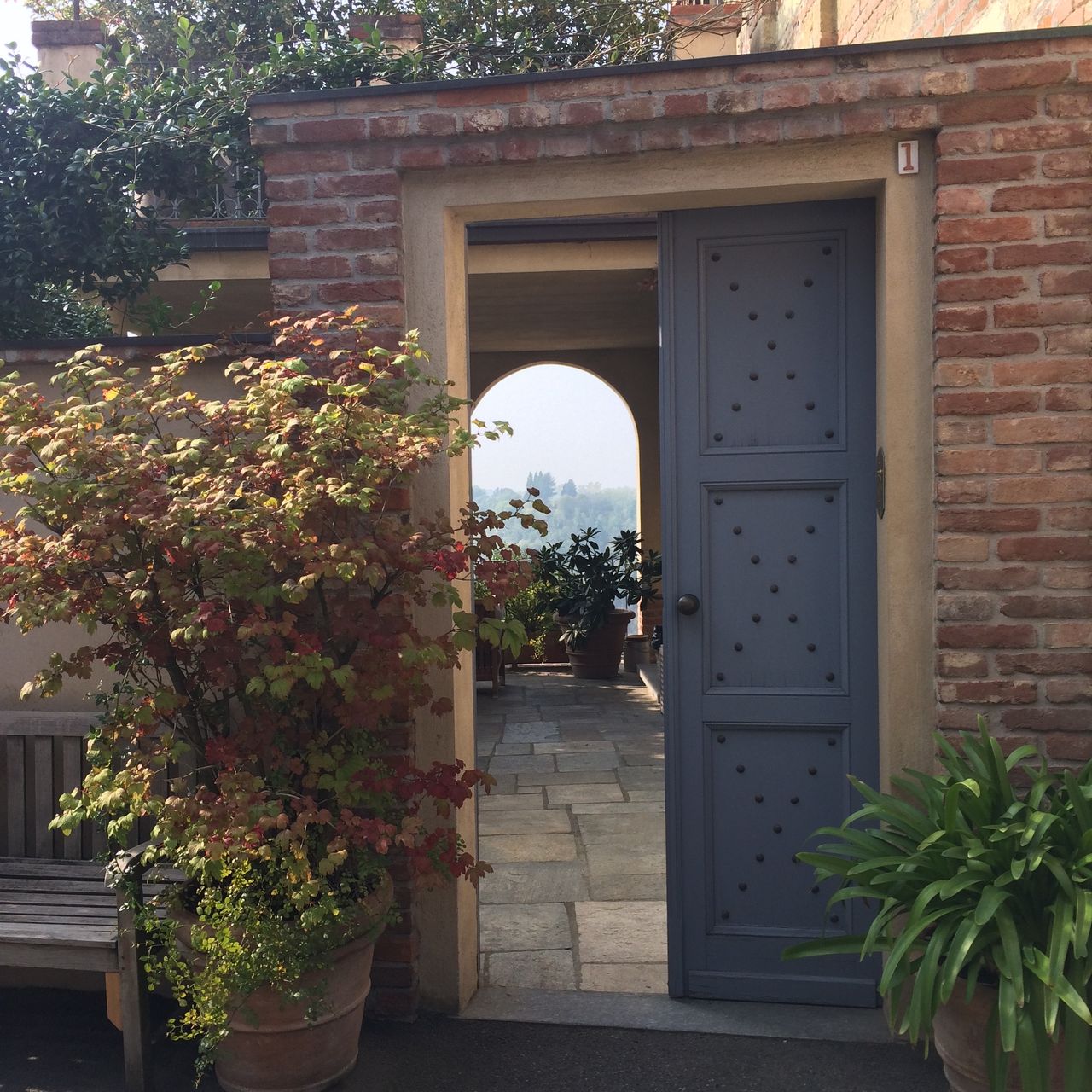 This is their terrace, through the blue door, with views off onto the Monferrato hills).
Back on the road, just past the cemetery…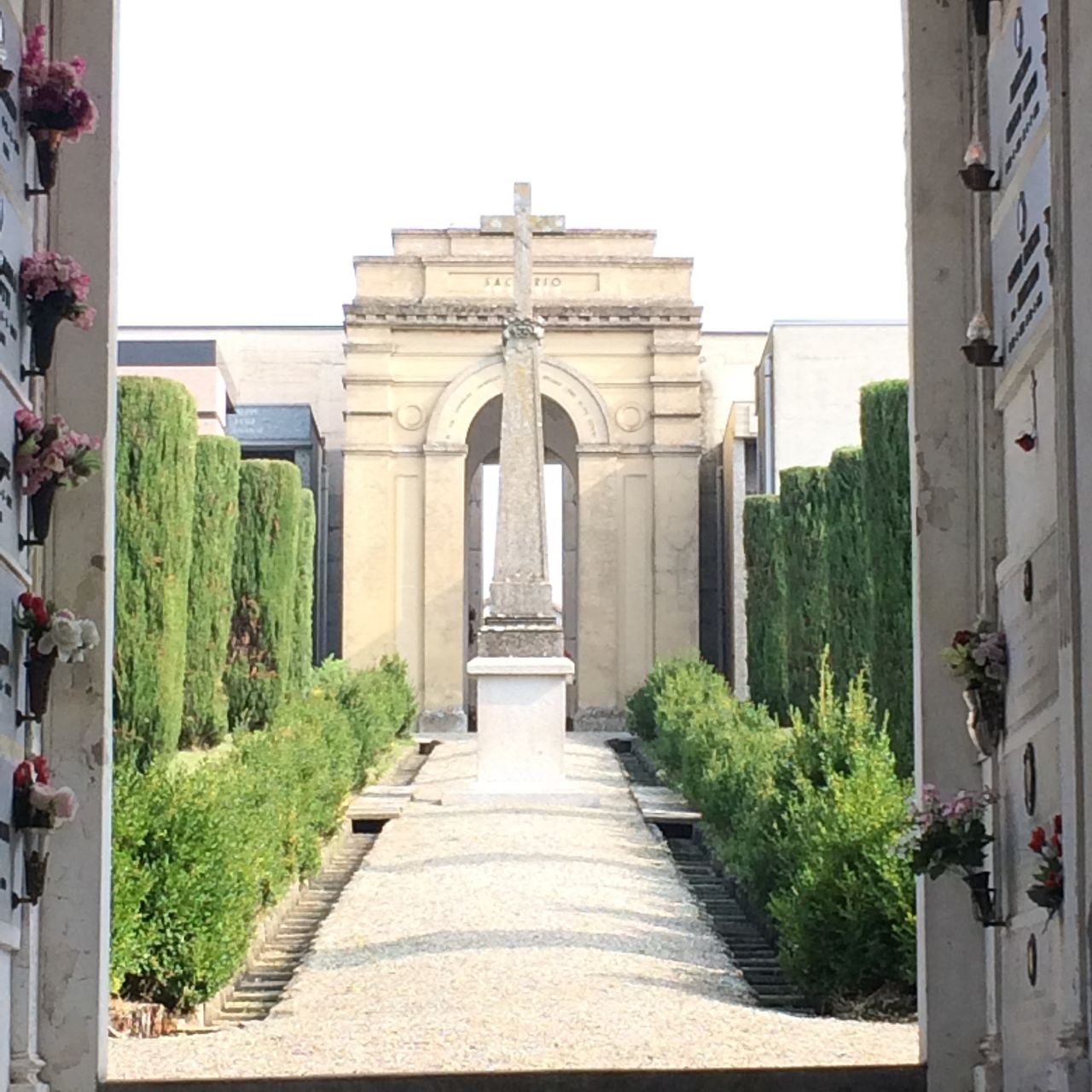 …we came across a man picking crab apples. He waved and ran across the road and gave us a handful, explaining that the tree was on communal village land. We had snacks for our walk home, although bitter ones. This man would be just one of the very kind people we met that week, and we would run into him a few days later, on the same walk.
Back in Vignale we made friends with a local shop owner who sells local wines, food products, and vintage clothes! Eva tried on a few stellar leather and suede coats from the sixties, long and very fitted. Think Catherine Deneuve, or Jane Birkin. We also visited Vignale's "Infernot," a centuries-old cellar built into the rock cliff under the village; it was used for storing food and wine, or for the villagers to hide from attacking neighboring townsmen.
After another glass of Prosecco served, as with most aperitifs in Italy, with a generous selection of local cold cuts and focaccia, we wandered into a strange premises with a sign on the window: Biblioteca Privata. Enter Franco, owner of this private library, who has catalogued over five thousand books, some dating back to the 1600s. He doesn't loan them out, but loves showing people around.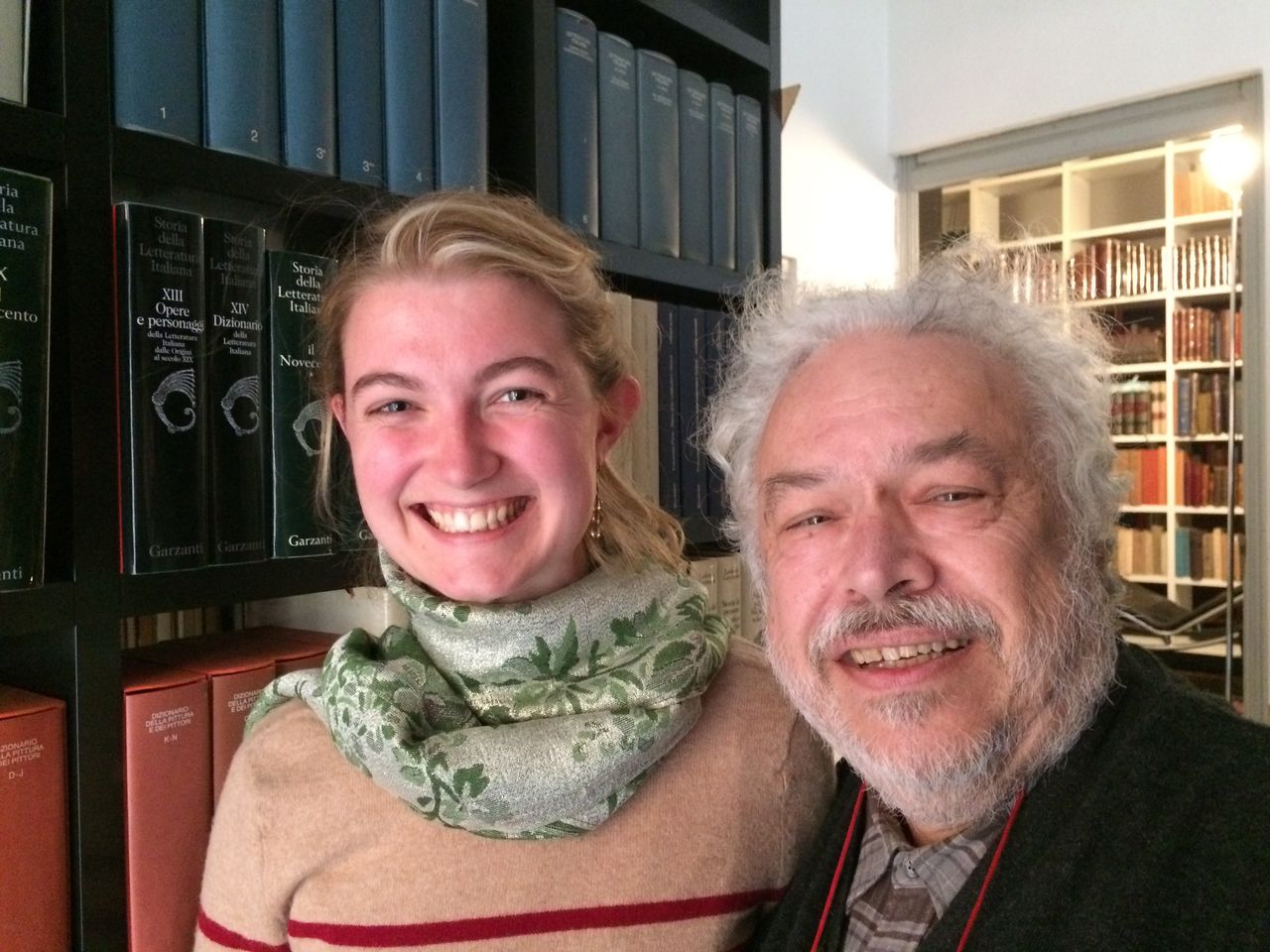 Eva and Franco (Eva's face was still flushed from our walk, and the surprisingly sunny day!).
Franco's wife is a psychiatrist, hence the Le Corbusier lounger next to his books! And, Carlo told us later that night, Franco is Vignale's mayor.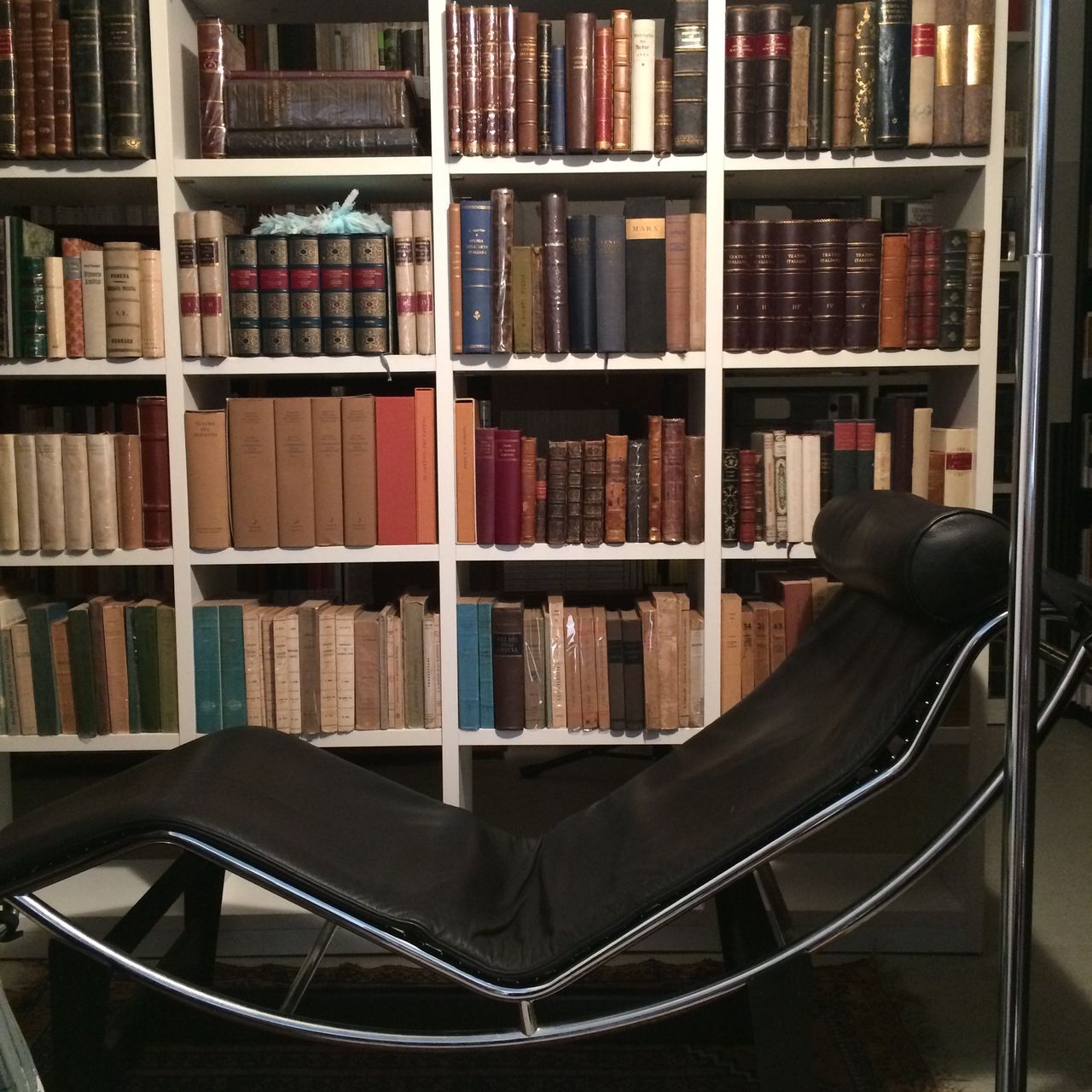 Vignale may be our new favourite small town in Italy! Warm friendly people, a few local eccentrics, beautifully preserved architecture, and a good choice of trattorias and cafés. Perfect.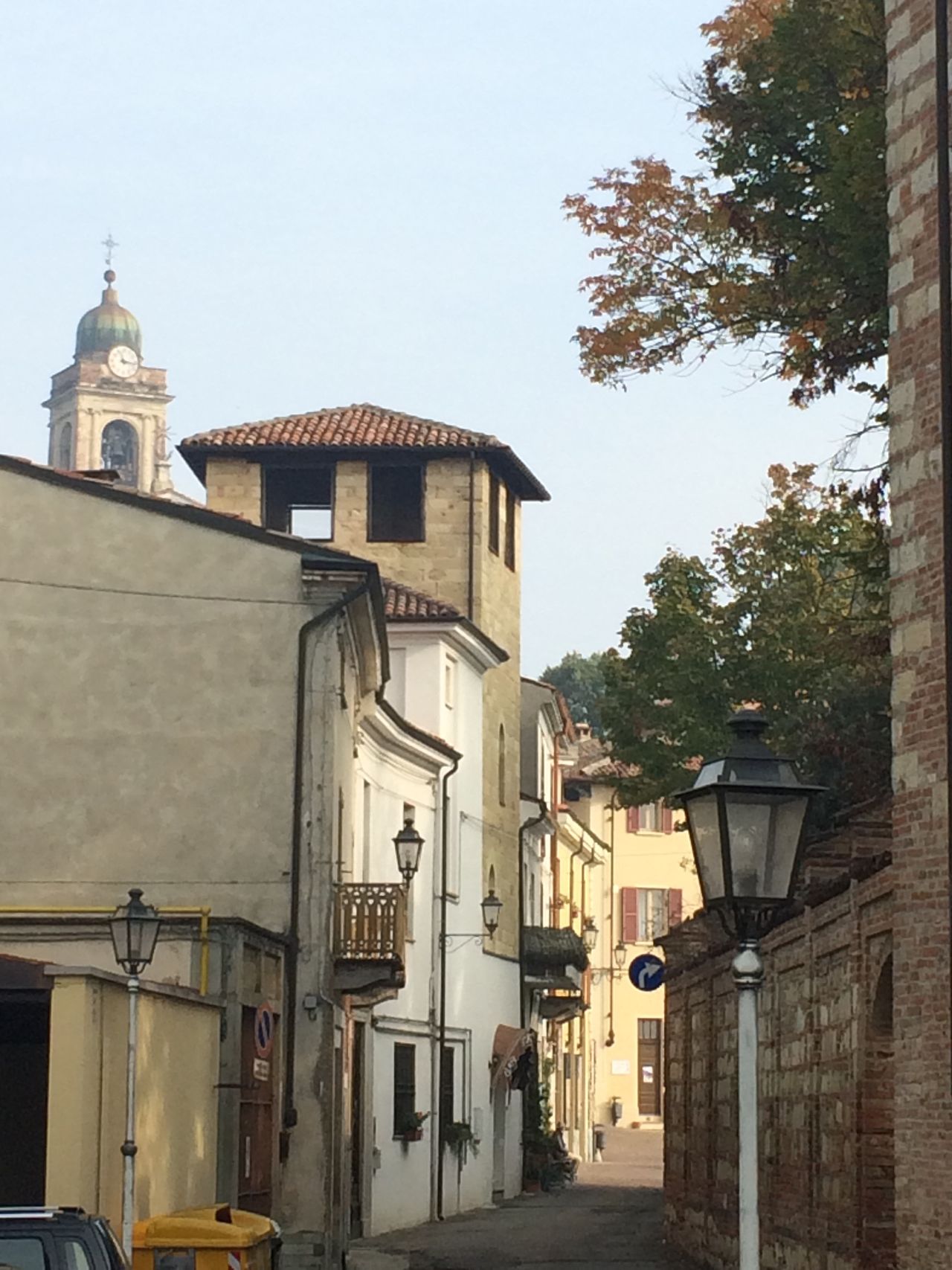 A street leading into town.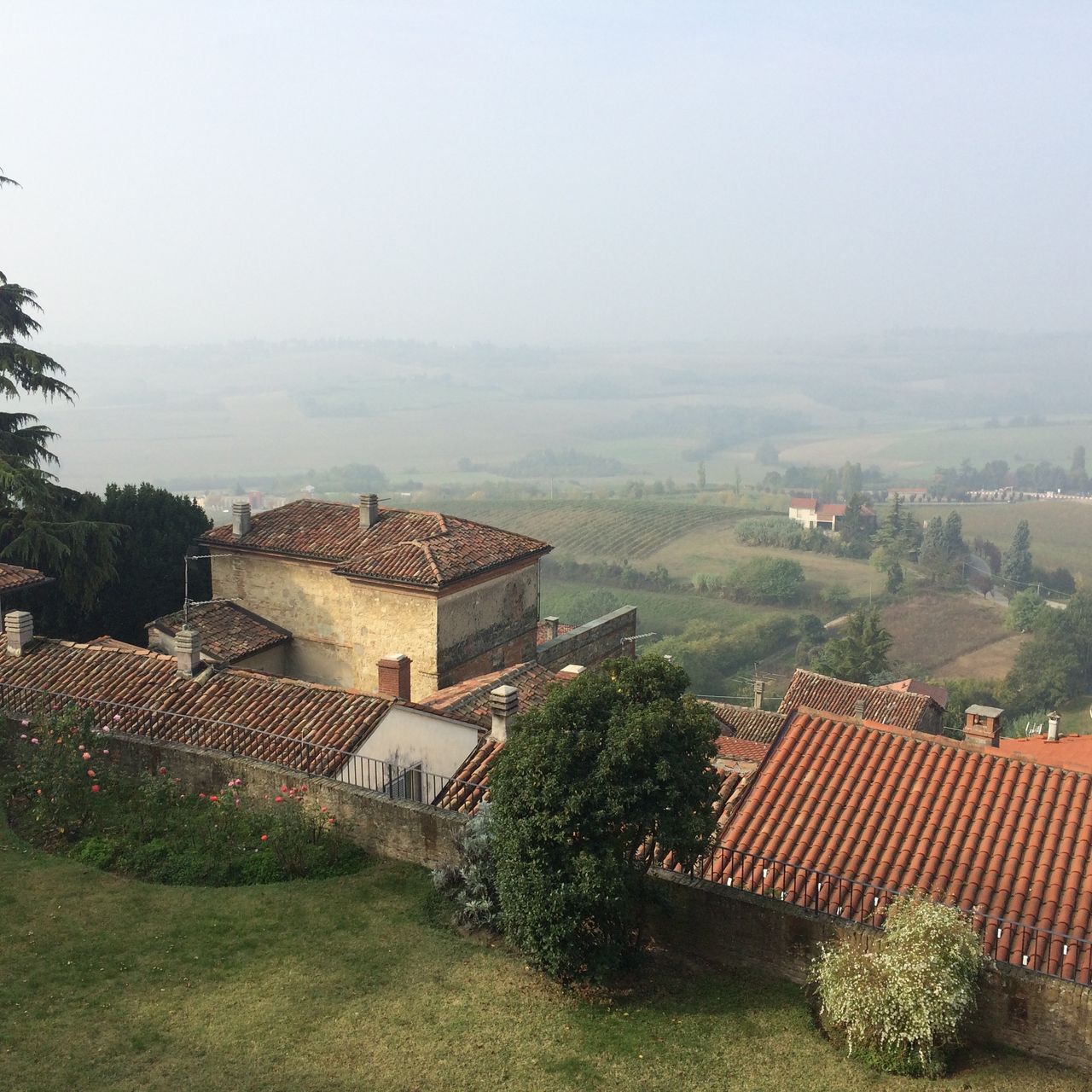 The view from Vignale's highest point, the Belvedere.
The next day we decided to explore the surrounding villages, including visiting a few wineries. We were not disappointed and ended up meeting yet more great people (partly thanks to their excellent English, or French, and Eva's Italian!). One of our most enjoyable stops was at a family winery called the Cascina Gasparda (Cascina is local dialect for "domaine" or "farm").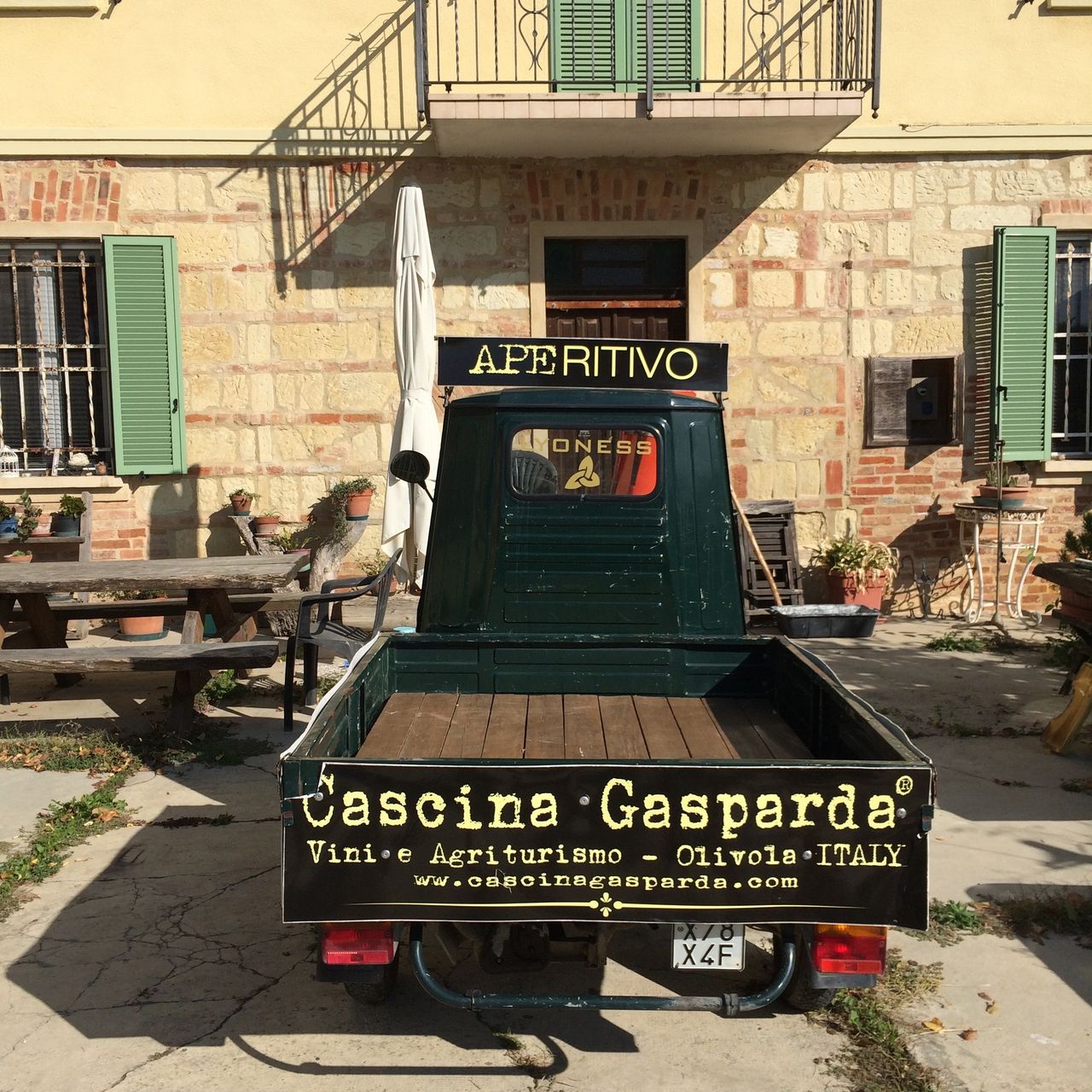 Brothers Roberto and Mauro make red wines out of the unsung varietals of Monferrato, including the more well known Barbera, but also light and fruity Grignolino and the even lesser known, and delicious Freisa that has a violet/rose bouquet. Roberto, who was a graphic designer in Milan for fifteen years before coming back home, spoke very posh English, thanks to a stint working in the UK, and later, Australia. Here he is with his wines: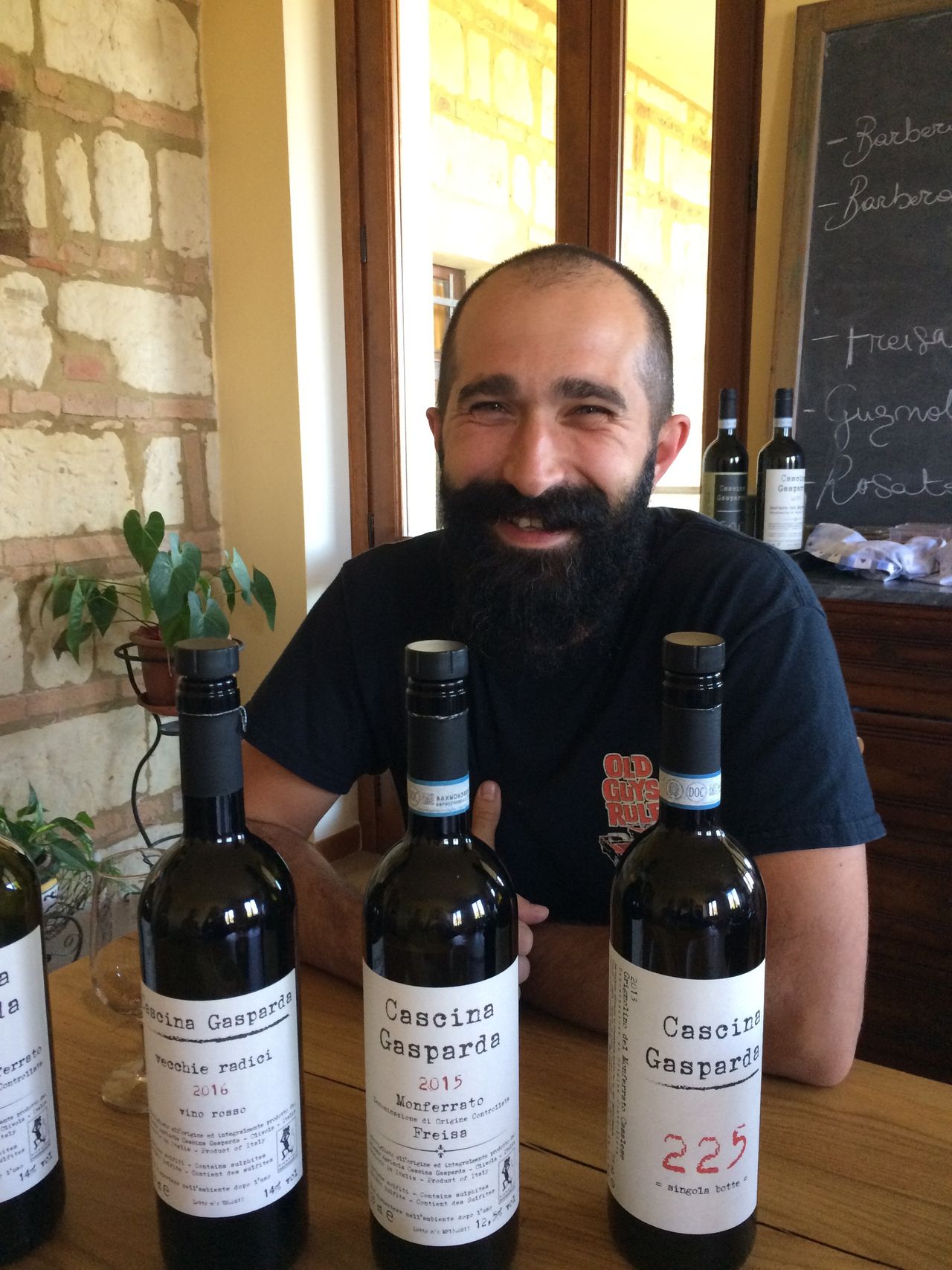 And again the Piedmontese hospitality hit us, with Roberto's mother who kept trying to feed us chunks of Parmesan cheese and bread sticks, even though we had pulled up in front of their house unannounced. The same thing happened the next day, when we visited, by chance, the winery Canato, where the wine-maker's 91-year-old father had just celebrated his 72nd harvest. He was in fine form, and kept calling us bella donnas.
Wine and food are all-important in the Monferrato hills, and the cuisine somehow feels so autumnal (in its richness and warmth?). And most of the restaurants we went to, even small ones, offered dozens and dozens of local wines, which is a real joy: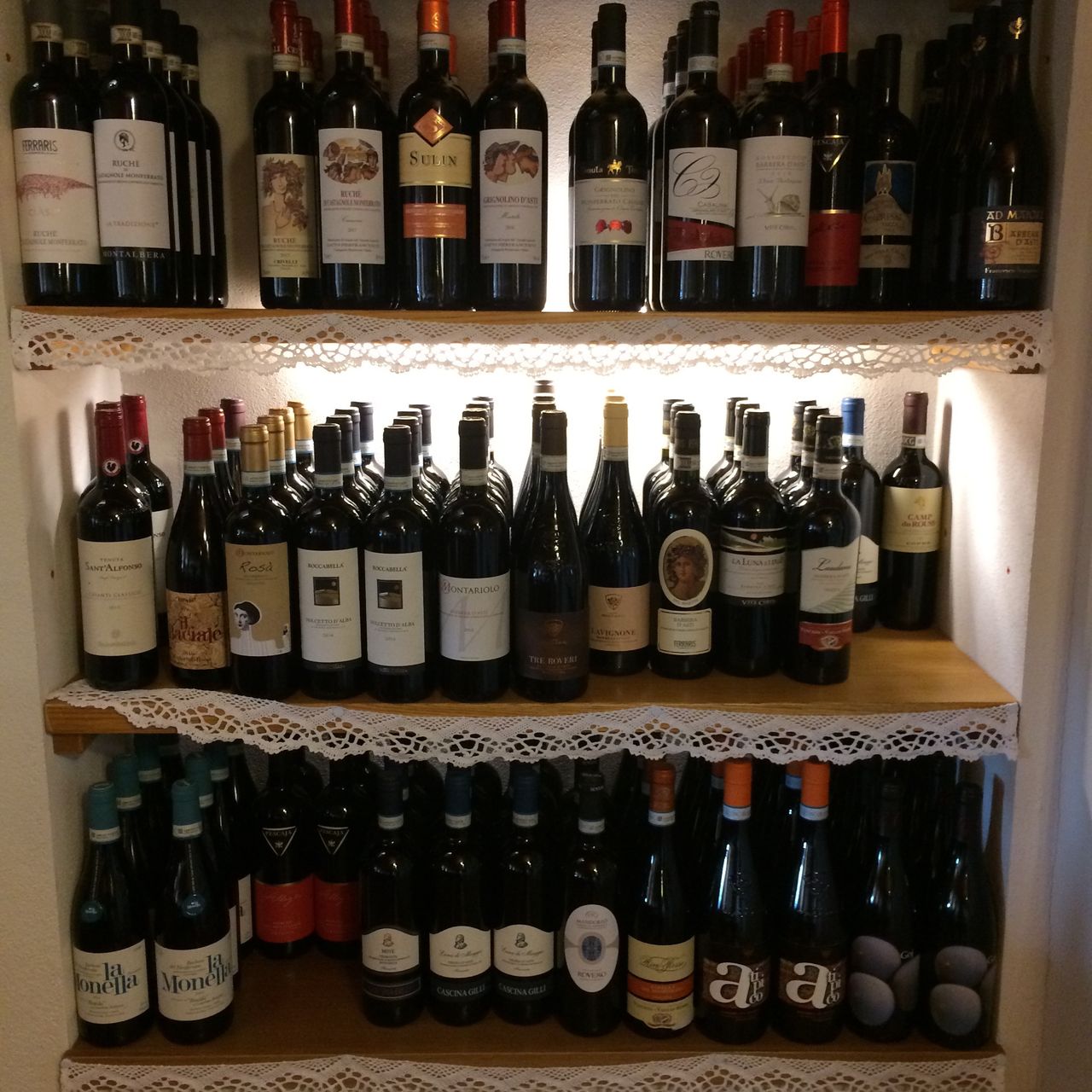 In a nearby village, Calliano, at the Osteria L'Antico Granaio. One of our best meals; very refined. All local ingredients and products.
Inside the Osteria L'Antico Granaio, featuring the red-brick vaulted ceilings present in many Piedmontese interiors: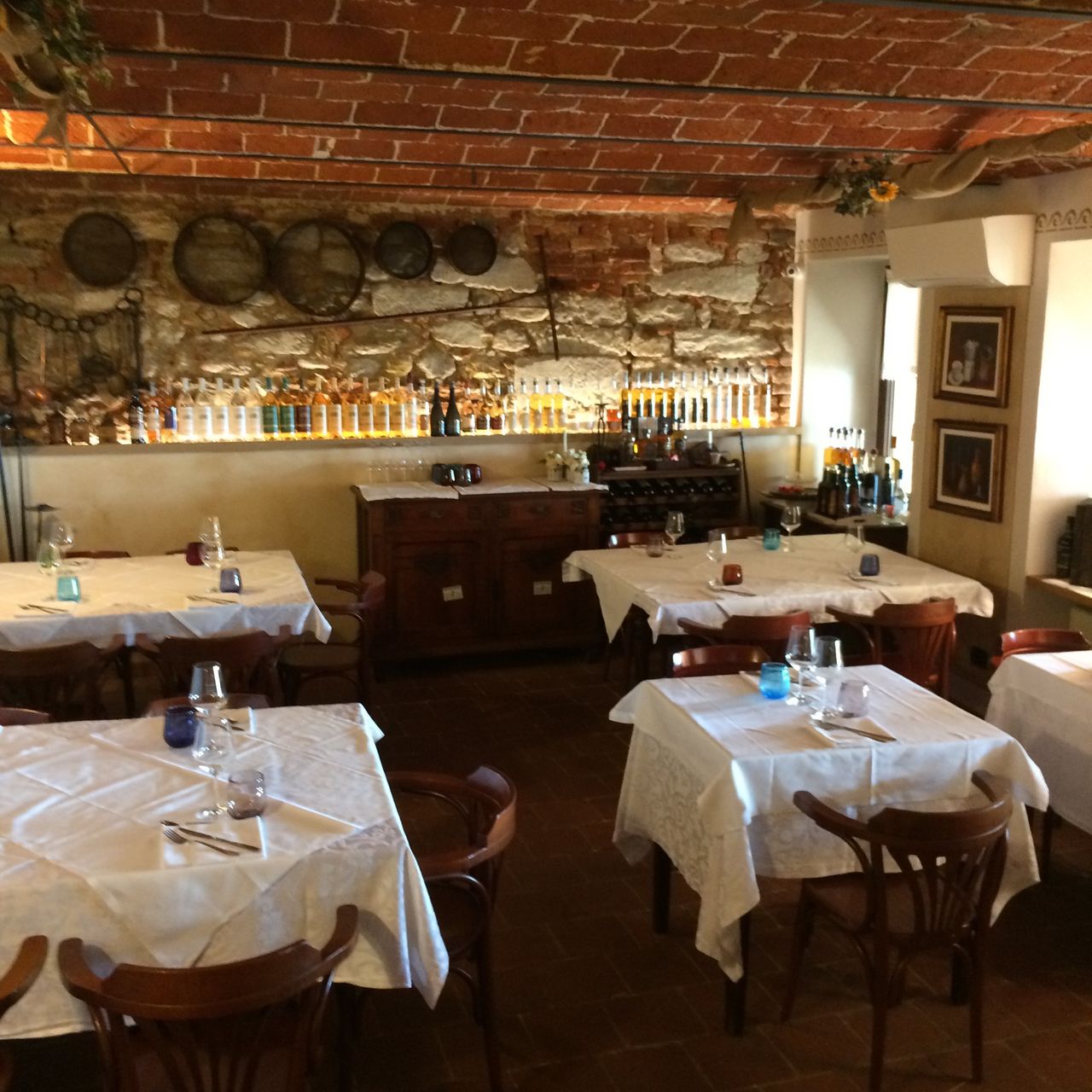 We didn't just eat and drink! Honest! One day we drove to a medieval abbey, Santa Maria at Vezzolano, but Eva took the photographs that day. And on our next-to-last day we re-did our walk to Camagna, where our crab-apple friend pulled over his car so that he could properly chat with us, and the vintage clothing boutique owner did the same when she drove by, and the waitress and cook at Camagna's only restaurant, La Rocca, chatted with us for a half an hour after our lunch, amazed that we had walked there, and so charmed by a young blond Parisian who speaks Italian. Mama (me that is) looked on, beaming! and once again, with a very full stomach. But most of all, so happy to have spent a week with my daughter in such a beautiful part of the world, where people know true generosity and kindness. Piedmont, you are amazing.
One last view on the road between Vignale and Camagna: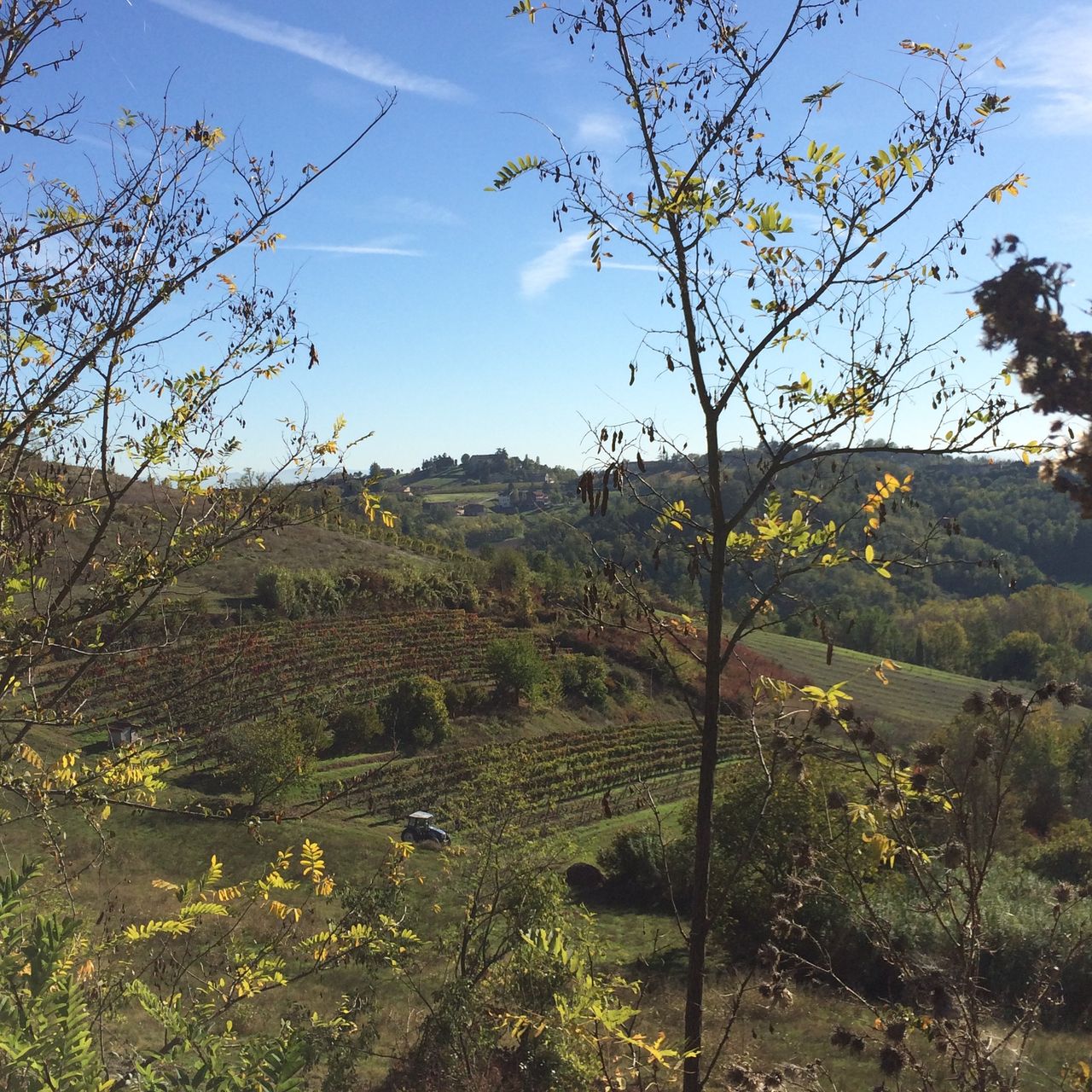 Our favourite places:
To stay:
Dré Castè, Azienda Agricola Il Mongetto: www.mongetto.it
Azienda Agricola Cascina Gasparda: www.cascinagasparda.com
To Eat:
Dré Castè (especially if you have a room there) in Vignale.
Trattoria Serenella on the main square in Vignale.
La Rocca di Camagna in Camagna.
Osteria L'Antico Granaio in Calliano.
Wineries:
Il Mongetto
Cascina Gasparda
Canato
August 28, 2018
Twenty Years Living in Aix-en-Provence
Twenty Years in Provence: A Tribute to the Classics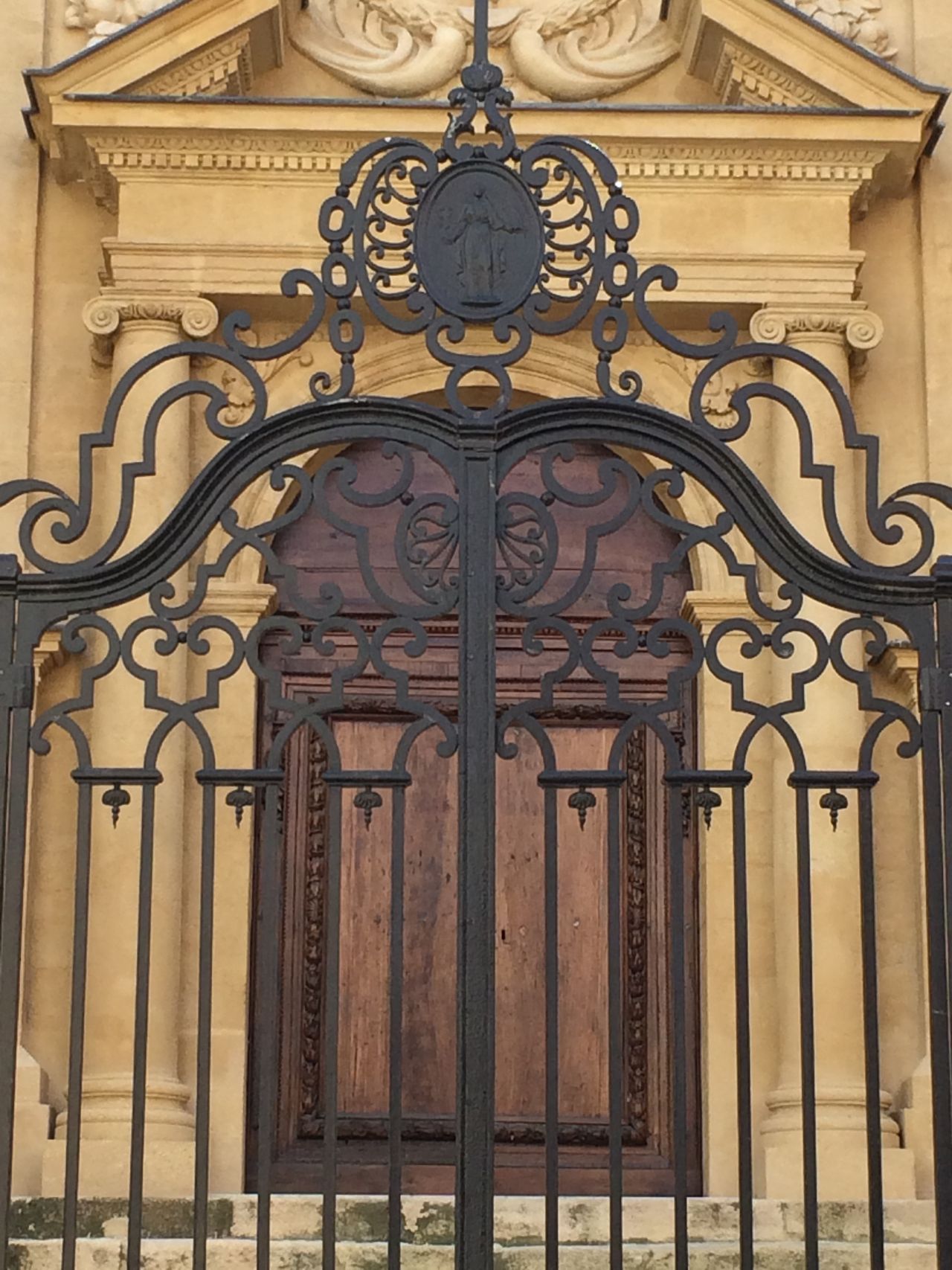 The chapel of Sainte Catherine de Sienne, where our daughter went to elementary school.
Our decision to move to France was fueled by wanting our then three-year-old daughter to grow up bilingual, as my husband had, and partly by some words left in the guestbook at the Hotel Cardinal in downtown Aix-en-Provence, "Une nuit, une femme, chambre 11, le bonheur…" I knew enough French to get the romance in that elegant script, and shoved the page into my husband's face. "We have to move here," he said in agreement. We were in Aix, on holiday, for a week, and my husband managed to get an interview with a local French company that needed a bilingual Web engineer with Silicon Valley experience. Two days later he was offered the position, and in the rest of our photographs from that trip we look dazed and confused, or at worst moments, as if we had been punched in the gut. "Be careful what you dream for," my mother said, laughing. That was late November, and by mid-February, two weeks after our daughter's fourth birthday, we were living in Aix.
Aix in 1997 was a sleepy provincial town. You could park your car on the Cours Mirabeau, which at that time still had some mom-and-pop shops. Nowadays, only international chain stores can afford the rent of one of France's most beloved main streets, and the obligatory underground parking garages can be full by noon. Peter Mayle's "A Year in Provence" was only eight years old (I devoured it on the plane moving here), and Occitane didn't yet have a shop on the rue Espariat, nor in airports around the world and in downtown Dubai and Tokyo and Helsinki.
Twenty years later, here's a nod to nine Aix classics that are still going strong:
1) Two Cafés: Le Grillon and Les Deux Garçons
The faded and elegant Les Deux Garçons, with mirrored walls lined in gilt, has been a café since 1792. Cézanne and his best friend, Emile Zola, were regulars, and the café with its over-priced restaurant was visited by Churchill, Picasso, Edith Pïaf and Catherine Deneuve. Newcomers to Aix inevitably drift to Les 2 G's, as I did, where I'd sit on the terrace and imagine MFK Fisher here in 1960, chatting with her girls after they got out of school at Ste-Catherine de Sienne. She wrote, "The little girls drank lemonade and I beer in complete and sudden ease: we were in the right place at the right moment, and we knew it would last." Nowadays I prefer Le Grillon down the street (Le Mazarin in my books), where I began writing my first novel in the early mornings after dropping my own daughter off at Ste-Catherine. Mornings are best here, inside its elegant interior of ochre-painted patina walls and saw-dust covered tiled floor, under the hush of clients' whispers and the thudding noise of the espresso machine. Local lawyers arrive before 8:30am and throw their black judicial robes over the backs of chairs before heading off to court. And one of the best things about breakfast at Le Grillon, despite the mediocre coffee, is the fact that they serve buttery moist croissants from Béchard across the street.
2) Two Shops: Patisserie Béchard and the Fromagerie Savelli
The best pastries in Aix are found at Béchard's, and the best cheese at Savelli's, and I defy anyone to challenge me on this. Béchard's, on the Cours, is an institution, as the queue that flows out of the shop and onto the street during certain fête times will testify. I love their springy brioches glacés for breakfast, and for dessert the simple Chantilly-filled sponge cake Le Tropezienne. My friend Philippe once found in his 17th century home's attic a receipt from Béchard, for two brioches. It was handwritten, of course, and dated 1902. Cézanne himself might have been in the same queue along with Philippe's ancestor. On the other side of town, near the town hall, is the Fromagerie Savelli. Sylvie Savelli, a dark beauty, is a cheese affineur, meaning she ages her chevres, bleues, and tommes in three separate subterranean cellars beneath her shop. I never buy cheese at the supermarket anymore—it's just never as flavorsome, or perfectly aged, as Sylvie's—essentially, not worth the calories.
3) The Fountains
Philippe (the same) remembers his grandmother filling up jerry cans with the healing waters of the Quatre Dauphin fountain, then lugging them, no matter the weather, back to the family mansion on the south side of the Cours. There are 23 fountains in Aix, each one has its own story, its own charm. The fountain Des Neufs Canons in the middle of the Cours was permanently damaged in 1944 by an Allied tank; its neighbor, the fountain d'Eau Chaude (La Moussue to locals as it is covered in moss from which steam rises up in winter) was also once damaged, in this case by "young imbeciles drunk on wine." That was further back, in 1670. The most photographed fountain must be the one in the Place d'Albertas; it's not a particularly old fountain, but the square, paved with small rounded river stones and lined with charming 17th century mansions, is one of the city's most beautiful.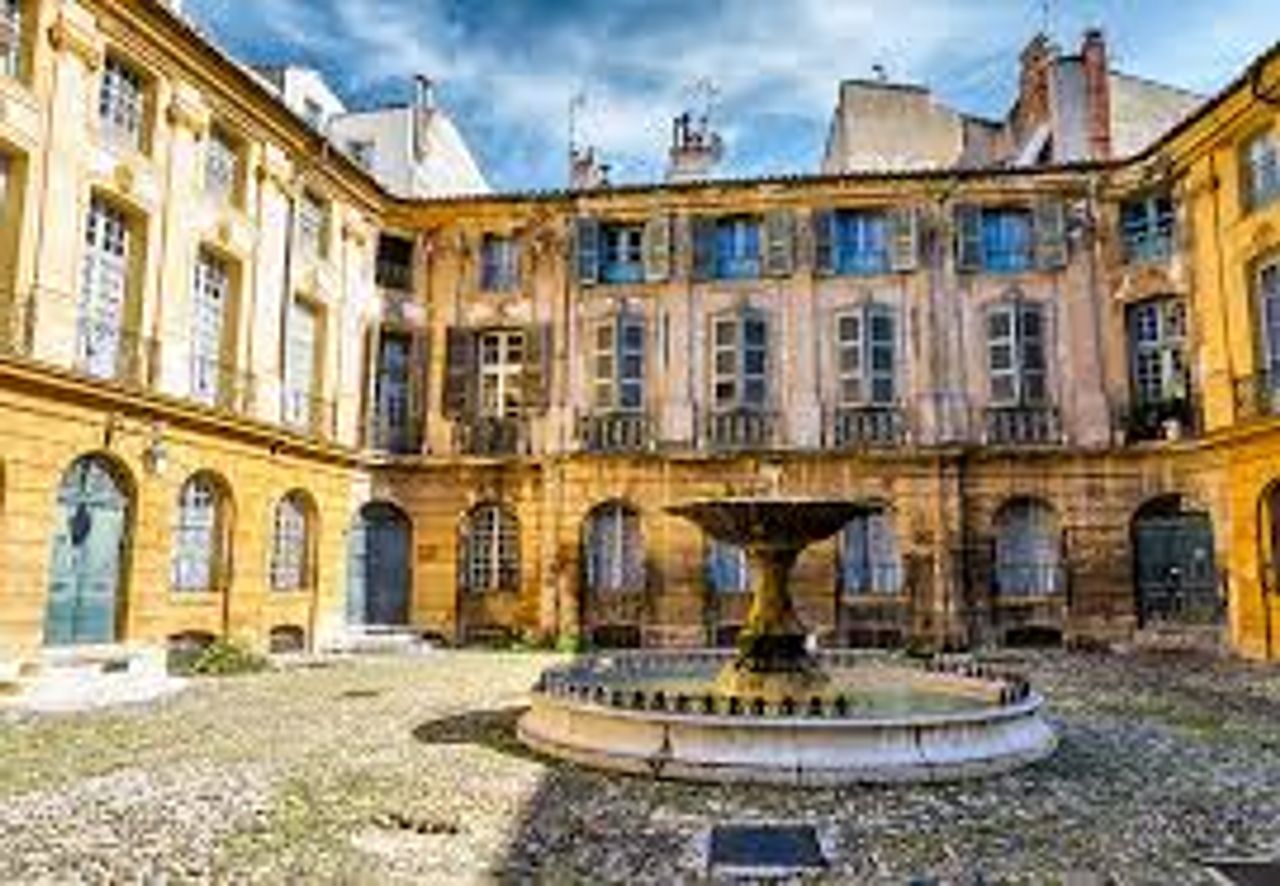 The Place d'Albertas
4) Cathedral Saint-Sauveur
Aix's cathedral may not be the city's prettiest church (that prize goes to the smaller Saint-Jean de Malte) but it's the oldest, work having begun in 500AD on the site of the abandoned Roman forum. Slender red Roman bricks, and tall columns from a temple, were reused in building the Cathedral; the columns are now in the baptistery, the bricks on the exterior façade. Saint-Sauveur also houses one of the city's most tranquil spots: a 12th century cloister that is lined by twin sets of columns, each capital exquisitely carved with biblical stories. There's a restored sculpture of Saint Peter that is almost identical to one found at Saint-Trophime in nearby Arles. Here the Saint, who holds the keys to heaven, is full of personality; his face, hair and short curly beard are finely carved; his robes a mass of crisp vertical pleats from the layers of fabric he wears. It is assumed that the talented 13th century sculptor travelled from parish to parish, working freelance. He would have trudged up these same neighboring streets, narrow and twisting, that remain unchanged since his time.
5) The Markets
You know a real food aficionado in Aix if they talk about the market stall of Mme Martin. She doesn't sell bananas or pineapples; only fruit and vegetables locally grown on her farm outside of Aix. She's a reoccurring minor character in my books. Mme Martin can be found in the enormous thrice-weekly market located on the Place des Prêcheurs, soon to be relocated for three years, because of construction works, on the blvd Sextuis (sadly one of Aix's only dingy streets). So instead, go to the daily market, in fact smaller and more intimate, on the Places des Herbes. In spring one producer proudly displays mountains of asparagus, thin and fat, white and green; another, in fall, sets up stacks of wild mushrooms. A group of nuns sell a small selection of dainty floral bouquets and some vegetables, very good quality if over-priced. At 1pm waiters in neighboring cafés hover, until the square is cleared and cleaned, then quickly set up their tables and chairs.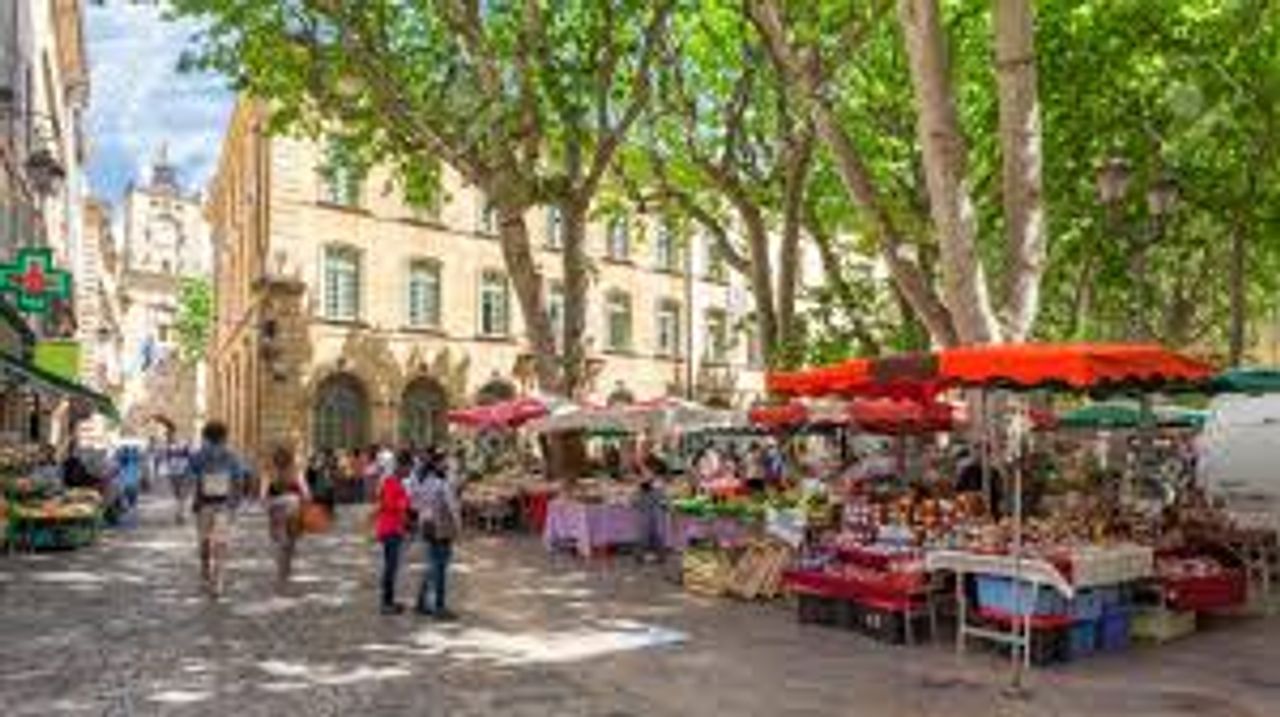 6) Atelier Cézanne
At the turn of the century Paul Cézanne's art was called, by an influential Aixois, « sale peinture » (dirty paintings), and the Musée Granet's director vowed never to have Cézanne's work exhibited in the museum. Aix thus missed out on owning a priceless collection. It's a shock to think that Cézanne's widow Hortense sold his work after his death at rock bottom prices, so that she could have a bit of fun on the Côte d'Azur. Nevertheless, Cézanne's spirit is felt all over town, nowhere more than at his atelier. The dusty studio, located on a hill in the city's north end, was left untouched after the artist's death in 1906. The Provençal clay pots, colorful tablecloths, and stone cupids that starred in his revolutionary still-lifes fill the room; his hat and black coat hang in a corner. Up the street, wide stone steps lead through lavender and rosemary to a lookout with a view of Montagne Sainte-Victoire. From here Cézanne painted some of the one hundred-odd versions of the mountain, always feeling he never got it quite right.
7) Oratories
Aix has one of France's largest collections of oratories (92)—niches carved into street corners or façades that contain stone statues, sometimes accompanied by candles and flowers. Their purpose? To ask the saints' intercession with God to prevent another deadly outbreak of the plague from entering the city. They were also reminders to say prayers, and possibly locations of blessings or even mass. Most of the oratories contain the Virgin and Child; there's a black virgin on the corner of the meter-wide rue Esquicho Coudre (Street of Squeezed Elbows), carved in 1663, and four statues of Saint-Roch, the patron saint in times of plague. Roch carries a staff, and points to an open wound on his leg. A small dog sits before him; it's the dog who nursed him back to health. If you're in Aix with children, the oratories can be used as a game. How many dogs? How many pilgrims? (find the scallop shells).
8) Montagne Sainte-Victoire
In 1958 Picasso telephoned his agent to tell him he had just purchased Cézanne's Sainte-Victoire. "Which one?" his agent asked, thinking Picasso was referring to a painting. "The original!" replied the Spaniard. And he really did buy a big chunk of the mountain, along with a château in Vauvenargues. The white craggy limestone mountain, which extends for 11 miles, is a beacon to the east of Aix. "I see it! I see it!" our daughter would call out as we drove home after a holiday. During kids' camps, in Aix's museum of natural history, she would be permitted to gently hold large reddish-colored dinosaur eggs that are still found on the mountain. A walk to the top takes about three hours, and for the less sportif there are a few stone tables around its base, perfect for picnics. The air smells of the garrigue—small shrubs of wild rosemary, lavender, and thyme—and amongst the limestone base are bits of Mont Sainte-Victoire's marble; once it's polished it is a riot of bright orange and yellow spots. Many of Aix's fireplaces and kitchen sinks are made with the distinctive stone.
9) The Cours Mirabeau
Aix's main street, bordered by a double row of tall plane trees, was given its new name in 1876 to commemorate Count Mirabeau, who moved to Aix in 1772 after seducing a local noblewoman twenty years his junior despite his renowned ugliness (he had a deformed foot and over-sized head). Besides being an infamous ladies' man Mirabeau was also a politician, gifted orator and writer who criticized the French monarchy but died young, at 42, while Louis XVI was still king. Before being paved in 1899, the Cours was dusty in summer and muddy in winter. Now, it's best avoided on Tuesday and Thursday mornings, when market stalls selling polyester clothing made in Bangladesh fill its wide sidewalks. But it remains the pulse if Aix (you typically rendezvous with friends in front of Monoprix) and on September 11, 2001, it was there that I headed. I needed to be with my fellow Aixois, surrounded by the rhythm and beauty of the town.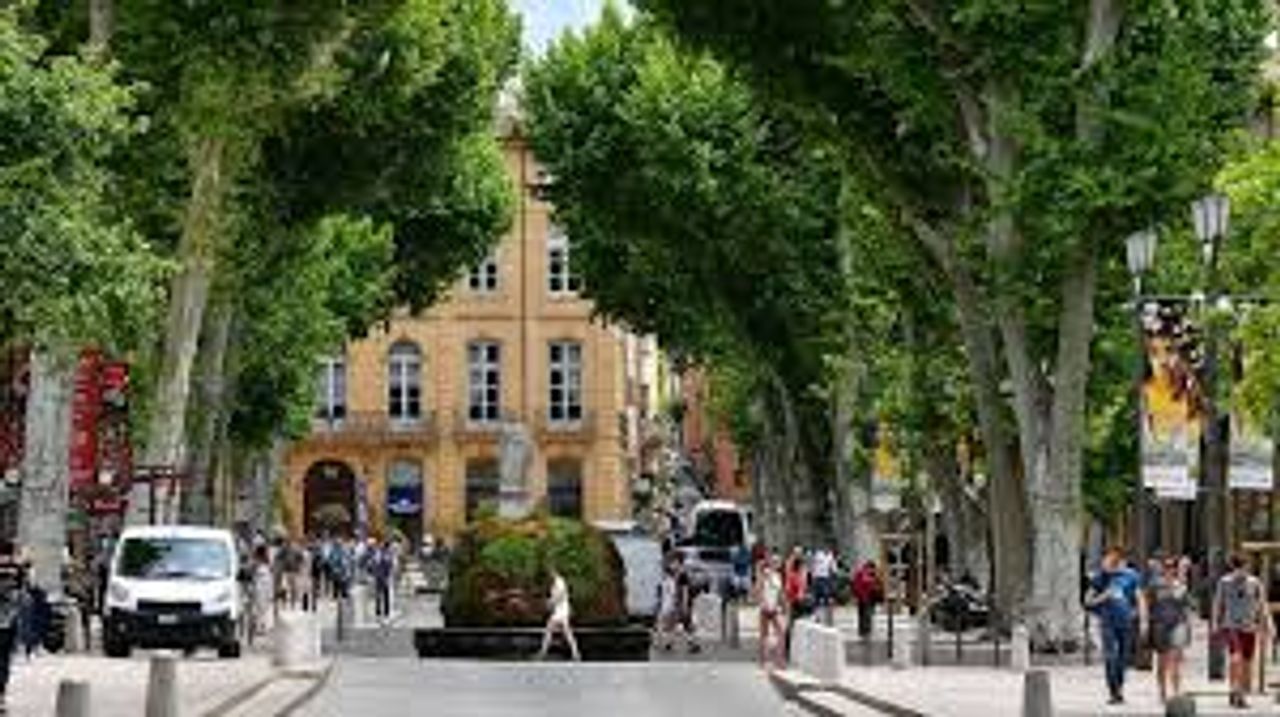 Epilogue, 2017: Our daughter is now twenty-four and works in diplomacy in Paris, and we keep on loving our French life. Aix has changed, but it's still the place where, when we get home late from a weekend away, we sigh on seeing its old fashioned street lamps turning the stone of former mansions into gold. Cézanne wrote to a friend in 1896, "When I was in Aix, I thought I would be better off elsewhere. Now that I'm here, I regret Aix…when one is born here, that's it, nothing else appeals."
April 23, 2018
Warsaw: Constantly Surprising and Enchanting
It's been a long time since my last blog post (sort of sounds similar to being in the Confessional when I was a young girl!) but I've been busy teaching, writing, editing, and…being invited to Warsaw to promote the Polish edition of Death at the Château Bremont, the first in the Provençal Mystery series. And what a time it was!
It was my third time in Poland, which surprised and delighted my hosts. They hadn't expected that I would have already visited Poland, and as a tourist at that!
I went for four days in mid-March, arriving in the city on a freezing cold Saturday evening. We were met at the airport by Anna, my wonderful contact set up through the Polish publisher, Smakslowa, and soon my daughter Eva and I were downtown at our hotel, The Rialto, an Art Deco gem.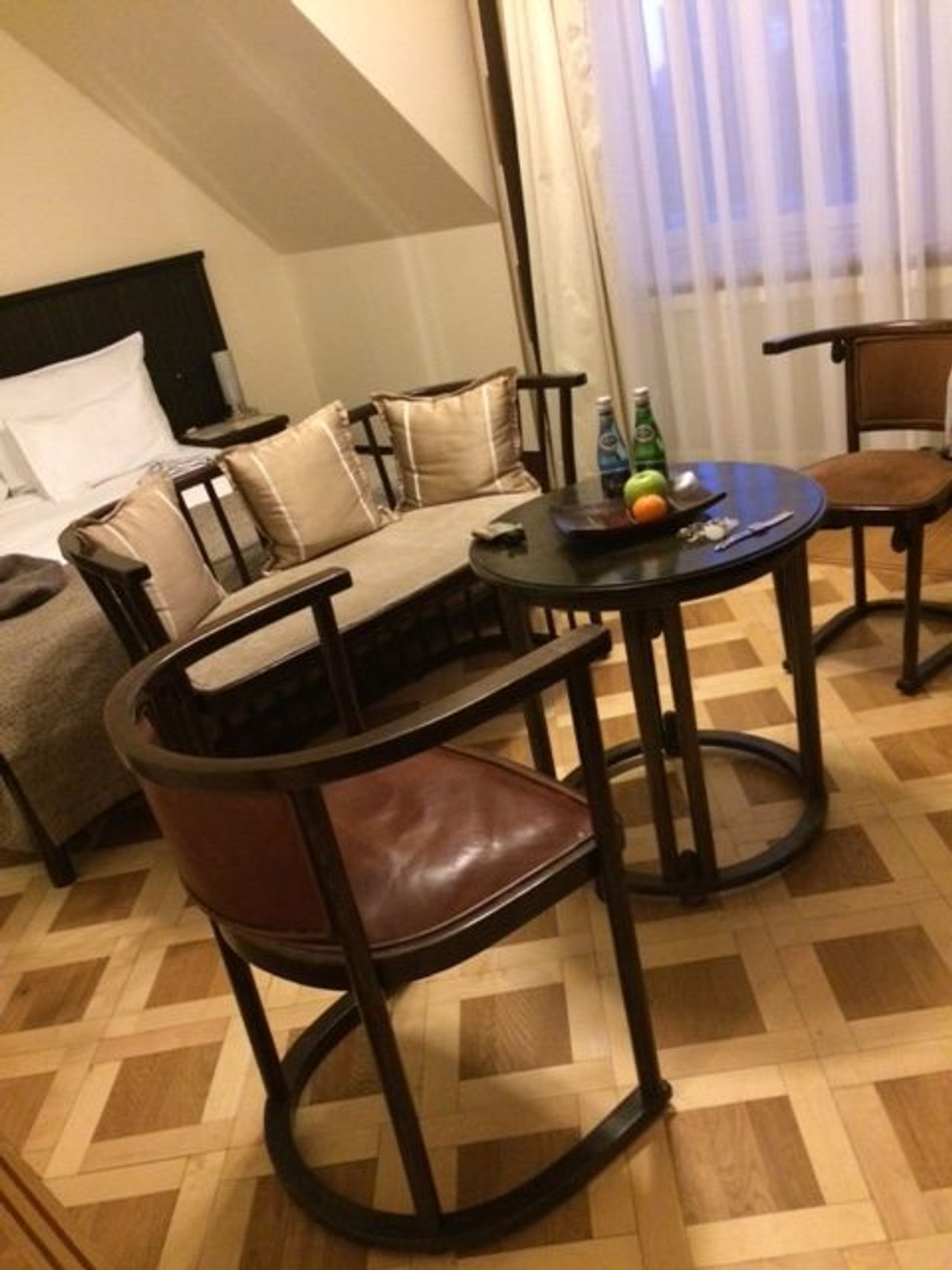 Our room at the Rialto. We went crazy over the 1930s furniture; it has been restored with love, right down to the Bakelite light switches!
I would be having two full days of meetings on Monday and Tuesday, so Eva and I explored the city until then. We first came to Warsaw over ten years ago, and although we found the Old Town charming–it was rebuilt, brick by brick, after WWII–it was the vibrant and less-pretty "new town" that we adored. That hadn't changed on this trip. Funky bars, hip restaurants, and Polish-designed craft and fashion shops share the streets and alleyways with mom-and-pop shops stuck in time; some of them selling a few vegetables and bouquets of flowers out of small wooden kiosks. Hand-crafts are still revered and practiced here, like in this shop below: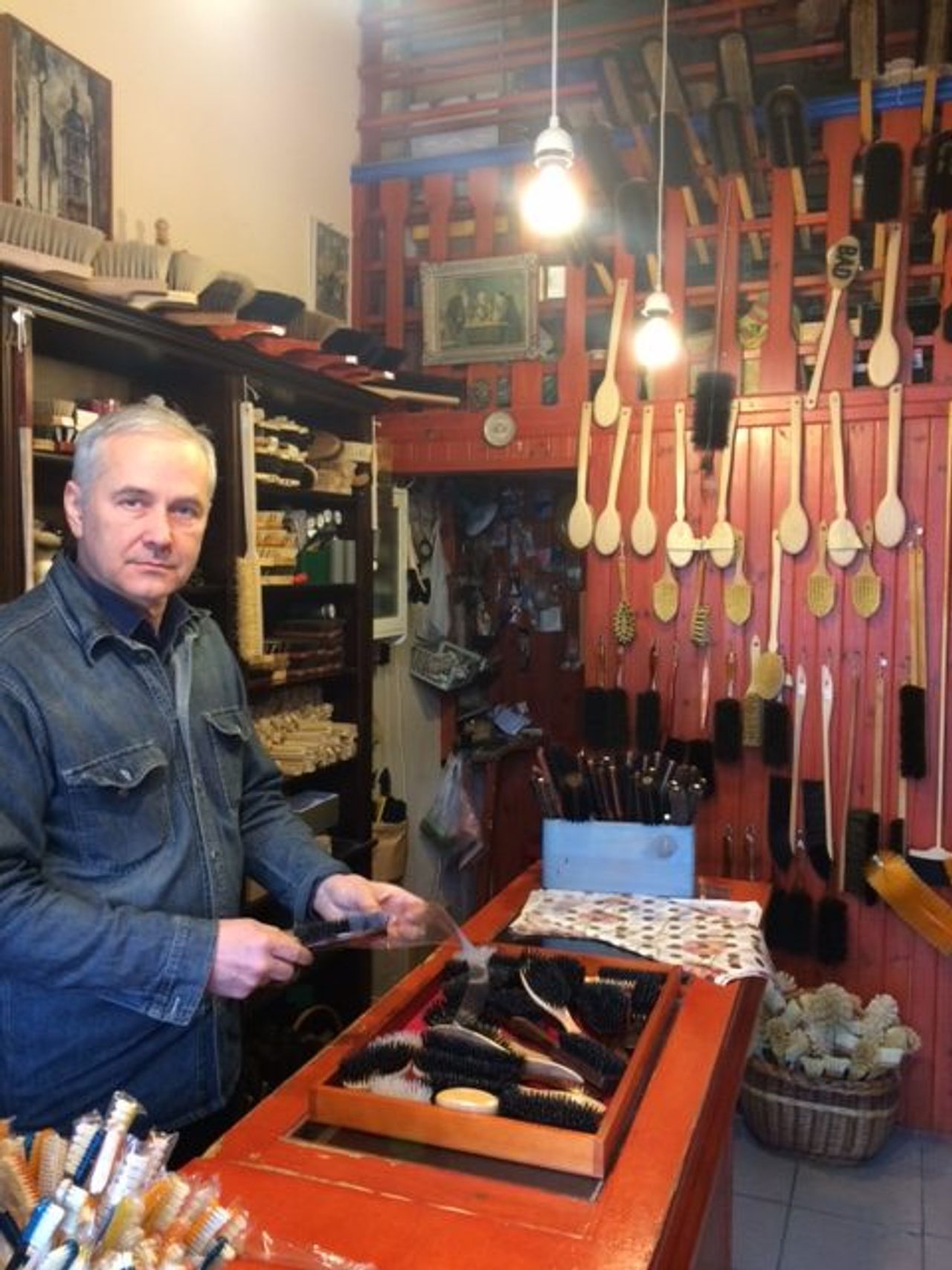 This is a tiny shop across from a bustling Mediterranean restaurant called Tel Aviv…
The proprietor didn't speak English, but did manage to tell me, "Grandfather make brushes, father make brushes, I make brushes." He makes hair brushes, brooms of all sizes, and lovely shaving brushes. I bought some hair brushes (ten euros a piece); a teenager toting a backpack and bike helmut came in to buy a scrub brush. This is what so delighted us the first time we visited Warsaw, and on this trip we were just as thrilled by the city.
That night we rubbed shoulders with well-to-do locals and some trendy young Russians at one of Warsaw's best restaurants, Nolita: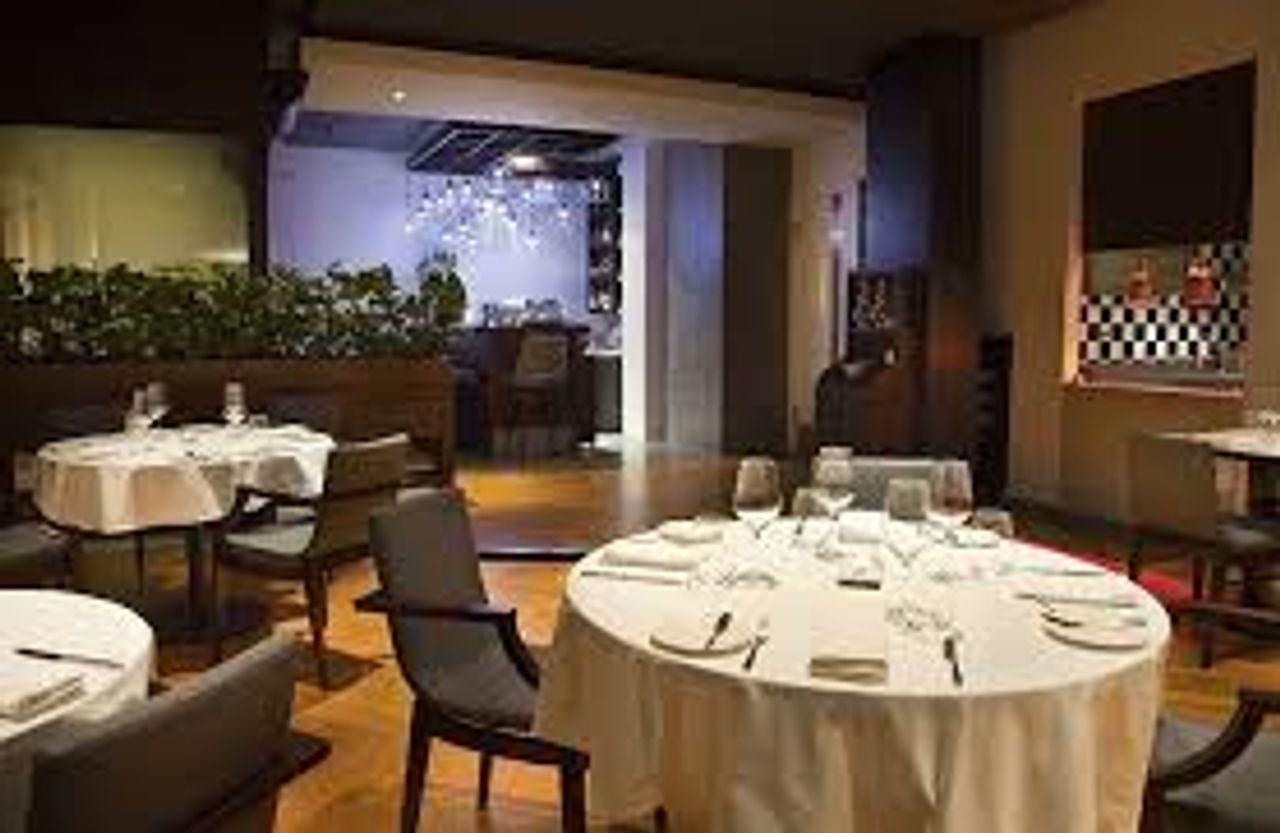 It was worth the splurge! Eva and I had the six course tasting menu–Polish ingredients fused with Japanese influences is the best way to describe it–and we ordered the wine pairing as well. We explained to the sommelier that we live in France, so could we have some wines from different countries? He grinned and replied, "How about Polish wines?" The two Polish wines he poured us–one a dry white, the other a sweet mead–were fantastic, and set us on a quest to track more down. And we did find some, at a more low-key and in some ways better restaurant, Butchery and Wine, the following day: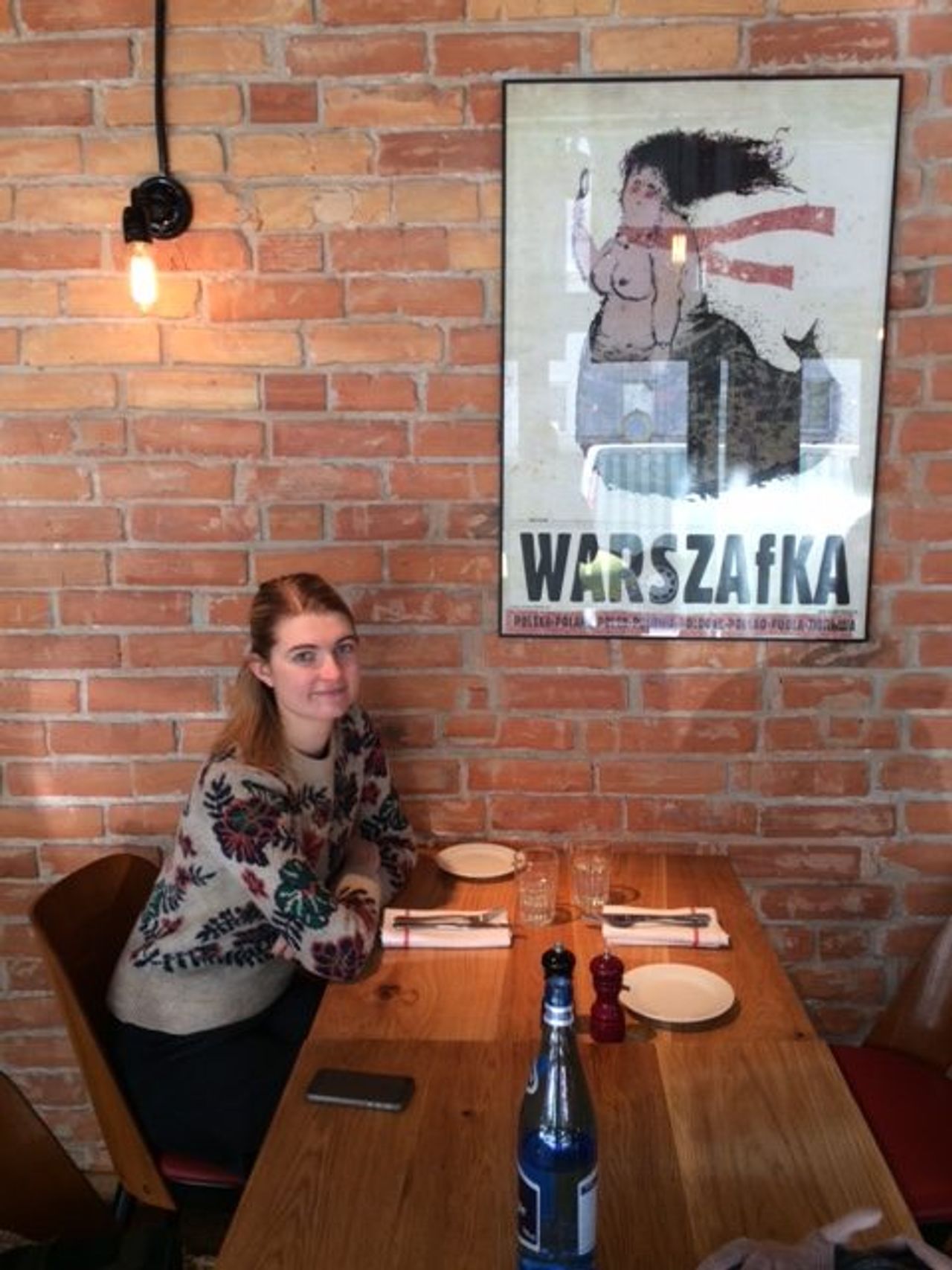 The Polish have always been masters at poster art. There's a Poster Museum in Warsaw that we visited on our last trip. Oh, and that's Eva! Our 25-year-old daughter who works as a Communications Officer at a foreign embassy in Paris.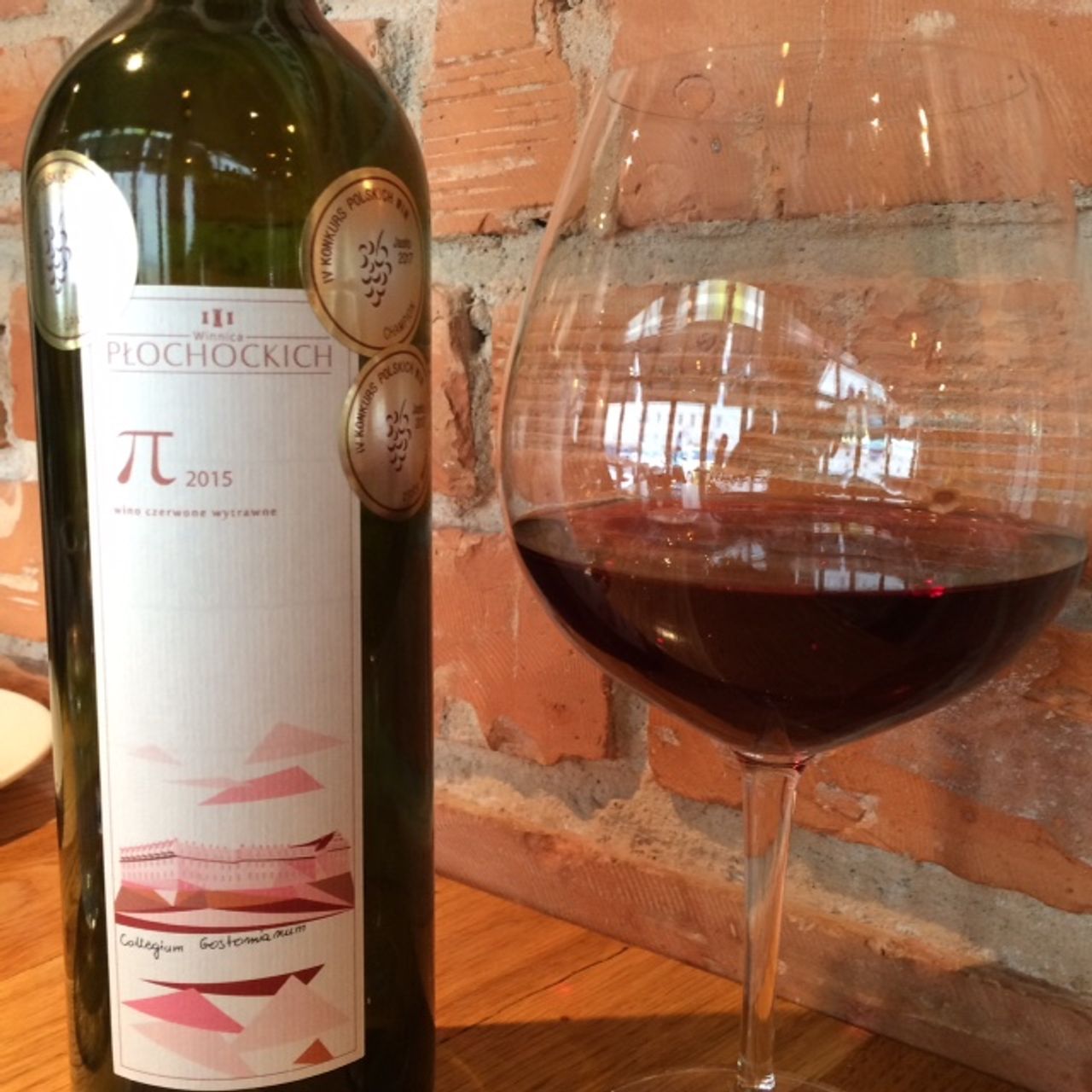 A Polish Pinot Noir that was outstanding.
Here's a photo of Eva in the royal park, the Belvedere, right downtown. You can get an idea of how cold it was, but sunny too: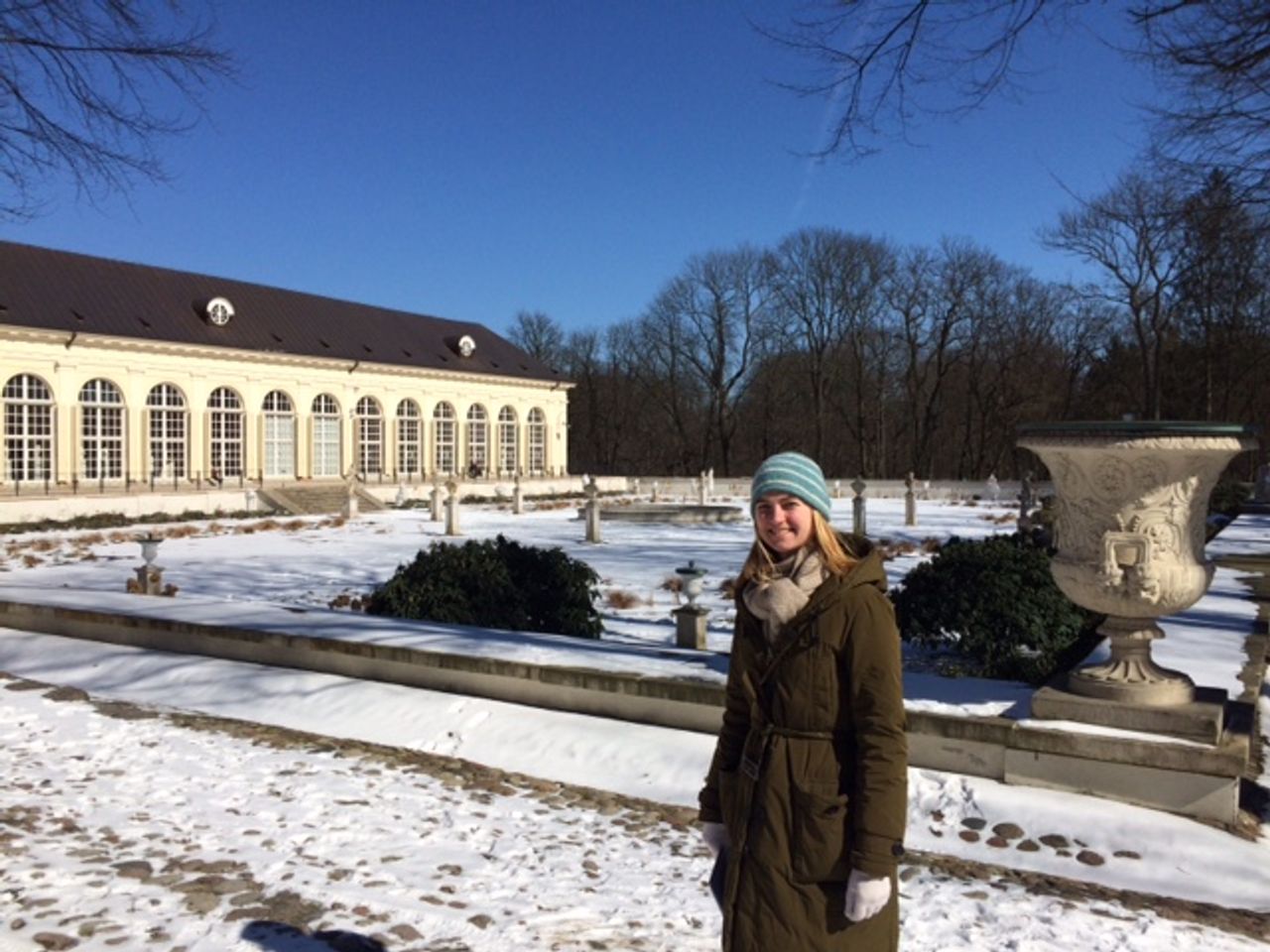 The next day Eva flew back to Paris, and I went into writer-mode as interviews with journalists began bright and early. It was thrilling to meet so many people who had read Death at the Château Bremont and had so many generous comments and interesting questions about it! On that first day I had interviews with press journalists, and after the first two interviews something very odd began to be apparent: I was being compared to the "Agatha Christie of Poland," Joanna Chmielewska. She was a prolific writer who died a few years ago, after selling tens of millions of mystery novels in Poland and Russia. I had been forewarned by Anna that this may happen, as she too had thought the same thing after reading Château Bremont; she had, luckily, filled me in on Joanna's books (they are not translated into English or French) before the interviews began.
From what I can gather, we share these similarities: 1) Joanna's books are funny, and I hope that mine are too, especially as the series progresses. 2) Joanna writes about her fellow Poles with all of their blemishes, quirks, and shining qualities, and I've been told by French friends that I capture our fellow Aixois in the same way. 3) Lastly, Joanna was often "present" in her books, as a character named Joanna, or one who looked like her, or by a female architect (she was an architect before turning to writing). I guess I may be a bit present through Marine Bonnet, who teaches in a university as I do; but I'm also present in Antoine Verlaque who loves cooking and eating well. What do you think?
Here we are in the bar at the Rialto, where some of the interviews, in Polish, took place: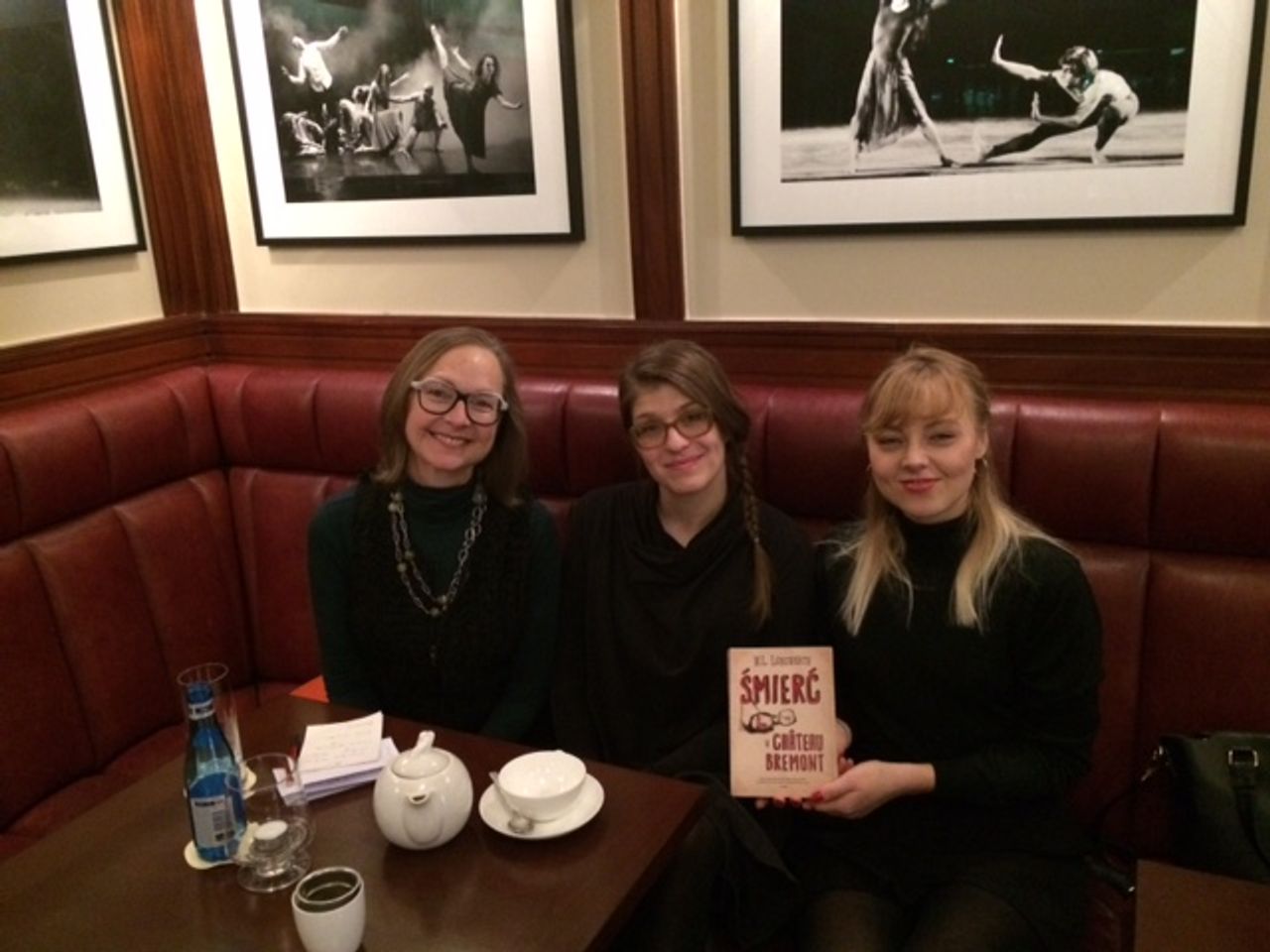 Me on the left, Anna on the right, and our translator Weronika.
The next day it was again early up and out the door as a Polish television station invited me on their breakfast slot; but instead of filming in their Warsaw studio the show's host, Klara–a huge French enthusiast–chose a château an hour outside of Warsaw, the Palace Mala Weis: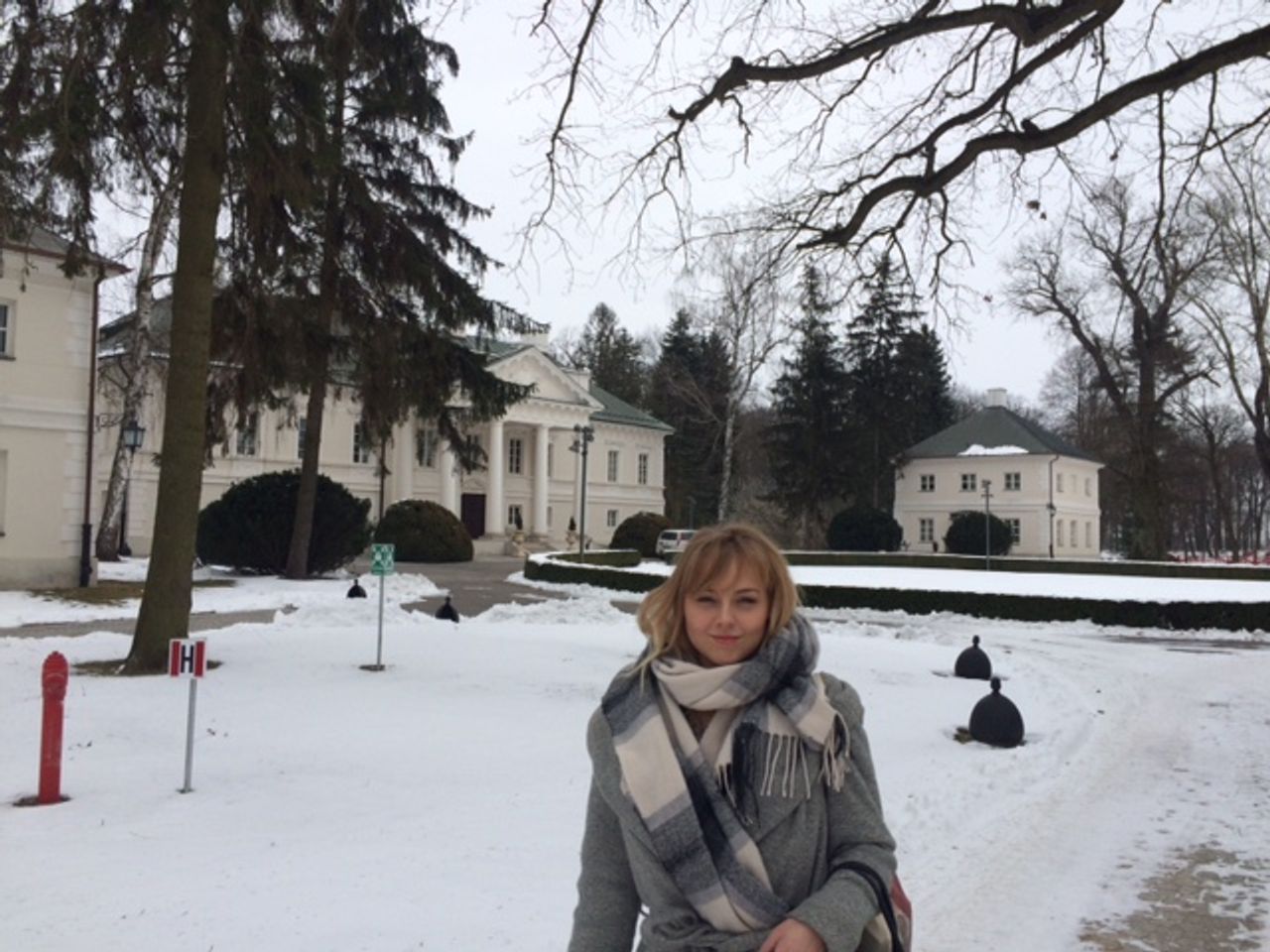 Anna outside the palace; again, another cold and sunny day!
The room we filmed in was gorgeous, and in its warm colors and simplicity reminded my of a Provençal château or manor house, so it was a perfect choice: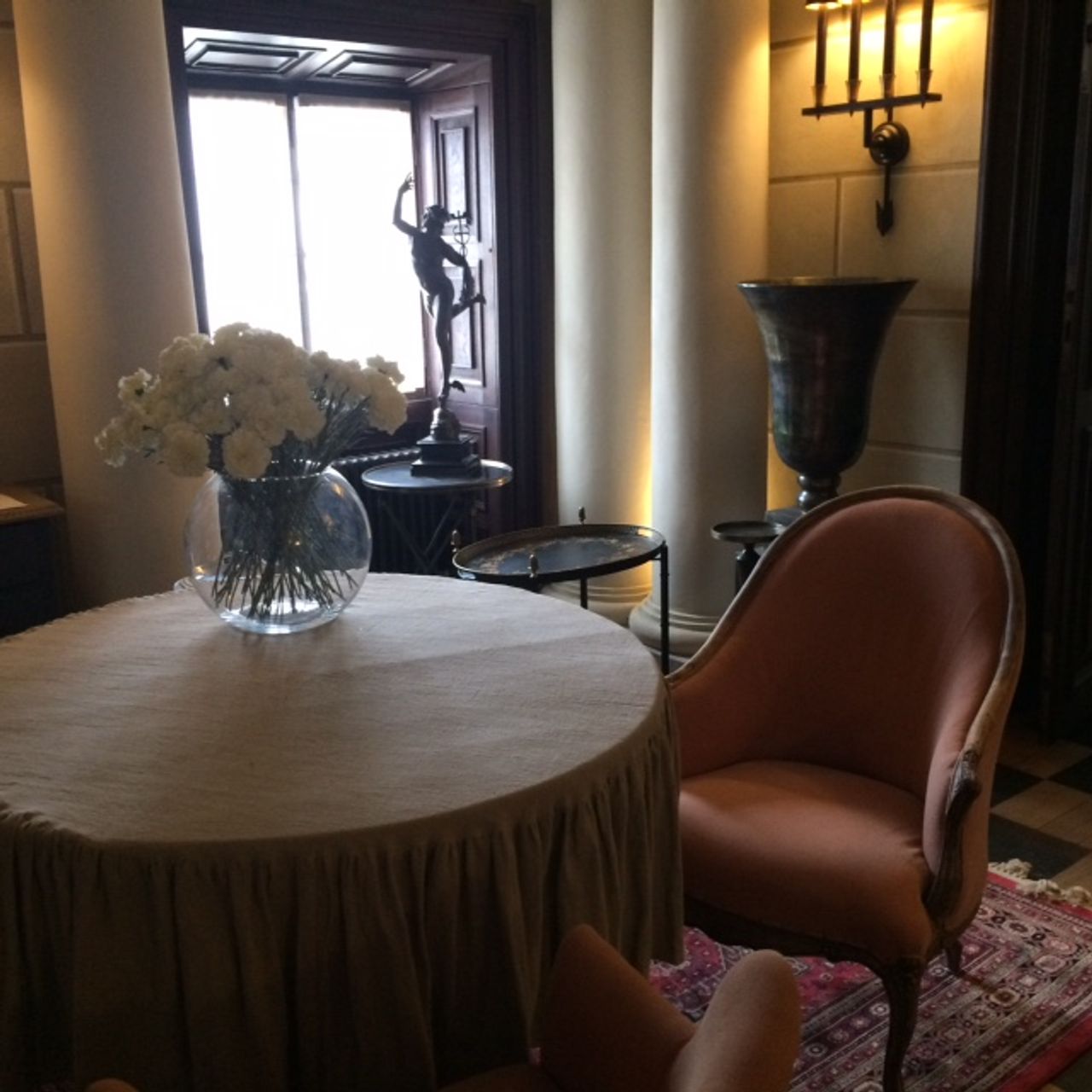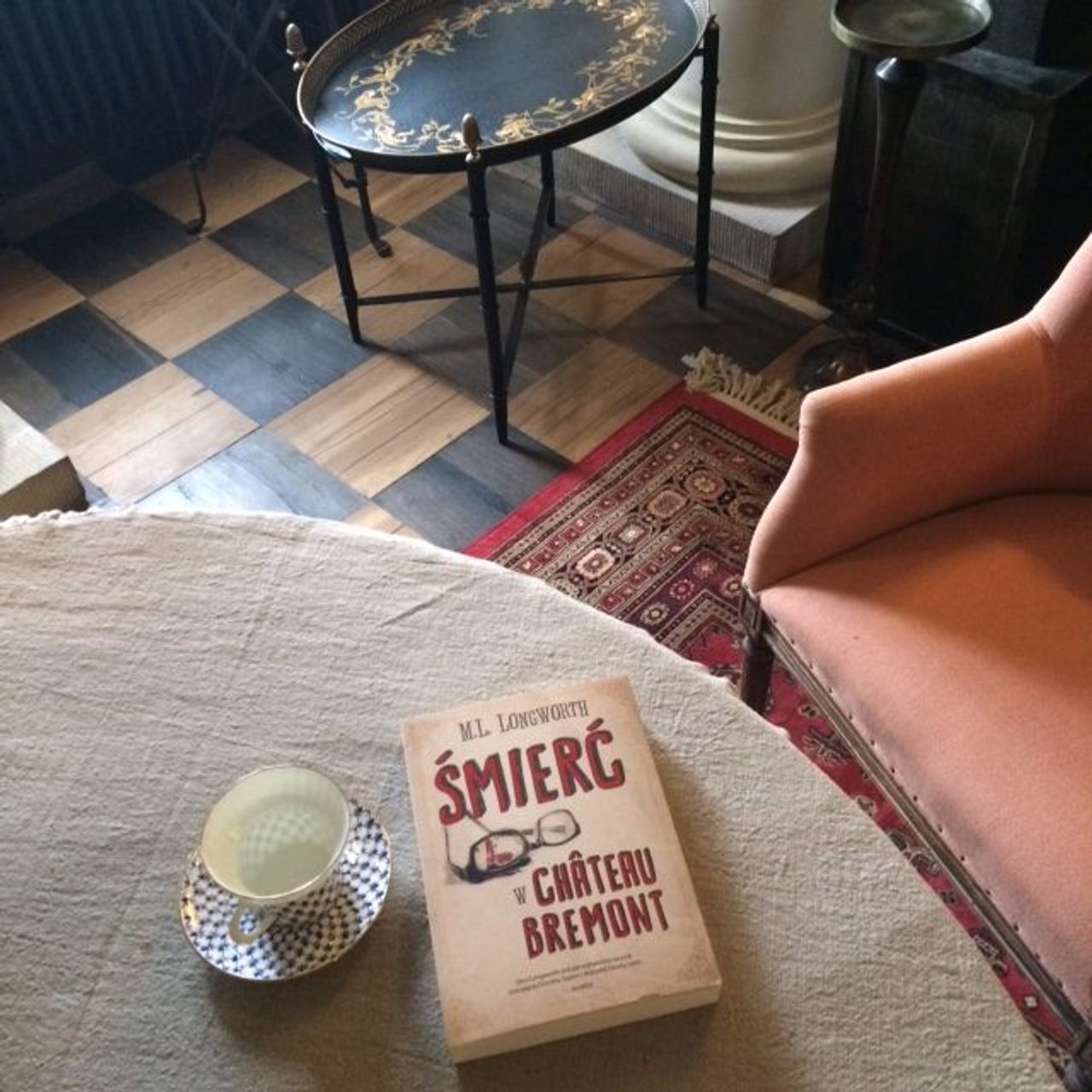 Klara's questions were interesting and insightful (she spoke perfect French and English), so I had a great time and my nervousness quickly went away. It was a full day of shooting; we got back downtown at 3:30pm, just enough time to grab a quick bite to eat before the radio interview!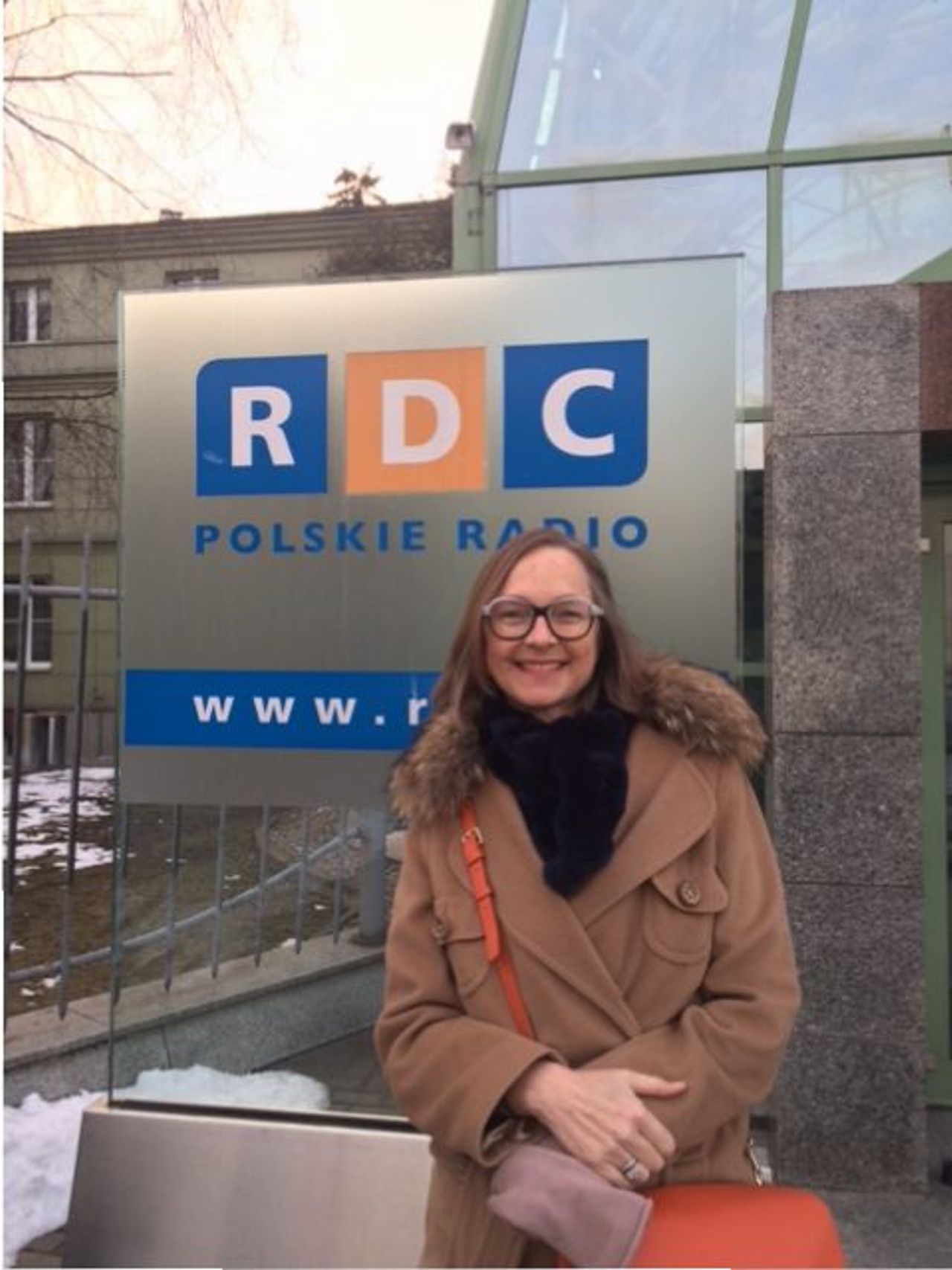 That night I was on my own, so I returned to a bar, Koko and Roy, that Eva and I had discovered our first night there, just down the street from the hotel. It was like being amongst old friends–did I mention how friendly and sincere the Polish are?–and I got to chatting with the barman; other patrons; and the co-owner, Koko, a dynamic Polish woman who lived for years in Brooklyn before coming back home.
One quick meeting the next morning, before my flight, in a converted produce hall turned into restaurants and food shops, with my Polish-rights agents from Macadamia ("We are nuts for books"!) :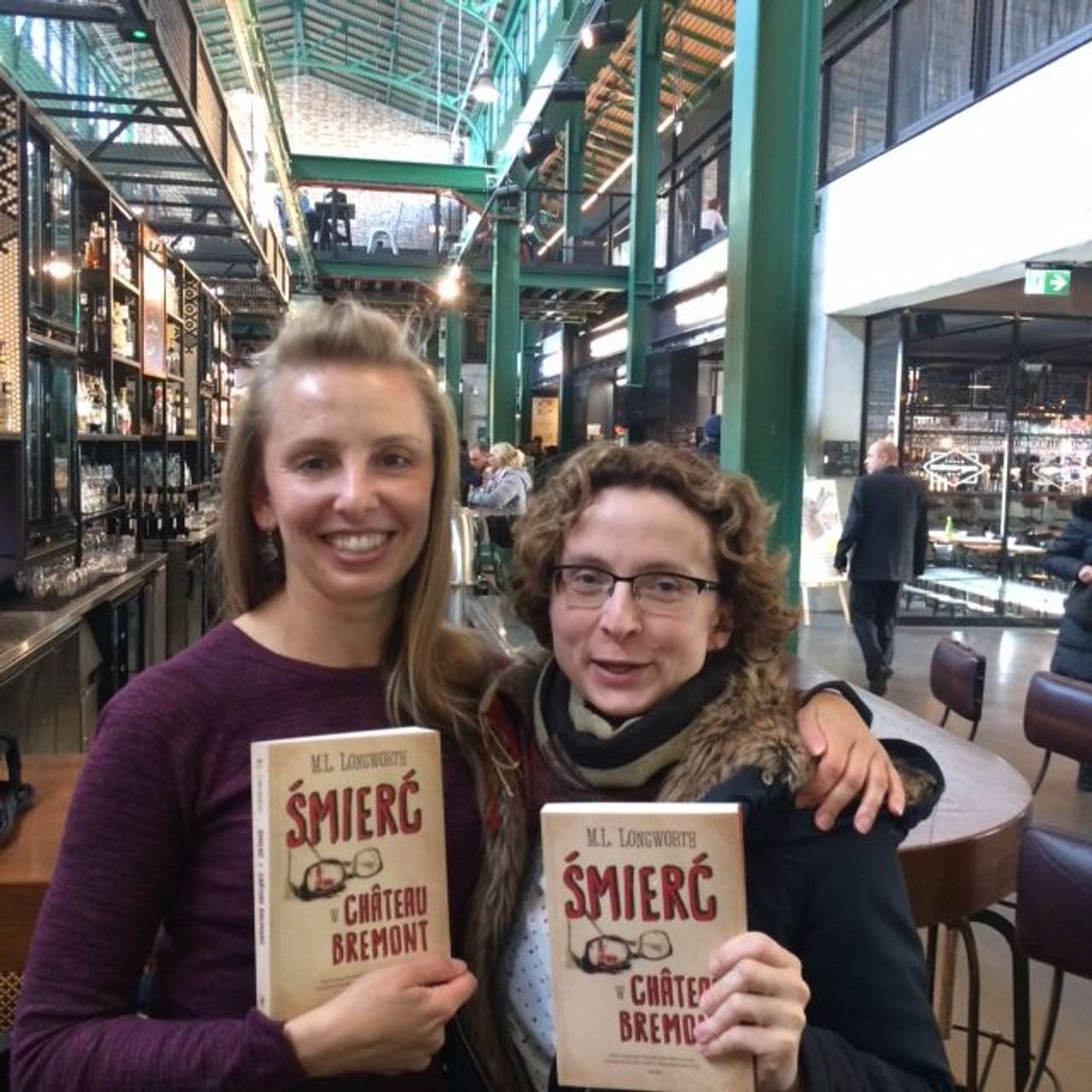 Kamilla and Magda, who did the great job of finding a home for my Polish-translated books with Smakslowa.
If you've never been to Poland, I recommend it highly! I'm retuning in August, with husband and daughter, to a literary festival in Sopot on the Baltic Sea. Can't wait! And if you have Polish friends who had read both my books and Joanna Chmielewska's, ask them what we have in common!
October 8, 2016
Celebrating a rosé wine made in…Paris
A wine made from Parisian grapes? Yes! And it's for sale this weekend in Paris at 50 euros a bottle (friends who have bought it tell me it's more to celebrate the occasion and the history of Paris's famous Montmartre vineyard than for the quality of the wine). There are 2,000 vine stalks (mostly Gamay and Pinot Noir) planted in a gorgeous vineyard located at the foot of la butte, the first vines having been planted as early as 944 A.D.
The harvest has been celebrated since 1934, always during the second weekend of October. All kinds of festivities are taking place over the weekend, organised by hard working and passionate volunteers who make up the many Montmartre community groups. There's even a Harvest Choir made up of 200 singers; they began singing this morning at 10:30 in the vineyard and then made their way down the hill to begin the parade. Our daughter lives not far from this lively neighbourhood (quickly becoming my favourite place in Paris, in particular the north side of the hill, where the vineyard is located) and she sent us some photographs of today's parade: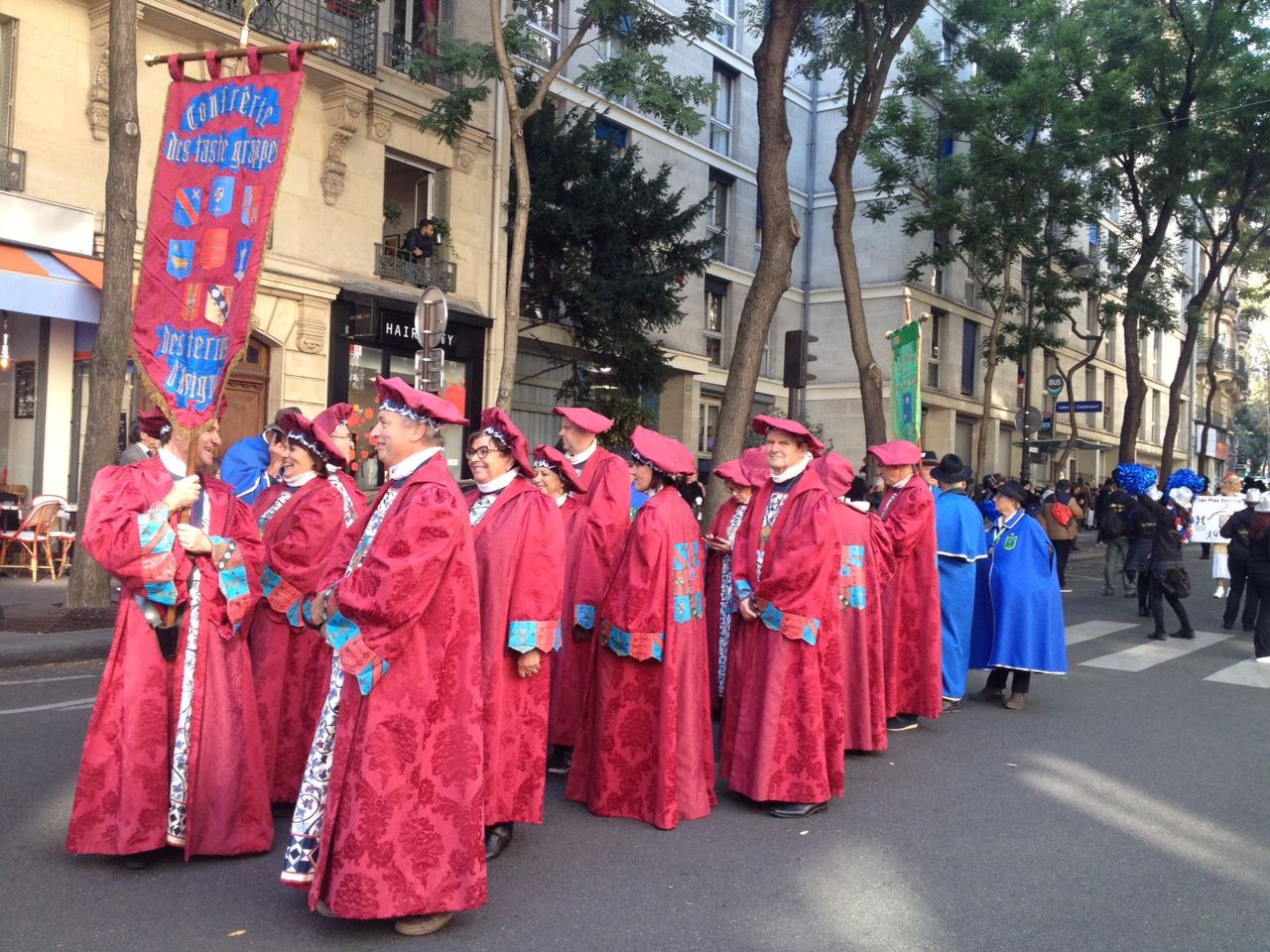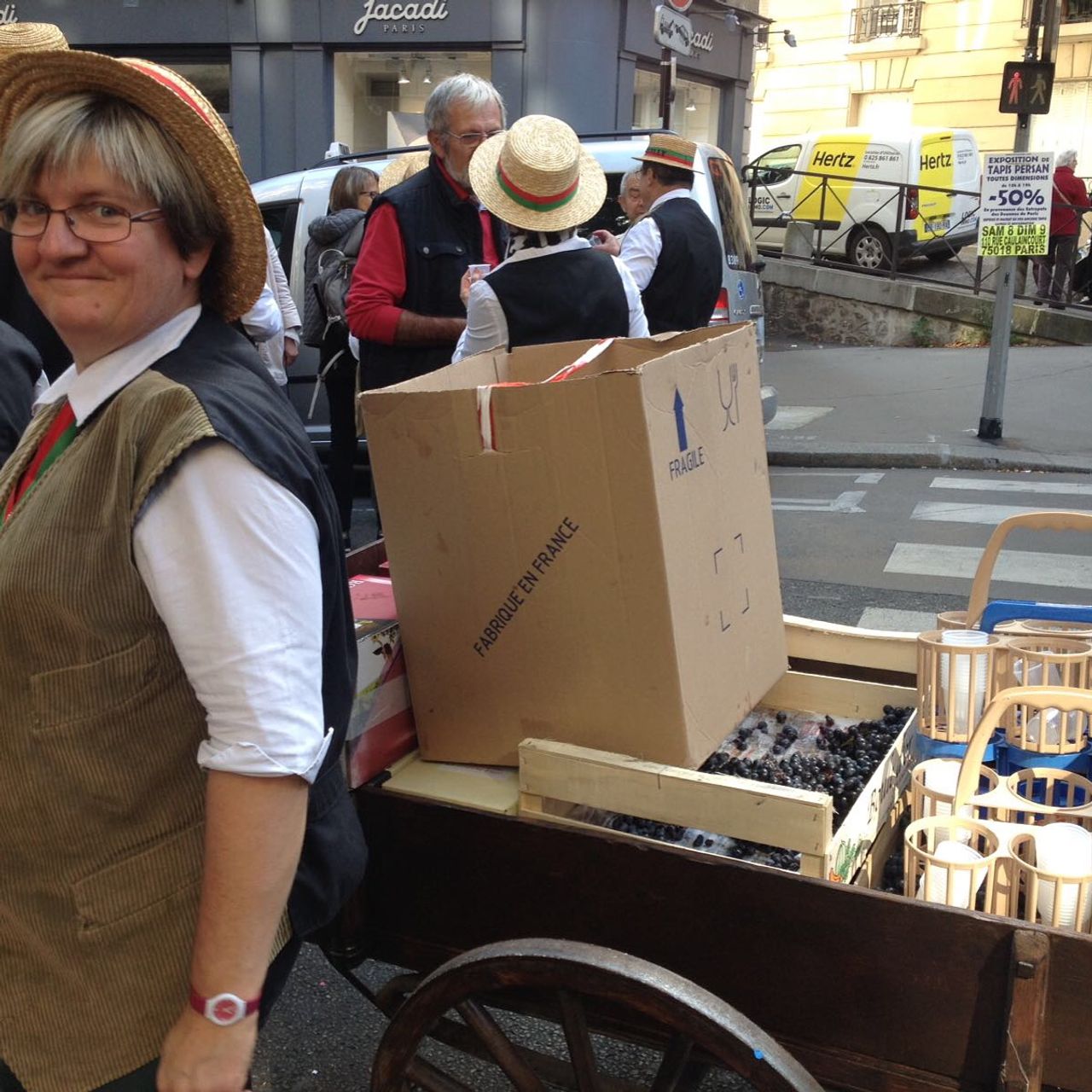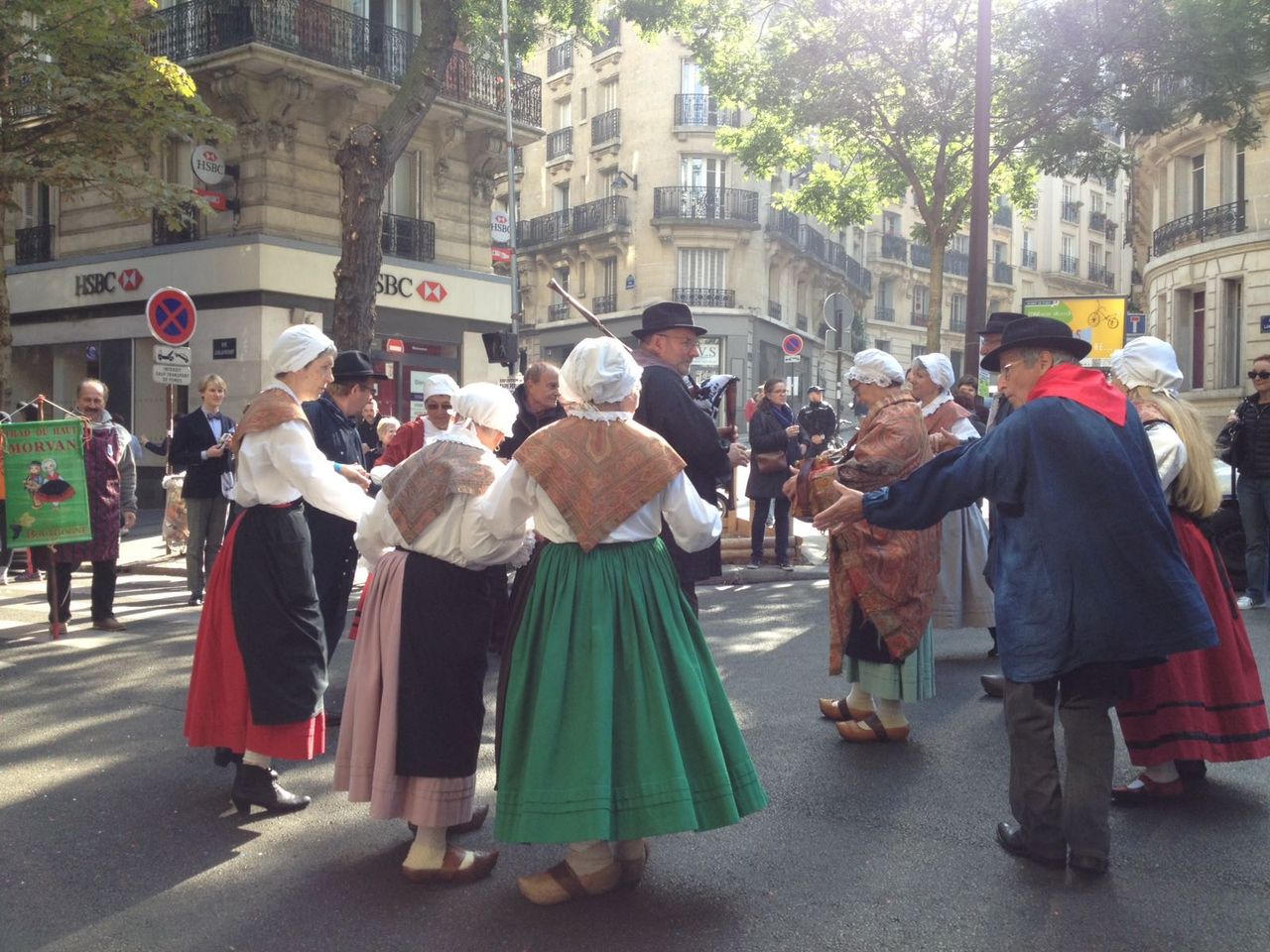 There are 1,000 bottles of rosé made each year; the vines are taken care of by the City of Paris and its Espaces Verts department (the equivalent of Parks and Rec). The wine is made by the city's chief eonologist, Sylvaine Leplâtre, a woman 🙂 and a harvest ball ends the weekend, held outside in the Square Louise Michel then overflowing into the streets. Here's an old photograph of the bal:
Whatever you are doing this weekend, have a great time enjoying the fall weather, and if you open a bottle of wine, pretend that you are in Paris.
August 11, 2016
Four days in Krakow, and a Wedding
We have been to Poland twice, each time for a wedding. The first wedding was a few years ago, near Warsaw, that reconstructed city whose destruction by the Germans during WWII the Russians watched in silence from the east bank of the Vistula. 98 % of Warsaw's Jewish population was murdered, as were 25 % of the Poles, many who were trying to hide their Jewish friends and neighbors. (Those statistics come from a great book about Poland I'm reading, Michael Moran's A Country in the Moon, published by Granta in 2008). This summer's wedding was in the countryside (a gorgeous old barn) just outside of Krakow. A friend and colleague from New York, who teaches with me at NYU, was marrying a local beauty (and brain).
Our French guidebook referred to Warsaw as the "brains" of Poland, and Krakow the "heart" Seems right. I love both cities, Warsaw for its contemporary art and pride at being both old and very new. Krakow was relatively undamaged during the war, has an ancient university and many museums, and its old town is splendid: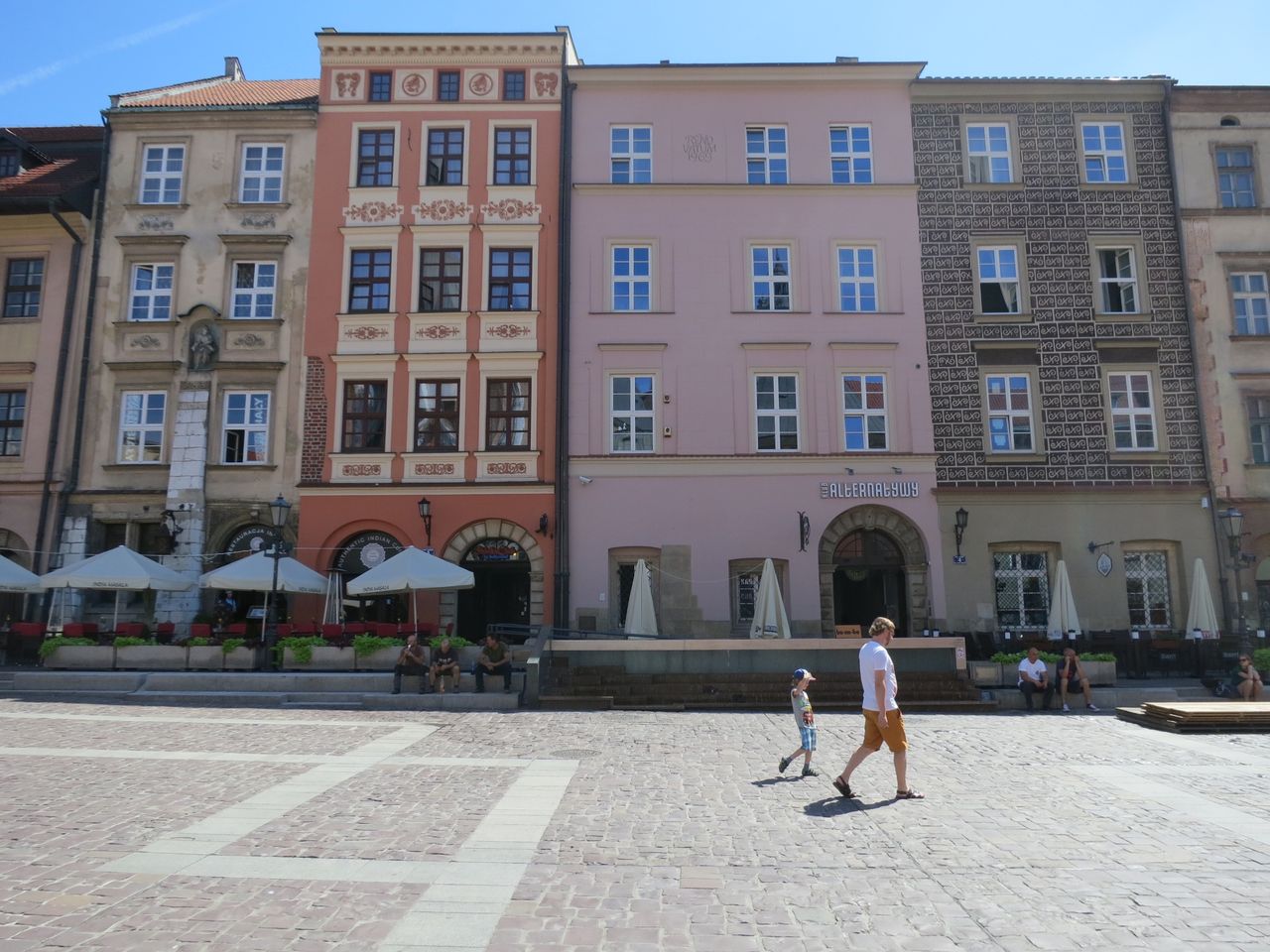 We had a day to walk around the city before the wedding (which was a two day affair, as are many French weddings). Given the joyous occasion we were there for, and our limited time, we decided to go to Auschwitz on our next visit. Instead, we stayed downtown, visiting a museum of 19th Century Polish art (which like many countries had their own branch of Impressionists, painters who had been to Paris, falling under the magical spell of painting en plein air). Then, off to a museum of history of the city, which my husband and I both found drab and uninteresting (we later discovered that the more interesting history museum is underground and just a few steps away!).
It was very hot (31°C–88°F–with high humidity, which we're not used to), so we got away from the main squares, where there are many touristy restaurants, and fell upon by chance Albertina, a restaurant we would almost travel back to Krakow to eat in. Contemporary cuisine with Polish ingredients, including trout caught in rivers in a nearby national park. Oh, and each dish came paired with wines, two of which were Polish whites!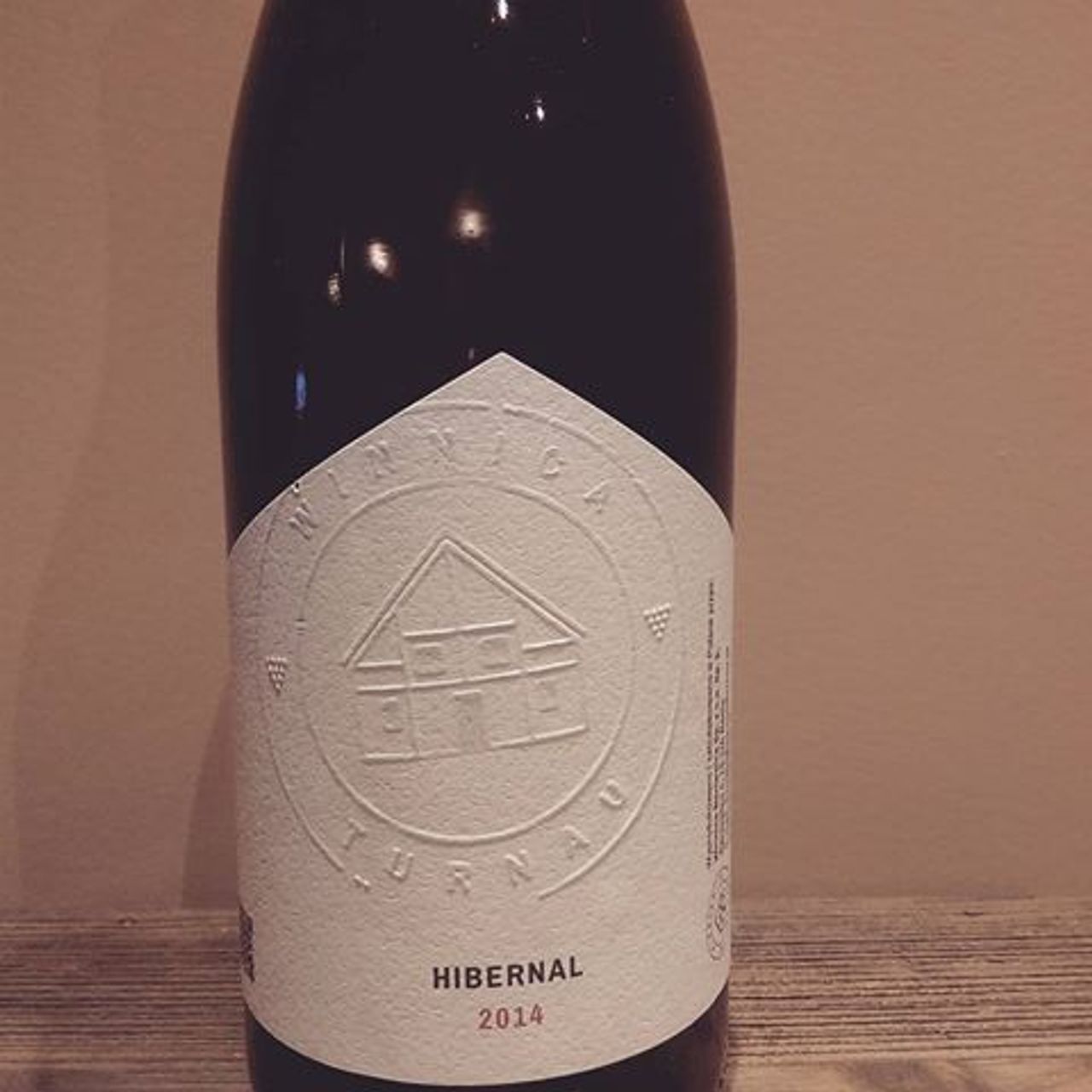 This was our favorite, Solaris, from up on the Baltic coast.
After lunch we visited a 16th century Gothic-Renaissance palace built for the Bishop Erazm Ciolek that now houses sculptures and paintings from the 14th to the 16th century. We were the only visitors. Below, a 14th century wooden sculpture of Jesus that we found very striking: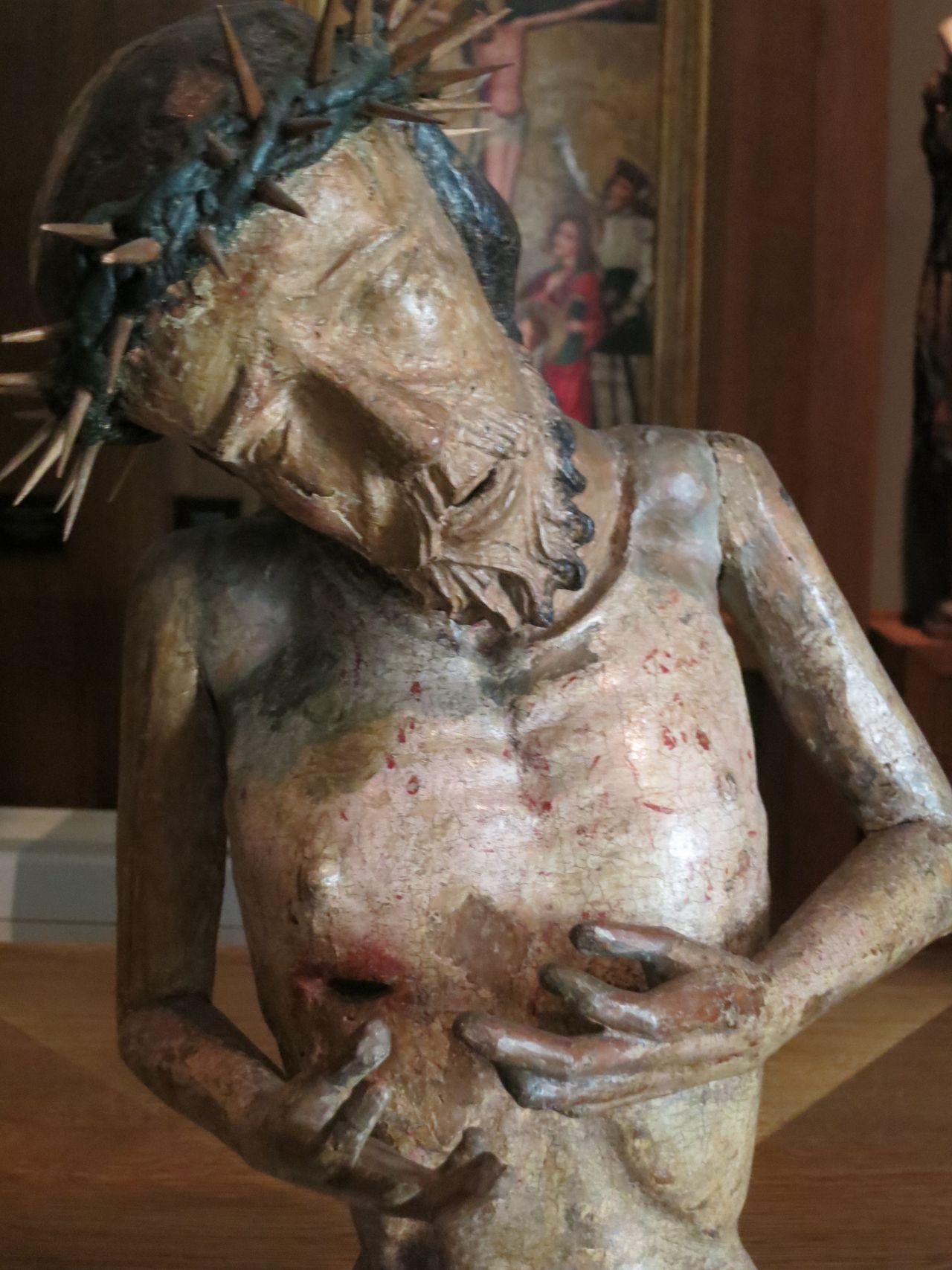 In Warsaw the museums and art galleries we visited were charged with excitement. Museum workers would follow us around and ask if we needed help. Gallery owners jumped up from their contemporary-designed desks, welcoming us and explaining the current exhibition. In Krakow, the museum employees could barely even look up at us. That's part of the reason we got mixed up in locating the underground history museum, as our questions were usually answered with a shrug of the shoulders. In Michael Moran's book he has the same experience in 1992, just two years after the fall of Communism. He writes, while trying to buy a car, "There is never an official reply in Poland, just a series of non-answers."
When in Warsaw I fell in love with the paintings of Edward Dwurnik, a national treasure. Born in 1943, Dwurnik studied art in Warsaw and is known for his provocative but sometimes humorous paintings. He now paints almost exclusively bird's eye views cityscapes, a series he calls "Hitch-hiking", but I prefer his politically charged earlier work from the 1970s and 80s.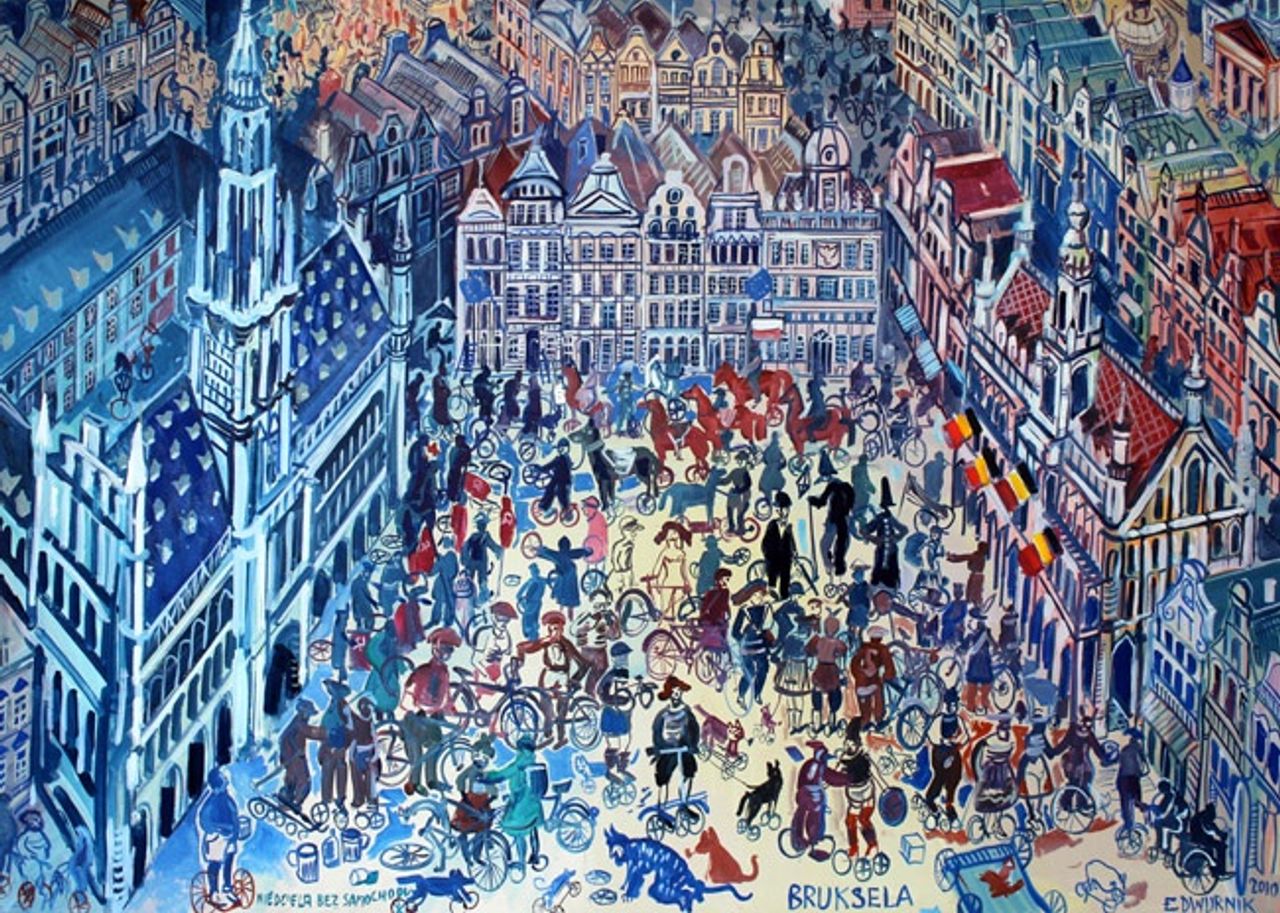 A recent cityscape of Edward Dwurnik. They are really big, and impressive, when you see them in person.
An earlier painting from the 1970s, below, which focussed on the Communist everyman (and in the 80s the tragic destinies of Polish people caught in the political turmoil of the age):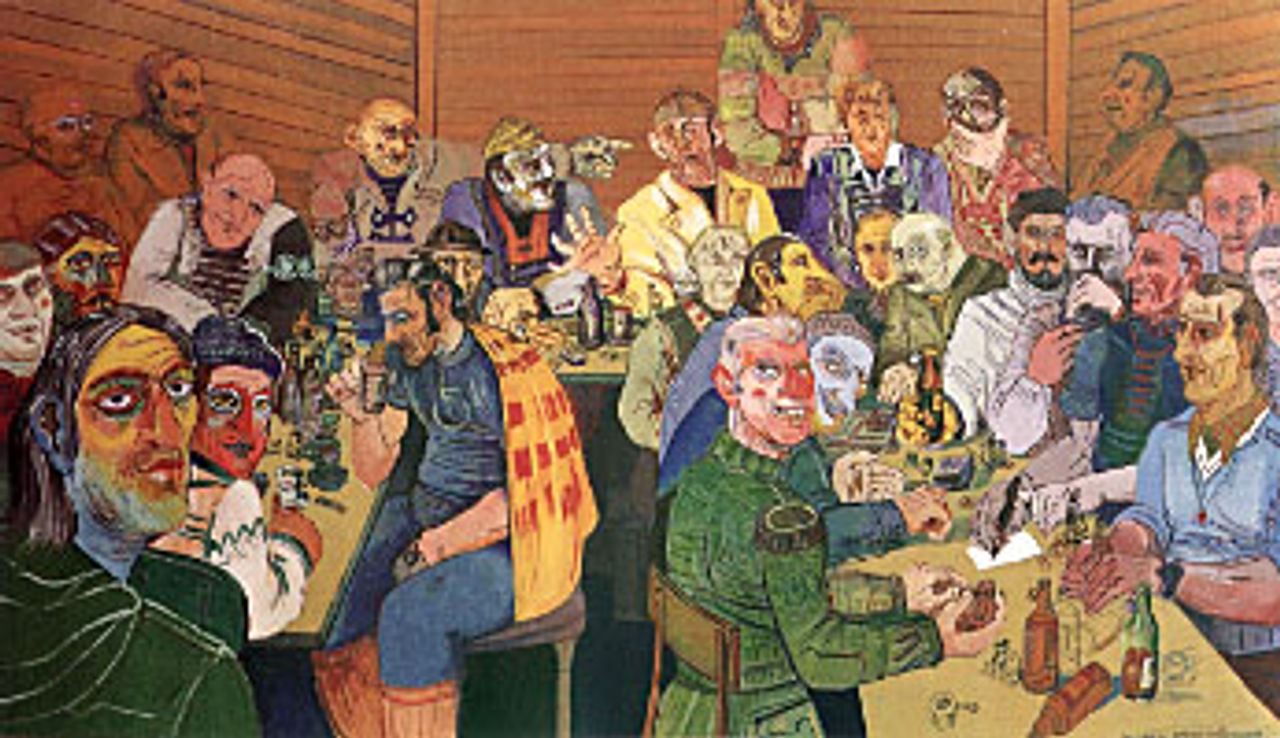 Well, after our religious art museum, and a cocktail on the Planty (the park that rings Krakow's old town) we met up with our daughter who had just arrived from Paris and went out for dinner. The restaurant Pod Baranem ("Pod" meaning something like "Chez") got great reviews from our Michelin guide, and also from the Guardian. But Pod Buranem also had an added attraction: the restaurant is full of Edward Dwurnik paintings!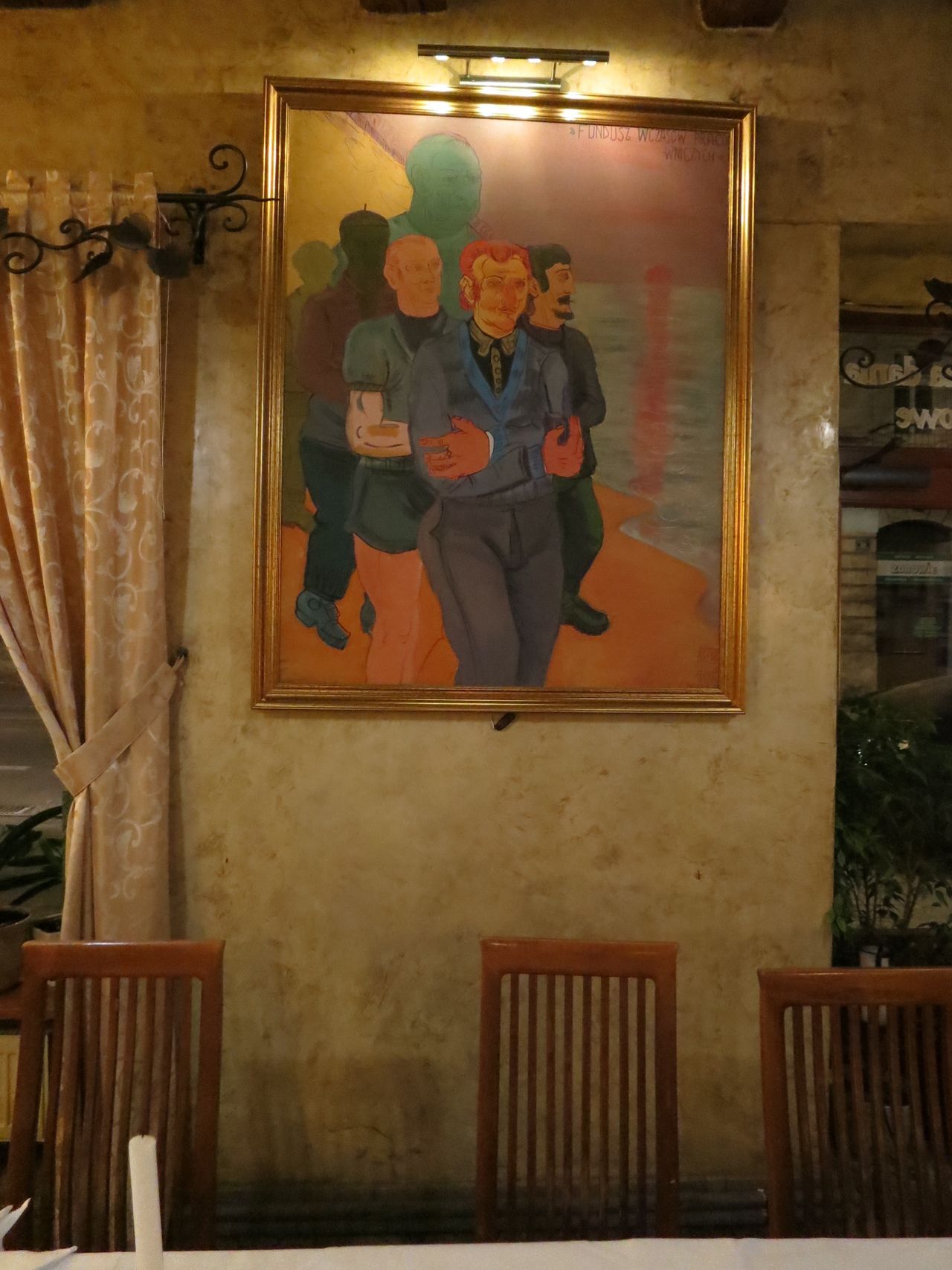 A bit of Pod Baranem's interior. I had the Beef Stroganoff; delicious!
The next morning we got up early and took a tram to the south side of the Vistula to Krakow's newly opened contemporary art museum, the MOCAK, then raced back to our hotel for the wedding shuttle pick-up. The wedding, in the countryside 45 minutes south of the city, began at 4:30pm and we got back to the hotel at 6:30. AM!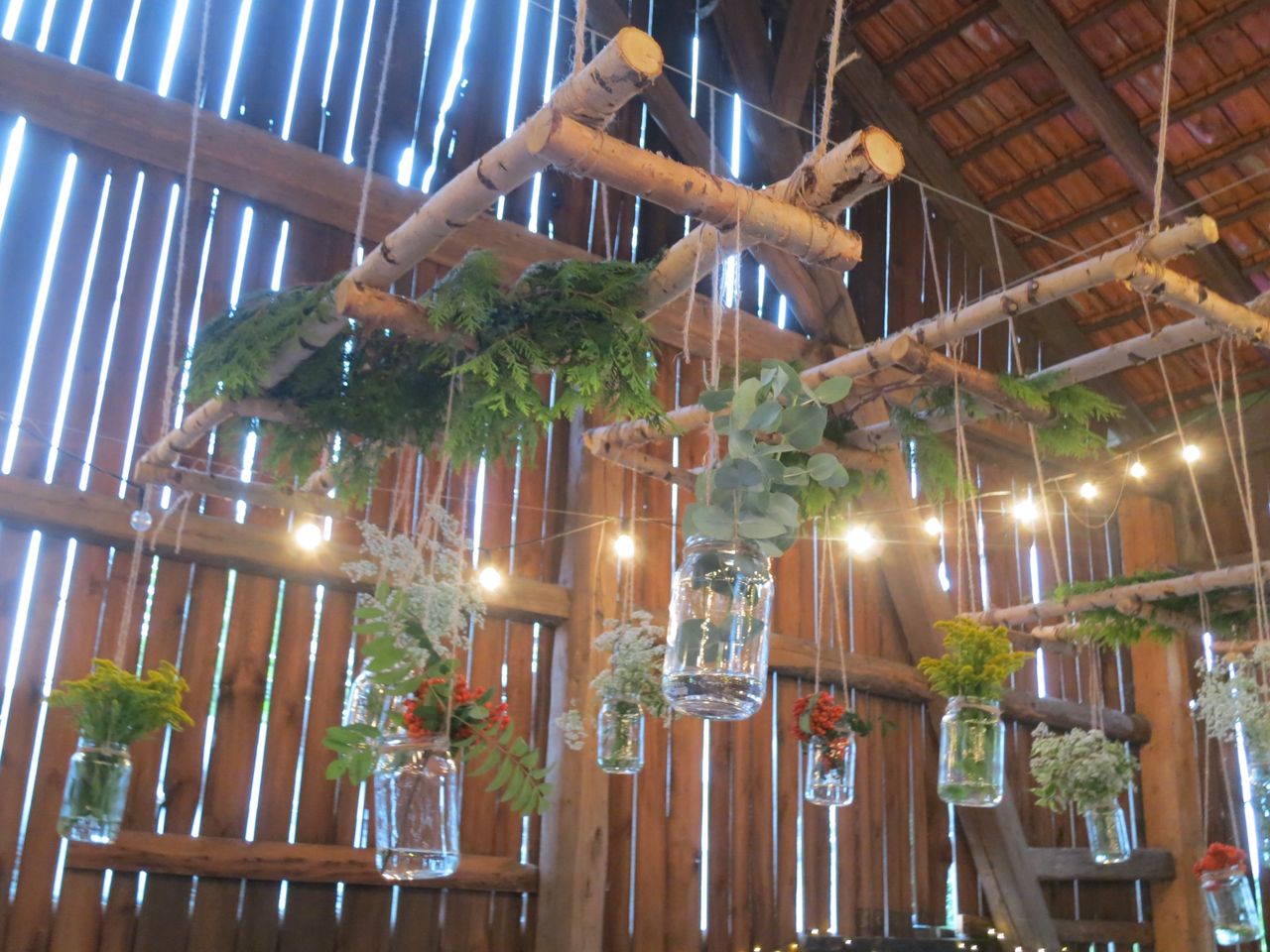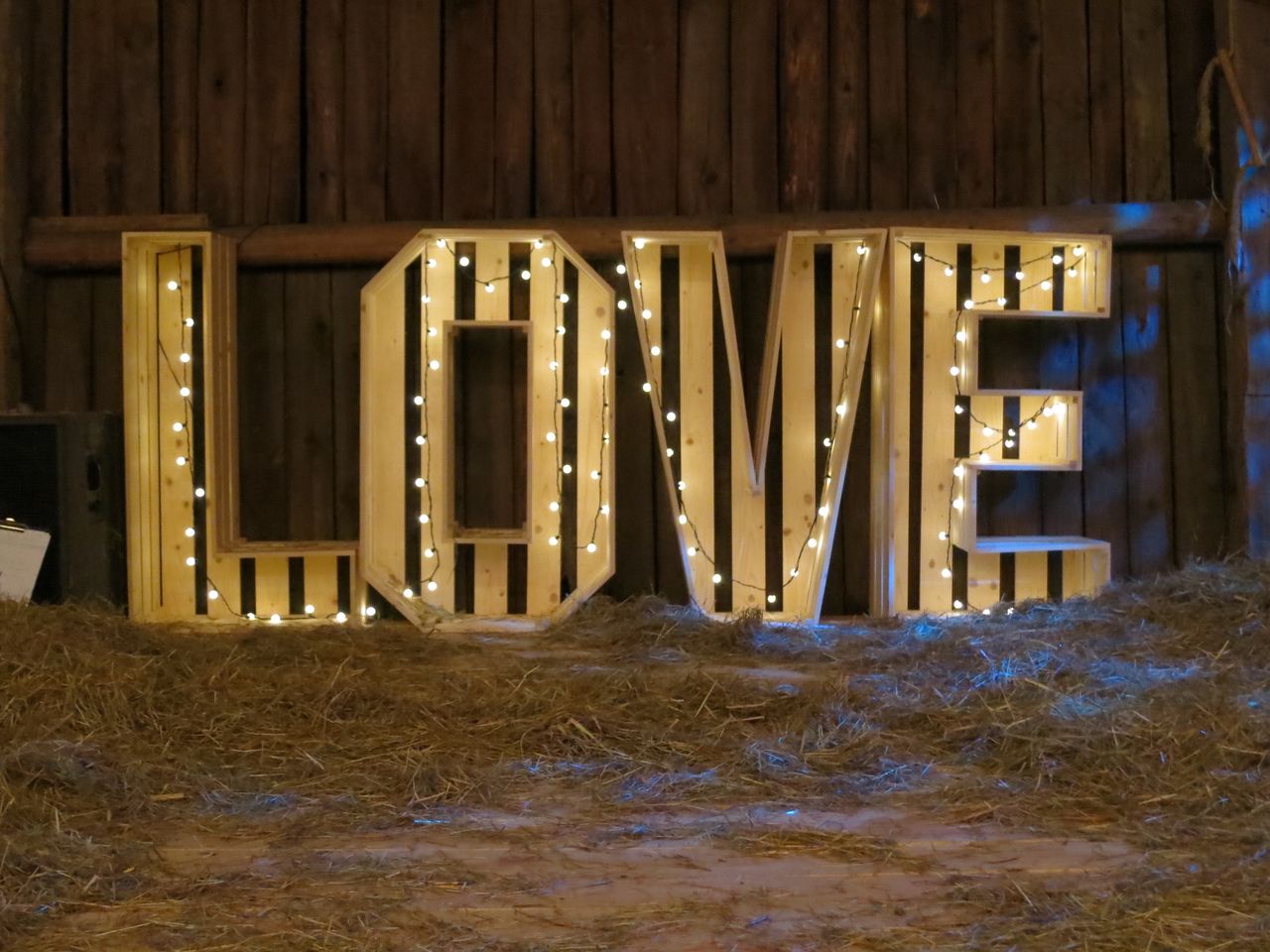 The lit-up LOVE sign amongst hay bales, where the children had a grand time.
The food was endless (the last dish, a cold beet soup, was served somewhere around 3:30am) and delicious. As was the vodka. (no one was drunk from what I could see, helped by all the food and dancing).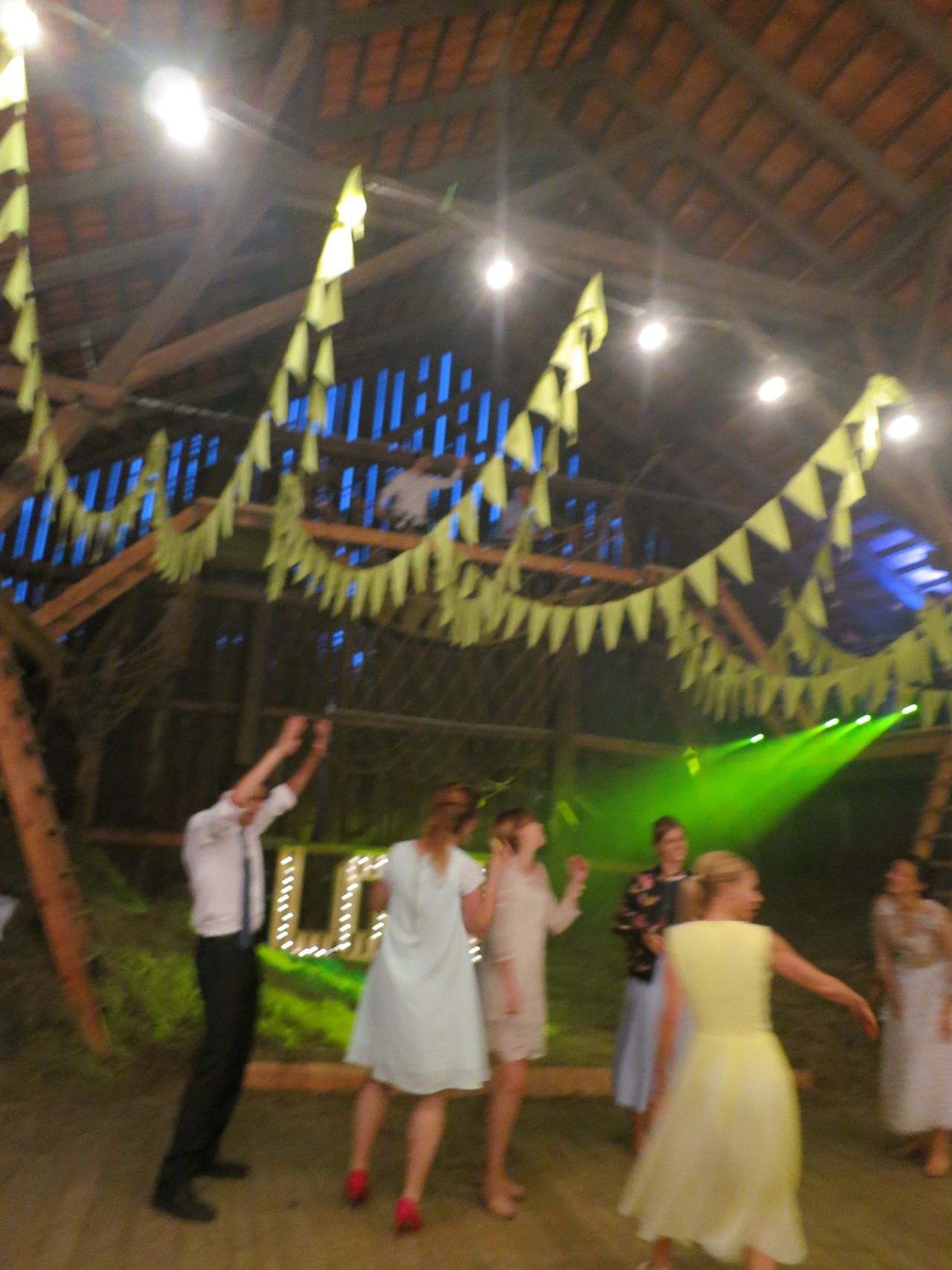 We were out-dressed and out-danced by our Polish friends.
We slept a few hours and the next afternoon dragged ourselves to Wawel, Krakow's hilltop royal castle. After a guided tour of the grounds, we paid for tickets to see Leonardo da Vinci's "Lady with an Ermine," one of the four female portraits painted by the artist in his lifetime. The subject of the portrait is Cecilia Gallerani, painted at a time when she was the mistress of Ludovico Sforza, Duke of Milan, and Leonardo was in the service of the duke. Unlike visiting the Mona Lisa at the Louvre, there were only six of us looking at the painting. I love the black background; it sets off Cecilia Gallerani even more (she was an accomplished poet too). The painting was stolen by the Nazis and rescued in 1946 by Americans, who returned it to Krakow.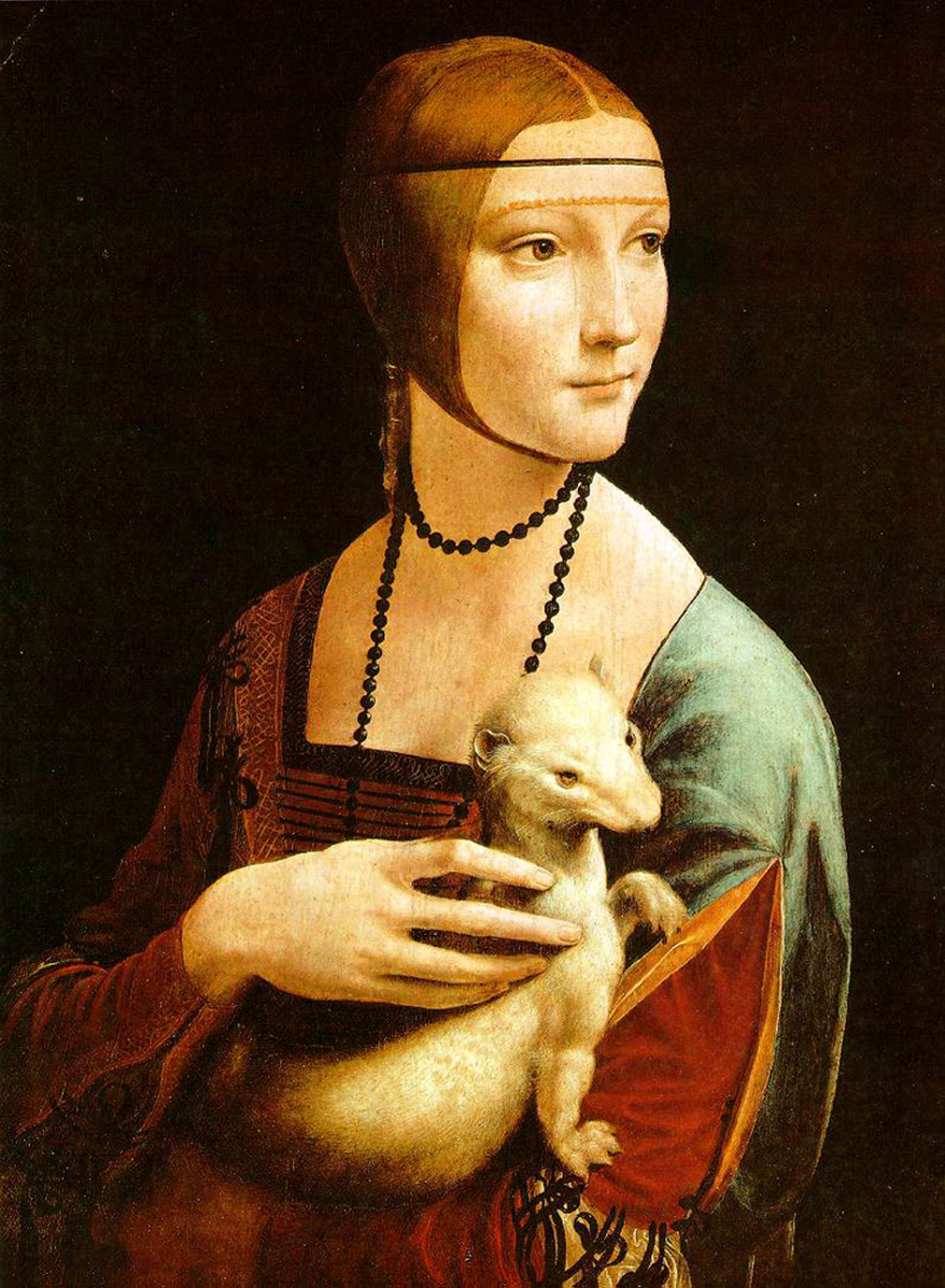 That night those of us who had energy and were still in town, including the bride and groom, met up on one of the restaurant boats that line the banks of the Vistula. Our view that evening, as we drank Polish wheat beers and re-hashed the wedding:
And this photo seems like a good place to sign off! Here also seems like a good place to announce that the Polish rights to my books have been sold, and I'm thrilled! The publisher is Smak Slowa, located in a small town, Sopot, on the Baltic Sea. The publishers know that I live in Europe, and asked my agent if I could come to Poland once the books are released to do a promotional tour. Could I? Would I! Twoje Zdrowie!
May 16, 2016
My Own Cannes Film Festival 2016: Youth, and 45 Years
May is always exciting in France (along with asparagus and strawberries in the market, and the first cherries!) as the Cannes Film Festival opens and the newspapers are flooded with photographs of stars, and news of films that wowed the jury, and films that went bust (this year, Wow's are going to Romanian director Cristi Puiu's Sieranevada and Boo's to Jodie Foster's Money Monster).
The Festival always gets my husband and I back out to the cinema and talking about which films we loved this year (we are lucky as Aix has two theatres that show art-house films from around the world in their original language). Here are my two favorites.
Youth
Directed by Paolo Sorrentino (filmed in English)
Our daughter, when she began studying Italian in junior high, introduced us to the films of Paolo Sorrentino. Back then (our daughter is now 23 years old) Sorrentino only had one or two movies, and we adored, and were amazed by, his 2005 film, stylish and yet meditative, The Consequences of Love. Youth, released at the end of 2015, is stylish like Sorrentino's previous films, and admittedly less profound; "an entertaining but minor work," wrote my favorite film critic, Peter Bradshaw, in The Guardian. But I LOVED it anyway!
Music plays an important part in Sorrentino's films, and Youth begins with a band playing a fantastic upbeat song while on a turning stage (the film is set at a luxurious Swiss hotel). I was glued from the beginning seconds.
Sorrentino didn't cast his usual leading man, Toni Servillo (if you haven't seen Servillo in The Great Beauty, please do now!), but Michael Caine is elegant and thoughtful as Fred Ballinger, a retired conductor staying at the hotel with his daughter and best friend. Ballinger is visited by a representative of Queen Elizabeth, who would like Ballinger to conduct his Simple Songs for Prince Philip's birthday. Ballinger obstinately refuses, for reasons we find out later on.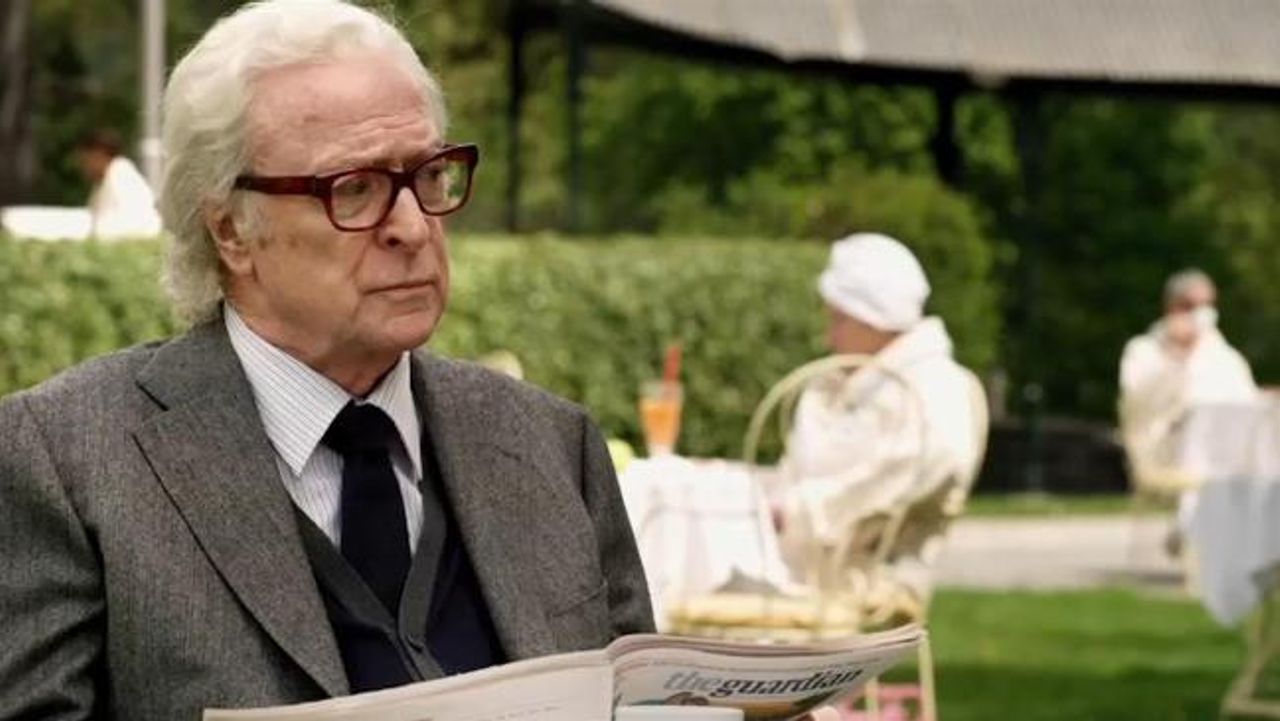 Michael Caine as Fred Ballinger.
The many close-ups of the faces of the cast are visually stunning. Sorrentino likes faces (and bodies) of all kinds, from the beautiful to the grotesque. It's one of the things I admire about his films. There's an obese former soccer star, obviously at the hotel to lose weight; and a skinny, very odd-looking masseuse who gracefully dances in front of her television at night; a Miss Universe who's smart and well-spoken; and Jane Fonda who has a great cameo role as an brash street-smart famous actress. Those wonderful faces—combined with the ennui the characters (and staff) experience at that Swiss hotel, the stylish music, and breathtaking cinematography (beautiful mountains, including a gorgeous and heart-breaking flashback to Venice, where Ballinger once conducted)—made this one of my favorite films this year.
And yes, you do hear the Simple Songs at the end of the film, played before the Royal Family. It gave me goosebumps, as I had never heard Sumi Jo sing, nor did I know anything about the music of contemporary Los Angeles composer David Lang. I found this video clip, not a trailer, of David Lang, Sorrentino, and Sumi Jo explaining the importance of music in the film and what it meant for them. Sumi Jo said that the music gave her goosebumps, too. You can see that, and feel it, when she sings in the final six minutes of the movie.
45 Years
Directed by Andrew Haigh
Well, if there is any film more opposite to Paolo Sorrentino's films, then this must be it. Or is it? As both films deal with the past, and with aging. Both are set in quiet places where people live out their routine lives (albeit Sorrentino's cast in a super posh hotel, but dull all the same). In 45 Years Kate and Geoff Mercer are planning their 45th wedding anniversary party. They are retired and live in beautiful but flat and bleak Norfolk, in the east of England. Geoff is working class; a former union steward. Kate was the local school's headmistress, and even the postman, a former student, is still in awe of her. There are lovely details of their days: breakfasts together, taking walks with the dog, sneaking cigarettes out by the back shed. But, in the same role as the Queen's messenger in Youth, a letter from Switzerland arrives one morning and turns their quiet life upside down.
Ever since I saw Tom Courtenay in the 1960s film The Loneliness of the Long Distance Runner (as a teenager with my best friend Bev in the late 1970s) I've longed to see him in another role as interesting and well written. And this is it! Geoff (Courtenay) receives news that the perfectly-preserved body of his first love, Katya (sounds just like Kate, right?) has been discovered in a ravine, where she fell to her death while on holiday with Geoff in 1962. Geoff has to reveal to his wife Kate (played with a wonderful severity by Charlotte Rampling) that he has been contacted because the Swiss believe that Geoff is Katya's next-of-kin: he admits to Kate in a chilling scene that he and Katya had pretended to be married while on holiday so that they could share the same hotel room.
The film's stress mounts as the party date gets closer, with both Geoff and Kate, but especially Kate, reexamining their lives, and marriage, and all of its secrets, even after 45 years.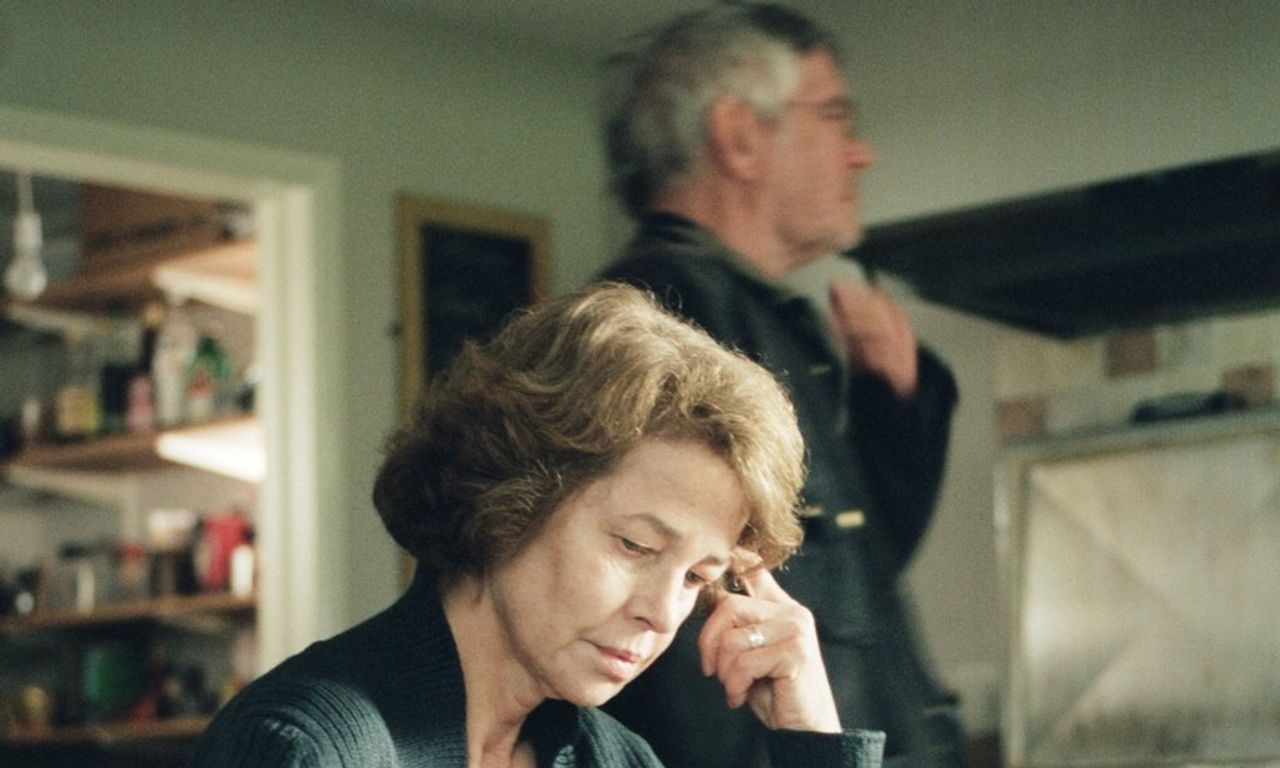 Charlotte Rampling and Tom Courtenay
When I began writing this blog I laughed to myself, thinking how different these two films are. But now I'm not so sure. Have you seen either of these films? What did you think?