After moving to Aix-en-Provence in 1997, I began writing articles about the region. I couldn't get enough of Provence. But after a few years I began to grow restless; not with the area, but with the restrictions of writing non-fiction. I began having conversations in my head and realized that if I wrote fiction then my characters could live in, and experience, Provence as I do. Aix is a law town—it has been since the Middle Ages—which seemed to me a good place to situate a mystery, and I imagined my protagonists involved in the law profession. But above all, I really want the reader to experience Aix-en-Provence the way I do, as if they were beside me. I hope you enjoy reading these mysteries.
I am delighted that my books have been translated into:
German by Aufbau Verlag
Polish by Smak Słowa
Dutch by Manteau/Standaard Uitgeverij
Estonian by Vesta
Bulgarian by Era Media
Russian by AST
THE VANISHING MUSEUM ON THE RUE MISTRAL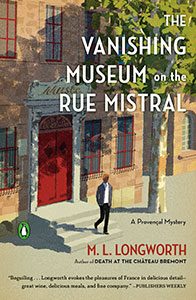 "Charming characters complement the tidy mystery plot. This is just the ticket for those seeking a much-needed vicarious vacation."
Publisher's Weekly
"Extreme puzzlement in a lush French setting."
Kirkus Review
A breezy, charming, and perfectly escapist mystery set in the heart of sun- and wine-soaked Aix-en-Provence—where murder investigations are always put on hold for lunch and the only thing more sweeping than the story is the Mediterranean coastline.
Something strange has happened at the unassuming Musée de Quentin-Savary in Aix-en-Provence. When the director, Monsieur Achille Formentin, walks in one beautiful April morning, he is shocked to find the whole museum emptied of its contents—only a bench, the reception desk, and a lowly fern remain.
Distressed, he calls the local police, and Aix's examining magistrate Antoine Verlaque sets out to discover the thief's identity. But it's the most baffling case Verlaque has ever encountered. Why would someone want to steal porcelain dessert plates, some old documents, and a few small paintings? Could this have something to do with the mysterious robbery of Madame de Montbarbon's apartment a few weeks earlier? And how can Verlaque possibly concentrate on the theft when he and his wife, Marine Bonnet, are going to have a baby?
Published 13 April 2021
A NOËL KILLING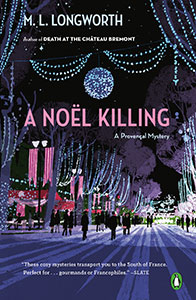 "Full of gourmet meals, silky wines, and sumptuous homes, these cozy mysteries transport you to the south of France . . . Perfect for the gourmands or Francophiles in your life."
Slate
Christmastime in the south of France is as beautiful as ever, but when a shady local businessman drops dead in the middle of the festivities, Verlaque and Bonnet must solve the case while keeping the holiday spirit alive.
Antoine Verlaque, examining magistrate for the beautiful town of Aix-en-Provence, doesn't like Christmas. The decorations appear in the shops far too early, festive tourists swarm the streets, and his beloved Cours Mirabeau is lined with chalets selling what he regards as tacky trinkets. But his wife and partner Marine Bonnet is determined to make this a Christmas they can both enjoy, beginning with the carol sing at the Cathedral Saint Sauveur, a beautiful service in a packed church.
Just as the holiday cheer is in full swing, a man is poisoned, sending the community into a tailspin. The list of suspects, Verlaque and Bonnet quickly discover, almost fills the church itself, from the visiting vendors at the Christmas fair to the victim's unhappy wife and his disgruntled business partner. In A Noël Killing, with the help of an ever-watchful young woman named France, the pair must solve the murder while the spirit of the season attempts to warm Verlaque's stubborn heart.
THE SECRETS OF THE BASTIDE BLANCHE
"Antoine and wife Marine are as delightful as ever, and the compelling mystery keeps you wanting more."
Library Journal
When a scandalous author moves to the outskirts of Aix-en-Provence, Verlaque and Bonnet are called in to investigate whether he's haunted by more than just his past, in this delightful new mystery from M.L. Longworth.
One hot summer night, Aix-en-Provence is aflutter with news that controversial author Valère Barbier, who once shared dinners with French Presidents and all-night drinking bouts with rock stars, has moved into La Bastide Blanche, a grand house left empty for decades. But Valère's ideas of a peaceful retirement are quickly dashed. Rambunctious neighborhood children, a fast-talking gossip of a housekeeper, and a rival novelist filter through the home at all hours of the day—and by night there are unseen visitors with more sinister intentions.
While Antoine Verlaque investigates Valère's sordid history, his wife and partner, Marine Bonnet, questions why the estate was abandoned in the first place—and what they both find raises more questions and answers. Is Valère imagining the ethereal cries that fill the bastide at night? Is he losing his mind? Or have these ghosts returned from Valère's checkered past to haunt him?
THE CURSE OF LA FONTAINE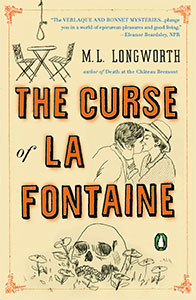 "Longworth confirms her longstanding lovebirds as Aix's Nick and Nora; their pursuit of miscreants never interferes with their enjoyment of the good life."
Kirkus Reviews
"Beguiling…Longworth evokes the pleasures of France in delicious detail—great wine, delicious meals, and fine company."
Publisher's Weekly
In the sixth book of M. L. Longworth's series, Verlaque and Bonnet contend with a centuries-old fountain that just might be cursed.
Chef Sigisbert "Bear" Valets has just opened his own restaurant, La Fontaine, in Aix-en-Provence. It's a success—great reviews and a loyal clientele, including Verlaque and Bonnet. But when he decides to extend his restaurant's seating into a historic courtyard, some very powerful neighbors rise against him. The historical society wants the courtyard, which had witnessed a sixteenth-century hanging and two World War II-era murders, to remain untouched.
Valets charges on, even after a skeleton is found buried next to the courtyard's ancient fountain. But when the chef begins receiving threatening letters, he becomes convinced that his life is in danger. And then the fountain inexplicably stops running. By disturbing the garden, has Bear triggered an age-old curse? And newlyweds Verlaque and Bonnet solve mystery before someone ends up dead?
THE MYSTERY OF THE LOST CÉZANNE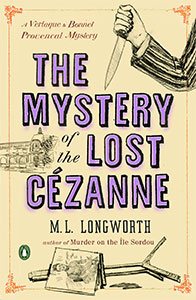 "Art theft is a hot topic on the mystery scene, and no one's heist is livelier than Longworth's."
Kirkus Reviews
"Enchanting…the charming local citizens of Aix-en-Provence provide the true delights in this colorful story."
Library Journal
"A sure thing for fans of art-themed mysteries."
Booklist
A friend in his cigar club asks Antoine to visit René Rouquet, a retired Postal worker who has found a rolled-up canvas in his apartment. As the apartment once belonged to Paul Cézanne, Rouquet is convinced he has discovered a treasure. But when Antoine arrives there, he finds René dead, the canvas missing, and a mysterious Art History professor standing over the body.
When the painting is finally recovered, the mystery only deepens. The brushwork and color all point to Cézanne. But who is the smiling woman in the painting? She is definitely not the dour Mme Cézanne. Who killed René? Who stole the painting? And what will they do to get it back?
MURDER ON THE ILE SORDOU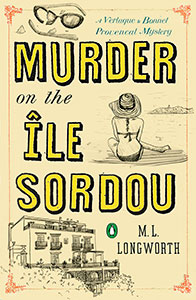 "Charming."
Marilyn Stasio, The New York Times
"Longworth's novels…are mysteries for foodies, with the plot providing a table upon which enchanting meals and accompanying wines are served."
Booklist
"Thoroughly delightful…Longworth deftly handles what is in effect a locked-room mystery, but the book's real strength lies in the back stories she creates for each of the distinctive characters. The puzzle's answer, buried in the past, is well-prepared by what has come before."
Publishers weekly (starred review)
Judge Antoine Verlaque and his girlfriend, law professor Marine Bonnet, are hoping to enjoy a relaxing holiday at the Locanda Sordou, an opulent hotel reopening after being closed for several decades, but someone has other plans.
Ex-financier Maxime Le Bon and his wife, Catherine, have spent years and their life savings restoring the hotel, which lies in an archipelago of glittering islands just off the coast of Marseille. A motley crew of guests arrive by boat for the grand opening. In addition to Antoine and Marine, there's Marine's best friend Sylvie; a fading film star, his much-younger wife and her disgruntled teenage son; an aspiring poet; an American couple; and a French couple trying to save their marriage. The murder of one of the guests casts a shadow over everyone's vacation, but things go from bad to worse when a a violent storm cuts off all communication with the mainland. Will the killer strike again?
DEATH IN THE VINES
"Judge Antoine Verlaque, the sleuth in this civilized series, discharges his professional duties with discretion. But we're here to taste the wines, which are discussed by experts like Hippolyte Thebaud, a former wine thief, and served in beautiful settings like a 300-year-old stone farmhouse. So many bottles,so many lovely views. A reader might be forgiven for feeling woozy."
Marilyn Stasio, The New York Times
"Though the plot is hair-raising, what keeps you glued tot his mystery is its vivid portrait of everyday life in Aix, which deftly justaposes the elegance of the city…with quotidian woes and pleasures."
Oprah.com
"As much as the mystery intrigues—in this case some intertwined crimes involving a localwinery, a missing elderly woman, and a rich man's suspicious construction project—what really makes Longworth's books enjoyable are the atmosphere and details that she includes of the South of France."
The Seattle Post Intelligencer
Winery owner Olivier Bonnard is devastated when he discovers that a priceless cache of rare vintages has been stolen from his private cellar. Soon after, M. Gilles d'Arras arrives at Aix-en-Provence's Palais de Justice to report another mysterious disappearance: his wife, Pauline, has vanished from their lavish apartment. Madame has always been as tough as nails, but in recent weeks she's been wandering around town in her slippers and crying for no reason.
As the Mistral arrives to temper the region's late-summer heat, Commissioner Paulik receives an urgent call from Bonnard; he's just found Pauline d'Arras—dead in his vineyard. Verlaque and Bonnet are once again investigating, in what will prove to be their most complicated case yet.
MURDER IN THE RUE DUMAS
"Just considered as a mystery, this is highly engaging. But what really makes Longworth's writing special is her deep knowledge of French history, landscape, cuisine, and even contemporary cafes and restaurants."
Booklist (starred review), September 2012
"Fans of European sleuths with a taste for good food such as Martin Walker's Bruno will have fun."
Publisher's Weekly, August 6 2012
"…an updated version of the classic detective novel, enlivened with a sometimes caustic wit…"
Denver Post, September 16 2012
Murder in the Rue Dumas finds Verlaque stumped. The director of theology at the Université d'Aix was just about to name the recipient of an elite fellowship, as well as his own successor, when his lips were sealed permanently. Yet Verlaque isn't convinced that any of the academics are capable of murder. Aided by Bonnet, Verlaque turns Provence upside down, uncovering a world far more complicated than university politics.
DEATH AT THE CHATEAU BREMONT
"Longworth's voice is like a rich vintage of sparkling Dorothy Sayers and grounded Donna Leon."
Booklist (starred review), May 2011
"A promising debut for Longworth, who shows there's more to France than Paris and more to mystery than Maigret."
Kirkus Reviews, June 2011
"Longworth has a good eye and a sharp wit, and this introduction to Verlaque and Bonnet holds promise for a terrific series."
Margaret Cannon, Globe & Mail, Sep 2, 2011
"Death at Chateau Bremont offers charming French locales, vivid characters and an intriguing who-done-it."
Kevin R. Kosar, author of Whiskey: A Global History
"Here's hoping the series lasts for years."
RT BookReviews, June 2011
"Your readers will eat this one up"
Library Journal, July 15, 2011
Set in charming and historic Aix-en-Provence, France, Death at the Château Bremont introduces readers to Antoine Verlaque, the handsome and seductive chief magistrate of Aix, and his on-again, off-again love interest, law professor Marine Bonnet. When local nobleman Etienne de Bremont falls to his death from the family château, the town is abuzz with rumors. Verlaque suspects foul play and must turn to Marine for help when he discovers that she had been a close friend of the Bremonts. This is a lively whodunit steeped in the rich, enticing, and romantic atmosphere of southern France.
Published July 2011 by Penguin.